As a parent I'm often thinking about the welfare of my son and how we'll teach him about certain topics when he gets a little older. How will I teach him about our faith, how to do the right thing and how to live and eat healthy? We also want to make sure that we teach him good financial habits as well, and make sure we set a good example in our own lives that he can follow.
Some of us were never fortunate enough to have learned sound financial management through our parents, and as such we're now trying to break the cycle by passing down what we've learned, and teaching our own kids about how to manage money.
So what are some habits and behaviors that you should be careful about displaying when you're around your kids to ensure that they learn sound financial principles?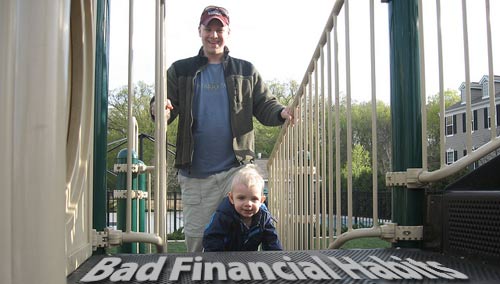 6 Financial Patterns To Avoid
When you're with your kids, they're probably watching you more than you realize. You need to be aware of what financial behaviors you're putting on display, and whether they're healthy for your kids.
Here are some financial behaviors, attitudes and habits you may want to think twice about engaging in, especially in front of your kids.
Just go ahead and put it on the credit card: Many of us can think of times when we were at the store, saw something that we wanted, and despite not having the cash to pay for it went ahead and bought it anyway. For me when I've done this in the past it usually involved some sort of electronic gadget or expensive gaming system. Constantly putting things on credit, however, can help to teach our kids that there's no need for delayed gratification. If you want it you should buy it. Instead of doing that, however, why not teach your kids how to save up and pay cash for the things they want, and then only after having a "cooling off period".
Depending on others, and not yourself: I often see or hear of family or friends who go from one bad financial decision to the next, but they never learn their lesson because their parents or a family member always bails them out of trouble. When they have problems with their car their parents lend or give them the money for a new one. Buying a home? They get the down payment from their parents. Instead of showing how you're dependent on others, show your kids how you can be self reliant. Save up an emergency fund to cover unexpected expenses. Pay your own way, or don't buy! If you don't change, your kids will be coming to you for money one day!
Spending more than you make.. all the time: If you're constantly running out of money before the end of the month comes, you've either got a problem with not making enough money, or with spending that's out of control. In most cases people are spending too much money on things they shouldn't be when they're strapped – like cable tv, the highest level of internet service, premium cell phone plans and more. Cut the things you don't need, and go back to basics. Teach your kids that it isn't ok to constantly spend more than you make. It's important to stay on top of your family budget, otherwise you (and your kids) will end in financial ruins.
Money can buy happiness: I believe far too many people spend their lives trying to find happiness in things – which end up being empty shells. They search for it in things like money, possessions, people and careers. When your kids see you trying to buy your way to happiness through things – they may think that they can do the same some day. Instead teach them about the things that are important in life like family, faith and hard work.
No budget needed: It can be easy to get caught up in the day to day grind, and not keep tabs on our family budget. When that happens you can quickly develop leaks in your bank account, and the money quickly goes down the drain. Instead, come up with a budget that your family can agree on, set savings and retirement goals, get insurance to cover contingencies, and teach your children about financial topics.
Appearances are more important than cost: Far too often people would rather appear successful than actually be successful. They buy the latest and greatest of everything whether they need or want it, mainly to keep up appearances with family and friends. This can set a horrible example for the kids, making them value how they appear more than actually trying to do their best to work hard, succeed and be able to buy things when they can afford it. Instead, stress the importance of substance and of only buying things when you need them – and for the right reasons.
Teaching children about money isn't easy, and won't happen overnight. It's a process of showing them the right way to go through our actions, as well as through our words.
As long as you teach them the right way to go, and then are aware of what actions you're giving them to emulate, you'll be far ahead of the curve.
What are some bad financial habits that you're trying to avoid displaying, either for your kids – or for those around you?