Up on a bluff on the Pacific Ocean sits Bellosguardo – or "Beautiful view." – a $100 million dollar mansion owned by a reclusive billionaire and 104 year old heiress Huguette Clark. By any account the mansion is beautiful, and the estate is one that any person would love to call home. The thing is, the reclusive owner of the estate hasn't been there in many decades. Neither has she ever stayed at her estate in Connecticut which she bought in 1952, and she has only rarely been seen at her suites in New York in the past 30 years. For the past few decades since the death of her mother Huguette been a reclusive figure, preferring to remain in the shadows, only talking with a few people, including her lawyer. She now lives in a hospital room, not necessarily because she's sick, but because it's easier for her to be there.
So how did it all start for her, and how did she end up living such a reclusive life where things like her homes meant so little to her? From NBC: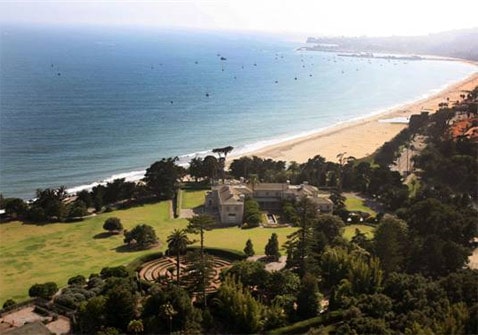 Huguette inherited a fortune in railroads, copper mines, cattle, timber and banks. Her father also owned the land that would one day become Las Vegas. But it was here in Santa Barbara that she began to turn her back on all that, retreating from the world after a brief marriage.

Like her mother's before her, Huguette's wedding sold a lot of newspapers. Her husband, William Gower, was a bank clerk making 30 bucks a week; Huguette spent 11 times that much every day. She confided to friends that her great wealth was a "menace to happiness," yet she hung out with rich daredevils who drove fast cars and flew rickety planes. Her marriage lasted two years.

Huguette was later linked with Edward Fitzgerald, the Duke of Leinster, who subsequently told a British bankruptcy court he had come to America looking for a rich wife. The duke denied being engaged to Huguette, but again her life was reduced to cartoons in newspapers.

She stepped into the shadows for good. Huguette never remarried; had no children.

Huguette found that she was living in a prison of her own wealth, one where she felt that her wealth was the only reason people wanted to be around her, and one where they would just as quickly turn on you if they had the chance.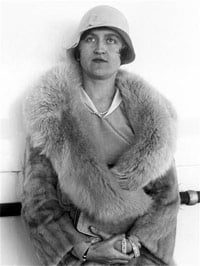 She was by many accounts a generous person, and for those in her inner circle, a wonderful soul. But as she has aged, the money and homes didn't mean as much – until the point where she gave up her lavish apartment and started living in a drab hospital room.
Almost everyone who worked for Huguette had a job until they died. She sent her chauffeur out to pick up an elderly maid every day. Now she is quite old herself; she turned 104 in June.

"She's still alive," Andre Baeyens said. "She knows where she is. She's not very interested in her friends, but she's still alive."

In New York, he said. My colleague, Bill Dedman, msnbc.com's investigative reporter, tracked her to a hospital.

"I had imagined she's in a three-room suite, a room for her caretaker, and it's elegant," Dedman recalled. "I found that part of the hospital. They looked her up in the computer and they said, 'No, she's not here. She's down in another section.'

"I went there and it's drab, patient names written on a board in the hallway. It couldn't be more ordinary."
Huguette had lavish estates in California and Connecticut, but hasn't been to either in 50-60 years. She had money, but it doesn't sound like it had brought her enjoyment in years. In fact she now is not even "very interested in friends".
Money, Material Things And Wealth Can't Bring Your Happiness
For me what just stuck out in this story is just how little importance money and possessions can have, once you have enough money to have anything you could ever want. She had money, but she didn't have happiness. She had an unhappy short marriage, suitors coming after her only because she was wealthy, and she felt like her money was a "menace to her happiness".
I'm of the opinion that no matter who you are, you need to find happiness in your faith first, and in your family and friends next. Putting your faith in things, money and things of this world will lead to nothing but trouble.
Better is a little with the fear of the Lord than great treasure and trouble with it. – Proverbs 15:16
Have you seen people around you trying to find happiness in money and possessions? Have you done it yourself? How can you keep yourself from falling for the honey trap of wealth?