This post requires a delicate balancing act. I am a missionary who works overseas and 100% of my salary comes from freewill offerings that people give to their local churches. My family is supported completely by the generosity of others. I am grateful for each and every one of those gifts.
From May – August 2009 my family visited churches all across Canada and the United States. Time and time again we were recipients of the generosity of others. Without asking, people literally gave us hundreds of dollars. For that I am appreciative and humble.
Nevertheless, the entire time a question kept surfacing in my mind – what is the difference between being wealthy and being generous? Schools that receive large gifts thank donors for their generous gifts. Churches congratulate congregations for their generosity when they reach a goal on a special fund raising project. Living amongst the world's poor, I have seen a woman take a bowl of rice and give it to a neighbor. And no one applauds that action. The gift is not considered noteworthy because it is lacking a large number of zeros. Often it is really only the rich who have the opportunity to be 'generous' in the eyes of many. Unfortunately, I forget to recognize that the bowl of rice is an exceedingly more generous gift than a multitude of dollars.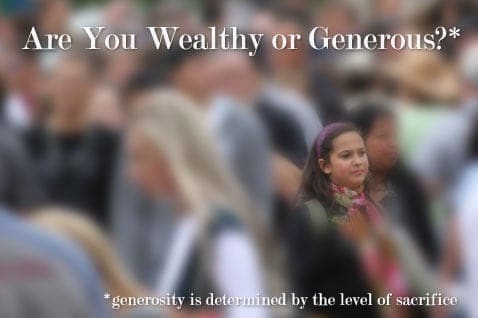 We might say things like – Bill Gates is such a generous man because he has given however many billion dollars to charity. Yet, rarely will we say that a poor person was so generous because she gave a coat to a friend. Generosity is not determined by a dollar amount. Instead generosity is determined by the level of sacrifice. I want to continue to receive gifts from wealthy people because I want to continue to eat :). On the other hand, I want to recognize the smaller financial gifts and regard them also as an equally generous act.
This begs the question: How do you know if someone is generous or just wealthy?
Fortunately, the Bible releases each of us from being the judge on the matter. We are released from the responsibility of judging others, but instead the question is: am I generous or just wealthy? This is the question God places on each of our consciences.
"Why do you look at the speck of sawdust in your brother's eye and pay no attention to the plank in your own eye? How can you say to your brother, 'Let me take the speck out of your eye,' when all the time there is a plank in your own eye? You hypocrite, first take the plank out of your own eye, and then you will see clearly to remove the speck from your brother's eye. (Matthew 7:3-5 NIV)
Ultimately, there is no point in my asking if Bill Gates is really generous or just wealthy. There is little functional value for me question if a person's action was generous or just their wealthy overflow. But, man, I will get a lot of useful insight if I ask myself am I generous or just wealthy? I pray that God will help you to be both wealthy and generous.
What are some of the most generous things you have experienced? How do you resolve the generous or just wealthy question?