A while back I wrote a review of The Millionaire Next Door by Thomas J. Stanley in which I explored his finding that millionaires and high net worth individuals have some basic attributes in common when you examine their lives. His seven attributes of high net worth individuals give a picture of what people who have attained a high level of success have to do and how they behave to get there. The attributes signal behaviors and attitudes that will beget future success.
He found that high net worth individuals usually live well below their means, are efficient with their time, value financial independence and are very likely to not have received a boost or economic help from their parents. They are independent achievers who don't need to rely on anyone for an economic leg up.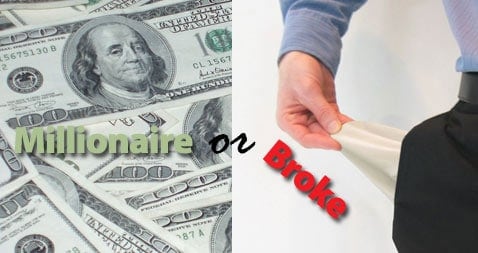 So are you behaving like a future millionaire, and would your habits and behaviors line up nicely with high net worth individuals? Or will you end up broke?
How Much To Save To Become A Millionaire
So what does it take to become a millionaire? In purely dollars and cents, if you started with zero dollars, and assuming an 8% return over the years you would need:
At age 25 you'd need $286 per month to reach 1 million by age 65
At age 35 you'd need $671 per month to reach 1 million by age 65
At age 45 you'd need $1,698 per month to reach 1 million by age 65
At age 55 you'd need $5,466 per month to reach 1 million by age 65
So depending on how early you start and how long you have to harness the power of compound interest, the amount you'll need to save will vary pretty substantially. In most cases, becoming a millionaire is very realistic – as long as you live like one.
Behaviors And Habits Of Millionaires
So now that you know the dollars and cents, what behaviors, habits and attitudes will you need to have in order to become a high net worth individual? Stanley outlines things that people need to expect to do in order to be prodigious accumulators of wealth (PAW):
Live below your means: High net worth individuals are often very frugal, and while they make a decent income, they aren't that likely to splurge and spend like it. They drive a older car, live in a median priced house, and don't spend money on a lot of luxuries. They may make a large income, but they don't live like it.
Spend time in ways that promotes building wealth: People who build wealth faster than others tend to spend more of their time in ways that help them to further their savings and investing goals. They plan ahead, budget, set goals for the future. Stanley found that those who were greater accumulators of wealth than other high income folks spent almost twice as much time planning and working towards those goals every month.
Keeping up with the Joneses should not a concern: People with a high net worth tend not to care about displaying societal signals of affluence, wealth or success. Having an expensive house, a new car or shopping on Rodeo Drive are not things they care to do. They would rather work towards attaining financial independence and attaining their goals.
Don't live a subsidized lifestyle: People who attain a high net worth are usually self made individuals who got what they have by working hard and making their own way. They didn't receive a lot of financial or other help from their parents, and as such have they know they'll have to work hard to get what they want. People who have been given much of what they have tend not to be as motivated.
Make sure your children are economically self sufficient: The children of high net worth individuals have been taught how to live a frugal lifestyle, how to accumulate wealth, and often have been taught how to succeed on their own without help from their parents. Because they don't receive EOC, and in general are self-sufficient, it allows their parents to accumulate more and be better off later on.
You need to take advantage of opportunities when you see them: High net worth individuals are good at seeing opportunities, calculating the risks and taking a leap of faith when they see a good opportunity. They overcome fears of failure, and don't let failure stop them, but use it to learn.
Choose the right occupation: If you want to have a high net worth it helps to be doing something you enjoy. High net worth individuals usually enjoy what they're doing, and as a result they work hard at their chosen career.
Be able to focus: High net worth individuals are able to focus on a goal and make it a success. Others tend to focus on many things, not putting enough attention on any one thing to make it a success.
So to become a millionaire you need to be a focused individual who sets goals, takes advantage of opportunities, doesn't rely on the aid of others and who lives a frugal and decidedly less consumeristic lifestyle. So are you ready to emulate those millionaire behaviors?
Aiming To End Up Broke
So what are some warning signs that you might not be on the right path, and that you're headed down the path to being broke?
You care too much what other people think: You're constantly worried about what other people think of you, and as such you end up spending more money than you should on your clothes, car, house and other accessories that for culture signal "success".
You have a hard time focusing on one thing: You can't decide on a career, savings or retirement goals, or how you'll spend your time in general.
You rely to much on the help of others: While there are of course situations where we need to rely on those around us, however, if you're constantly depending on the financial help of others, you may be in trouble.
You have a hard time delaying gratification: Sometimes we need to delay gratification in pursuit of larger goals. If you have a hard time doing that it may be a sign you're on the wrong path.
Your failures are never your fault: People that end up broke quite often have a tendency not to see their failures as their own fault. They have a tendency to blame others, and proclaim how they would have gotten ahead if it only hadn't been for "the man" holding them down.
Spending money (and lots of it!) comes naturally: You live with an attitude that says money is made to be spent, and you never shop around to find the best deal. If frugality is against your nature, you may be on the road to ruin.
The warning signs may not be apparent to you right away, but if you examine your life, your behaviors and your bank account it will usually become clear that you're headed down the wrong path. Turn back before it's too late!
Turning Things Around To Behave Like A Future Millionaire
So if you're in a spot right now where you know you're headed towards a bleak broke future, what can you do? In most cases you've probably still got time to turn things around and head towards a brighter future, even if you don't have time to become a millionaire. Do a budget, start living below your means, stop buying things that aren't absolutely necessary, start saving as much as you can, and spend your time wisely in ways that promote building your nest egg. The sooner you get started, the brighter your future will be!
Are you behaving like a future millionaire, or are you headed down the deep dark path to being broke?