Earning and saving to reach the milestone of being a millionaire isn't as unattainable as a lot of people think it is, in fact it's a very achievable goal. Most people have the idea in their head that the only people who ever reach that goal are people who are born into wealth, win the lottery, or who have huge real estate empires or successful small businesses. But the fact is earning a big income doesn't guarantee that you'll have a high net worth, and just because you have an average income doesn't mean you can't become a millionaire some day.
Today I want to look at how earning and creating a net worth of a million dollars is possible for just about anybody, and how to go about achieving that goal.
How Much Do I Need To Save?
He who gathers money little by little makes it grow. Proverbs 13:11
A question that a lot of folks consider is just how much you'll need to save in order to have a million dollars by the time you retire at 65. Based on an article over at Kiplinger.com in order to reach that goal, assuming an 8% return over the years, and with zero dollars currently saved – at these ages you would have to save this much to reach a million by 65.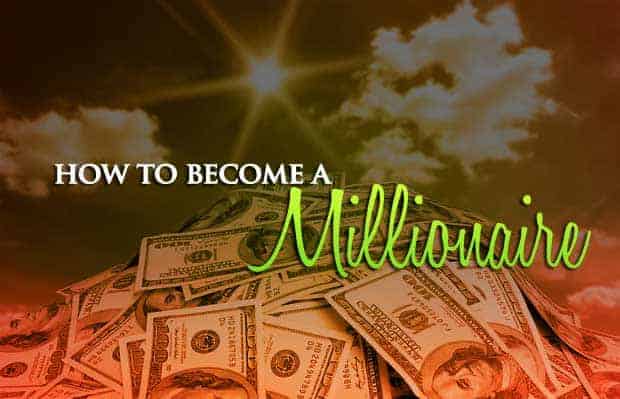 Age 25: You need to save $286 per month to reach 1 million by age 65
Age 35: You need to save $671 per month to reach 1 million by age 65
Age 45: You need to save $1,698 per month to reach 1 million by age 65
Age 55: You need to save $5,466 per month to reach 1 million by age 65
As you can see, the earlier you start, the better off you'll be due to the powers of compound interest. I'm at age 35, and already have some retirement savings put away (not zero like the article assumes), so I should be right on track to reach that million dollar goal.
How You Can Become A Millionaire – Baby Steps
So now we have a rough idea of just how much money you'll need to be putting away for retirement if you want to reach a 1 million dollar goal. So the question is, how do you get there? If you're not one of the fortunate or highly skilled that are already making huge incomes, here is a strategy for saving up a nice retirement nest egg.
Make Enough Income
The more money you make, the quicker you'll be able to reach that 1 million dollar goal, but you can retire wealthy on an average income. Check out the link for some stories of people who did. But obviously the more you make, the quicker you'll reach the goal. How much income you can make may also depend on if you're single, dual income with no kids – or a couple with kids. Obviously having dual incomes will help quite a bit (as long as one income doesn't all go to child care).
If you aren't even making an average income (in the range of $45-55,000), then you may want to think about trying to better your situation by making proactive decisions to find a better job, continue your education or move into a new career field. Changing your income and career path may not happen overnight, but in some cases it may be the only way to improve your chances of making more income.
You could also consider taking on a side job. There are a lot of ways to make money in your spare time, in fact starting a business in your free time is a good way to improve your situation and potentially create a lucrative small business for yourself.
Live On Less Than Your Means Will Allow
We've all heard of people who make huge incomes, but then also have expensive tastes and end up spending more money than they've made and going into bankruptcy. The problem is if you have caviar tastes, it's always possible to outspend your ability to earn.
In his book "Stop Acting Rich", Thomas J. Stanley talks about how far too often we settle for a life where wealth is only an illusion, and we kill our ability to create real wealth.
Ours is a culture of hyperconsumerism. Not only can and do we buy nearly anything (except for the truly outrageously expensive), but we seem to have come to believe that we can and should have it all and that who we are is dependent on the ability to live in the right neighborhoods, with appropriately sized homes filled with brand-name appliances, with prestige cars parked in the driveway with expensive golf bags and clubs in the trunk and so on. And so we spend.

You can act rich or actually become rich. Few of us will ever be able to do both, and we certainly won't bet rich by acting the part before we have the financial resources with which to pay for la dolce vita.
Stanley goes on to discuss how the truly rich people that he has interviewed are actually very aware of living below their means, and of not overspending. They appreciate value in the things they buy and aren't afraid to spend a bit more if it will last longer. But in the end, they spend well below their means.
Save And Invest Your Money Regularly
While this may seem to be obvious, far too many people don't save or invest any money on a regular basis. Too many people live on the edge from paycheck to paycheck, spending until the balance in their account says "zero", never planning to save and invest their money as a part of their budget.
It's important to set up a financial plan and a budget in which you're paying yourself first, putting aside at least 10-15% of your income every month towards your retirement savings – more if you can afford it.
I'm a big proponent of making that savings and investment as automatic as you can, so that it gets to the point where you don't even notice it every month and your retirement savings slowly grow without too much intervention from you. At our house I have 401k and Roth 401k funds deducted from my paycheck before I even see it every two weeks. That way I never miss the money – it just goes into the retirement account. Then we also have automatic savings goals setup with ING where money is automatically deducted at the beginning of the month and transferred to our online savings account.
Once you've setup and are saving money regularly in retirement and savings accounts, make sure that you're getting the best possible return on your money by educating yourself about stocks and bonds, diversifying your holdings and making sure your investments have as low expenses as you can, while still making good returns. If you're not a savvy investor, consider getting some professional help.
Wash Rinse Repeat
Once you've got a good plan in place, the most important part is to stick with the plan, and keep at it for the long haul. It isn't rocket science to save a nice nest egg, but it will take determination and hard work over a long period of time. Again, the basic steps to creating a million dollar nest egg are:
Create income
Spend lower than your means
Save and invest regularly
Repeat
While these steps are of course simplified, and there may be other roadblocks in your path, it really is important to focus on the basic principles sometimes because they can often get lost in the shuffle.
Other things you'll want to consider to make sure that you don't short circuit your progress is to have good insurance, save up a good sized emergency fund and always keep an eye on your goals. Of course, never forget to always be generous as well, and never allow a pursuit of wealth or money to become the end goal. Make sure you have goals for wealth building, goals that will leave you happy, not just wanting more.
Are you on track to reach a million dollars by the time you're 65? Tell us what you think in the comments.