I've always been a voracious reader. I remember long summer days in high school where I would sit in a comfortable chair in the living room and read for 2 or 3 hours, completely lost in the world of the book I was reading. I still remember those classics because I was transported so thoroughly to the world in the book when I read. I was completely absorbed.
Sadly, though I still read now, I find it harder and harder to just lose myself in a book. Instead, I may read 5 pages and then stop to check e-mail. I may read another 10 pages and then check Facebook quickly.
Just like many in our nation, using the Internet and social media has caused me to have a shorter attention span than I used to have. I'm always hopping from one activity to another and then back again.
I've noticed that at family parties, my cousin is rarely "present" with us. Instead, she is constantly hopping on her phone and posting status updates and reading Facebook.
My good friend can go to the movies or out to eat without posting a blow by blow on Facebook about the plot line or the food.
Is your attention span being shortened too?
Now, to some this may seem like a leap, but I've lately found myself wondering if our shortened attention spans are causing us to spend more money.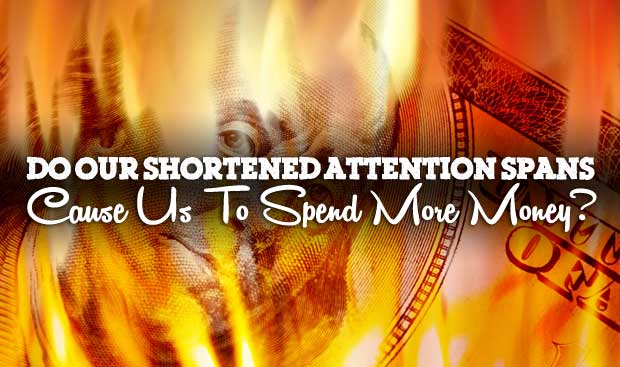 But I Want It Right Now!
Years ago, many people were good at saving up their money and waiting to buy something. Now, the majority of Americans run out to the store or shop online the moment they want something. Sure, the easy availability of credit cards and credit lines reduced our desire to save before making a purchase, but I also wonder if it's because we're used to getting immediate results thanks to the Internet.
Is This It?
But our reduced attention spans may be affecting us in a different way. Because we're used to constant stimulation, we're easily bored. If we buy something we've wanted, for many, there is a sense of letdown. Is this it? Is this what we waited to buy? Immediately, we're bored and looking for the next thing to buy. Because we're used to constant stimulation online, we may also be constantly looking for the next best thing in real-life, too. Because we now bore so easily, we must spend more money to combat our ever increasing boredom.
Why Can't I Have A Life Like That?
Facebook also allows us the opportunity to routinely compare our lives to others. I have a friend on Facebook who regularly writes about her family vacations, the new house she and her husband just had built, and even mundane things like the service that comes to wash her windows. (Yes, she pays a company to wash her windows.) For many, reading these kinds of posts would be invitation to spend more money. "If she's doing this, I can (or should), too," you may think.
While people have always been competitive with one another (hence the saying, "keeping up with the Jones'"), never before have we been exposed to all the way the Jones' are spending money than we are now through Facebook.
Connecting With Others Reduces Our Self-Control?
AARP has reported on another way that Facebook usage makes us spend more:
"In one experiment, subjects used Facebook for a brief period, then went directly to an eBay-type auction where they were told to bid on an iPad. Those with strong social networks bid 20 percent to 30 percent more than they would have spent on the same tablet by just going to the store."
The researchers surmise this happens because those who use Facebook frequently and have strong networks let their guard down and have less self-control.
While social media definitely has a place in life, we should all be aware that if we're not careful, social media usage can make us spend more money.