I read an interesting piece over at Fox News this week talking, once again, about famous people and their inability to spend their money wisely. This time the focus was specifically on musicians who had blown their fortunes.
I thought it would be interesting to take a look at some of these stars, and how they blew their millions. (Remember, at any income, the only way to ensure that you'll continue growing wealth is to spend less than you earn! These folks obviously didn't do that.)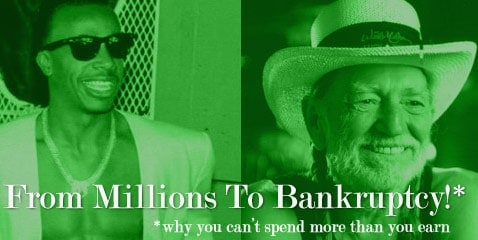 Famous Musicians And Bankruptcy
MC Hammer: MC Hammer was at the top of his game in the early 90's. He had a hit record, was on constant replay on MTV, and he was making millions. The Hammer wasn't very wise with his money, and spent lavishly (on parachute pants?). Unfortunately bankruptcy didn't realize that "you can't touch this" performer, and Hammer filed for bankruptcy protection in 1996 after burning through $33 million. He's now attempting a comeback through a reality show tracking his new middle class lifestyle.
Willie Nelson: In 1990 the IRS caught up with Willie and he was put in a world of hurt for owing back taxes to the tune of 16.7 million dollars. His fortune didn't cover it all, so Willie released another record titled "The IRS Tapes: Who'll Buy My Memories" and paid the rest of his bill. By 1993 he was free of his IRS problems, and is now re-building his fortune.

Marvin Gaye: The Motown legend made millions through his beautiful music, but lost it all to a combination of divorce, problems with the IRS and a bad drug problem. He declared bankruptcy in 1979, and ended up living in a van in Hawaii. He was shot to death by his father in 1984.
Tom Petty: Tom Petty's 1979 bankruptcy was by some accounts a negotiating ploy against MCA records after they bought Petty's indie record label. The bankruptcy allowed him to negotiate a fresh deal with his new record label home. His first album under the new deal was Petty's biggest album to date, and helped him to find his way out of "bankruptcy".
Meat Loaf: Meat Loaf struck it big with his 1977 album "Bat Out Of Hell" from which he earned millions of dollars. Unfortunately for him he had some shady management and they were stealing most of his money before he even saw it. He found new representation, but they sued, had his assets frozen and he was forced into bankruptcy in 1981. Hoping to dig his way out of debt he released a new album, which bombed. He ended up going bankrupt for a second time.
TLC: The singing trio had great commercial success, and had one album that sold over 11 million copies. Unfortunately the millions they made from their records and touring weren't enough to make up for their other huge bills.

Lisa "Left Eye" Lopes in an alcohol induced rage set her boyfriend's house on fire,

Tionne "T-Boz" Watkins had huge medical bills because of her sickle cell anemia, and their record deal wasn't very favorable to them. All of that meant that they were forced to declare bankruptcy.

The band never fully recovered, and on the eve of the release of their fourth album, Lopes was killed in a car accident in Honduras.

Mick Fleetwood: By the early 1980s Fleetwood Mac's drummer along with his bandmates had sold more than 55 million albums, and was selling out tours around the world. Most of his bandmates held onto their wealth, but Mick filed for bankruptcy in 1984. He says that he blew his millions on real estate, failed business ventures and lots of drugs. By his own account he spent about 8 million dollars on cocaine alone. By the 90s he had kicked his drug habit, and the band's reunion tour had allowed him to re-stock his bank account with an estimated 3.5 million dollars.
Cyndi Lauper: Before becoming a huge star Cyndi Lauper was in another band that had an album that flopped. They fired their manager, the manager sued – and they ended up in bankruptcy. Luckily for Cyndi her bankruptcy was out the way by the time she released her 1983 multiplatinum debut album – and she was able to make her millions.
Andy Gibb: He was a huge star in the late 70s with a long list of disco hits. He was on top of the world dating other celebrities, and being a who's who of the entertainment world. By the 1980s he had become drug addicted and was playing small gigs at hotel casinos to get by. He went bankrupt in 1987 and died within a year.
Isaac Hayes: The "Shaft" star had a silky smooth voice and rode his pipes to commercial success, an Oscar several milestone soul records. Despite his success his record label was in financial trouble and stopped paying him. He sued his label. In turn Hayes stopped paying banks that had loaned him thousands of dollars, and they sued him. 6 million in debt Hayes lost his house and his royalties to all his music. Starting in 1997 he was able to get back in the black through his turn as "Chef" on the animated series "South Park".
For more details about these stories, check out the original article.
What's The Moral Of The Story?
So what's the lesson that we can learn from all of these musicians and their financial troubles?
Pay attention to your finances: Too many of these stars just didn't care enough about their finances until it was too late. They trusted shady managers too much, spent too much when they should have saved, and in general ignored their bank statements.
Pay your taxes! : Several of these sad stories happened because these artists simply didn't pay their taxes on their wealth. This could have easily been avoided by enlisting trustworthy help, and by paying their taxes.
Stay off the drugs kids! : What happens when you get hooked on drugs? You spend more than you have just to get the next fix. Some of them ended up dead from their addictions. All of them ended up broke.
If you're not good with money, enlists someone you can trust to help you: A good number of these stars didn't have trustworthy managers, or people who were good with money helping them. They enlisted the help of friends or hangers-on to manage their money. The result was that they lost it all. Enlist the help of a good certified financial planner to help you manage your money.
Money can't buy you happiness: So many of these celebrities found that even the fame and fortune they had always longed for couldn't bring them happiness. Too often they tried to make themselves happy by spending millions, by doing drugs and through illicit relationships. You can only find true deep and lasting happiness through a relationship with Jesus Christ.
What other things do you think we can learn from these sad stories? Tell us your thoughts in the comments.