A while back I wrote about a bunch of famous musicians who have filed bankruptcy. It seems that while many of these folks are creative geniuses, when it comes to money they either just don't understand how it works, or didn't care. Some had drug problems, while others spent lavishly. Still others trusted someone close with their money only to be betrayed.
Bankruptcy ended up being the only way out for many of them. Big names that had to declare bankruptcy included MC Hammer, Willie Nelson, Mick Fleetwood, Andy Gibb, Isaac Hayes, Cyndi Lauper. Read their stories here.
In the past the stories were pretty sad and the dollar amounts were big, but this week I saw the story of another big singer who not only was a two time bankruptcy filer, but who's debts amounted to tens of millions of dollars.
Toni Braxton Filing For Bankruptcy… Again
Six time Grammy award winner Toni Braxton is probably best known for her series of hits in the 90s including the hit "Un-Break My Heart". She road a wave of popularity during those years that included millions of albums sold, and millions of dollars in income. But it wasn't enough. In 1998 she filed for bankruptcy for the first time.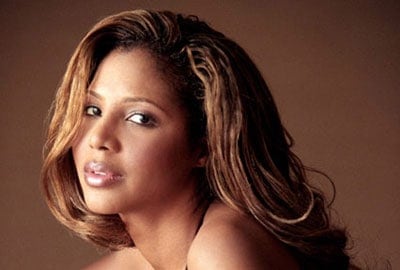 This past year Braxton filed for bankruptcy a second time. The reason? She was once again in debt by some estimates to the tune of anywhere from 10-50 million dollars. Apparently the bankruptcy was brought on by a ton of debt she had racked up, which was only exacerbated when she was diagnosed with a heart condition and was forced to cancel a series of Las Vegas shows.
Toni Braxton has filed for bankruptcy a second time, citing millions of dollars in debt and financial problems exacerbated by a heart condition that forced her to cancel a series of Las Vegas shows. The filing will likely result in the six-time Grammy Award winner having to sell some of her assets to pay off debts listed in court records as ranging between $10 million and $50 million. Her attorney, Debra Grassgreen, said in a statement the filing will allow Braxton to pay off tax debts, sell heavily indebted property in Atlanta and still care for her children.
I can't imagine ever having that much debt. $50 million dollars is more money than most people ever see in an entire lifetime, and to be in the hole for that much is almost unfathomable.
Reason For Debt? Taxes, Health Issues, Bad Decisions
As with a lot of the other musician bankruptcies the filings don't completely go into what her debts were for, but it is hinted that a large part of it was tax debt. As I mentioned in my last article about musician bankruptcies, you don't want to mess with the federal government. You may dodge them for a while, but they'll always catch up to you and they won't have mercy on you. Just ask Willie Nelson.
In addition to having a load of tax debt, Braxton has also had a variety of high profile health issues. In 2008 she was forced to cancel a series of Vegas shows that would have paid millions after she started experiencing chest pains, and was later diagnosed with a heart problem. Later in 2008 she had a breast cancer scare that lead to surgery and removal of what turned out to be a benign tumor.
The health issues and show cancellations left Braxton in the hole, big time.
the Vegas show cancellations left Braxton, 43, saddled with debts from which she could not recover.

The singer and her company Liberty Entertainment filed for bankruptcy Sept. 30, court records show. The filing was first reported Thursday by celebrity website TMZ.

"This was a very difficult decision for Ms. Braxton," Grassgreen said. "However, after months of trying to work out an acceptable arrangement with her principal creditors, she determined that the only way to assure that she could meet her tax obligations and provide for her two small children was to commence these bankruptcy cases."
Braxton has assets worth up to $10 million, her filing states, many of which are being used to settle her debts.
Thankfully for miss Braxton she is currently in good health, and she still has her voice – and can continue singing to earn more money – to get back out of the hole that she dug.
What Can We Learn From Cases Like This One?
Hearing stories like this one can leave you feeling kind of empty I think unless you can actually learn something from it. So what are some things that we can learn from Toni's mistakes?
Live below your income: This is advice that works well for any income – whether you're making $10 million a year or $50,000. Spend less than you earn, and live below your income, and you'll be ok in the end. Live a high lifestyle above what you can afford, and it'll catch up to you.
The taxman will find you and make you pay: I'm constantly amazed by people who haven't paid their taxes, or who think they can get away with no paying on the money they've earned. They may have gotten away with it for a few years, but it always catches up to them. If you don't want your own bankruptcy or to end up in jail, pay your taxes people! Remember, tax debt and student loans are often not bankruptable!
Pay attention to how much debt you're carrying: Sometimes it seems like people don't realize the risk that is inherent in having and holding debt. To many it is just a cost of business, but they never factor in what might happen if something were to go wrong. Be wary of debt, and it's risks!
Take care of your health: One thing that a lot of people don't bother doing is taking care of their health – after all – without your health your ability to earn future income quickly diminishes. Braxton's health issues have caused her a lot of problems that she might otherwise been able to avoid – so have regular checkups, and stay fit!
Don't look to money or things for happiness, they will fail you: Time and again we've seen celebrities and regular people getting caught up in things, money and possessions – looking to them for happiness. In the end those worldly things can't satisfy, and they will fail you.
What other things do you think we can learn from this bankruptcy story – or others that you've heard? Tell us what you think of this sad tale in the comments!