A few years ago I wrote about a long list of famous music artists who have filed bankruptcy.The list included such luminaries as MC Hammer, Willie Nelson, Mick Fleetwood, Andy Gibb, Isaac Hayes, Cyndi Lauper and Toni Braxton.
These folks all seem to have it all when it comes to musical ability and creative genius, but when it comes to money – they've had some major issues.
Some of them had issues with drugs, while others just spent more than was coming in. Other had business dealings that went south or just "forgot" to pay their taxes (Don't mess with Uncle Sam!) Bankruptcy ended up being the best of the worst options for many of them.
This week I heard the story of another famous musician who has recently had some money problems, the famous rapper and actor, 50 cent. Let's take a look at where he went wrong.
50 Cent Is Filing For Bankruptcy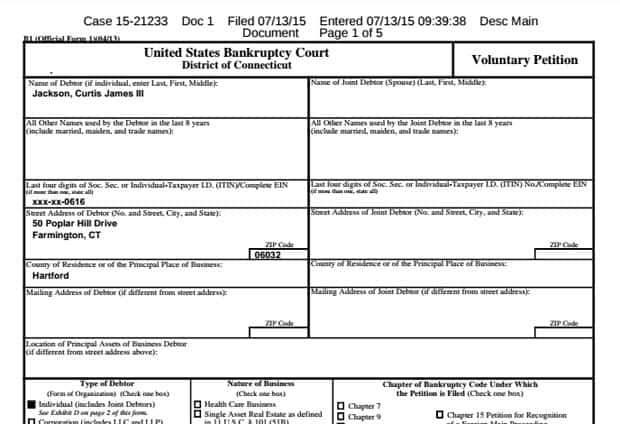 Grammy award winning rapper 50 Cent, whose given name is Curtis James Jackson III, is probably best known for his hits "In Da Club", "21 Questions", and "Candy Shop". All of them made it to number one on the charts. He has sold tens of millions of albums, in addition to becoming a bit of an actor and business mogul. He has earned tens of millions of dollars over the years.
As recently as early 2015, 50 Cent was listed by Forbes as being one of the wealthiest people in hip-hop. They put his estimated net worth at around $155 million.
But even $155 million wasn't enough apparently. On July 13th, 2015 50 Cent filed for bankruptcy.
Curtis James Jackson III, the rapper better known as 50 Cent, filed for chapter 11 bankruptcy protection Monday. In court papers filed in the U.S. Bankruptcy Court in Hartford, Conn., Mr. Jackson reported assets and debts each in the range of $10 million to $50 million.The attorney listed on the bankruptcy petition couldn't immediately be reached for comment Monday.

Having $10-$50 million dollars in debt is unimaginable for most people – seeing as it's more money than most people ever see in an entire lifetime.
50's fall from the top has been swift and almost inconceivable. Earlier this year, Forbes named the rapper one of the wealthiest people in hip-hop, estimating his net worth at around $155 million. To go from that to filing for bankruptcy in such a short period of time surely has to be some kind of record.
So what went wrong for 50?
Lost Lawsuits, Lavish Tastes & Bad Business Dealings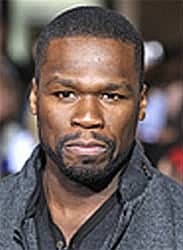 So what were the reasons for 50's fall from grace? For starters there were at least 2 big dollar lawsuits that he recently lost.
Lawsuits
First, he was being sued by a woman for releasing a sex tape that she was shown in, without her consent. She ended up winning a 5 million dollar judgement against him this week (and which may have directly lead to the bankruptcy – either to protect himself, or because he legitimately was out of money).
On top of that, 50 recently lost a court case in which a jury socked him with a $17.2 million judgment over ripping off a headphones design from a company he was going to work with but didn't. As a result of that judgement some of his personal accounts had been frozen.
Lavish Tastes
50 Cent also is known for his lavish tastes. For example, he recently did a photo shoot with Forbes showing his huge collection of cars and motorcycles of all types. He spent millions on vehicles alone.
Bad Business
Some of 50 Cent's businesses have also been failing. Most recently, his boxing promotions company, SMS Productions, filed for bankruptcy earlier this year.
Poor business dealings (stealing designs from another company) and bad decision making (in releasing that sex tape) finally lead to his current downfall. I'm sure having lavish tastes probably didn't help matters very much.
Just A Strategic Bankruptcy?
Is 50 Cent done for? Probably not. Many have suggested that the bankruptcy filing is more a strategic one, and more for self preservation so he wouldn't have to pay the newly handed down lawsuit judgement. Many have suggested his vast wealth is well protected via his many separate business interests.
To say the least, it's something he would prefer not to be dealing with, but he does have a penchant for making money and even if he was actually broke, I'm sure he would find ways to make more.
What Can We Learn?
This story doesn't make you feel all warm and fuzzy inside, but it can serve as a cautionary tale. Some things to be learned:
You often can't out-earn your spending: Whether you're making $10 million a year or $50,000, if your spending is out of line with your income you'll never be able to earn enough. Spend less than you earn and have a backup plan, and you'll be ok in the end. Live a high flying lifestyle above what you can afford, and it'll catch up to you.
Having a good income now doesn't mean you always will: 50 Cent made millions from his multi-platinum albums, and his business ventures have done extremely well in the past (He reportedly made north of 100 million on his part of Vitaminwater's sale to Coca Cola), but you won't always come out a winner. His albums aren't selling as well now, and his businesses are not all doing well. Enjoy your income, but make sure you have a backup plan for if and when things go south.
Unethical decisions will catch up with you: 50 Cent's two big lawsuits could have been avoided if he had just been more ethical in his business decisions, and in personal dealings. Think about the decisions you're making and if they're in any way unethical or illegal, avoid them.
Juggle too many balls and some are bound to drop: From the sound of it 50 may have had a few too many balls up in the air, and it sounds like some of them are now beginning to drop.
Don't look to money or things for happiness, they will fail you: Part of the high flying hip-hop lifestyle involves showing and displaying wealth. Time and again we've seen celebrities get caught up in the idea that they need to display their wealth and have wealth in order to be happy. The truth is that in the end those worldly things can't satisfy, and they'll leave you feeling empty, like 50's pockets.
What else can we learn from 50 Cent's mistakes? Tell us your thoughts in the comments.