Okay, so you want to fail. You want to crash and burn your finances. You really don't care about all that "saving money" talk and would rather live your life on the edge – of homelessness. What advice is out there for a person like you?
Well, here you go. These are my top five ways to utterly and successfully fail at personal finance. Dive in!
How To Fail At Personal Finance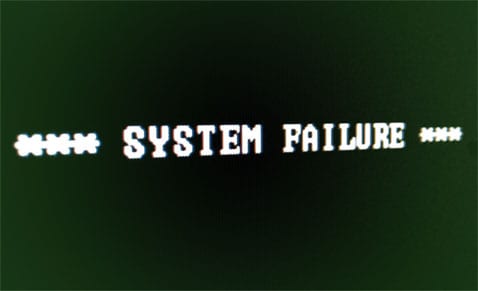 Take that paycheck and hit the mall. You've worked hard. Life is short. Why not blow your money on the latest fashion or gizmo from the electronics store? Stimulate the economy and hand over those dollars! That's right, you're doing society a favor. Whatever you do, don't do a budget. Budgets are for those who actually want to WIN with money, not fail. You're smarter than that!
Go into business partnerships with friends and family. Who better to trust? I mean, there's nothing like having money arguments with those you love. If you really want to fail, make sure that one person does all the business finances and the other person does all the work. Don't tell each other anything about what the other person is doing, and allow the tension to build! Fun!
Borrow everything and pay interest. Hey, while you're at the mall, don't forget to swipe that new plastic you've received from American Express, Discover, or the like. Reward yourself with spending other people's money. Don't worry about that 0% interest for 6 months, they'll eventually get you for 10% or higher! Nothing to fear! Soon you'll be rolling in credit card debt. Don't forget to lease a car! Or, at the very least, make payments on a brand new one. Drive in style! And what good would that brand new car be without a new mortgage-laiden house to park it in front of? Fail royally by only making the minimum payments on everything!
Cosign for friends. They would do it for you, wouldn't they? It's a surefire way to make sure they get a brand new [insert expensive wanted item here] that you get to pay for! The bank knows that your friend will never pay the loan, so you better get ready to pay it off with your new credit cards! Think of it as goodwill charity.
Forget retirement investing, that's for old people. In fact, just forget investing in general. Remember the Great Depression? Remember the real estate crisis? Recessions happen, and the last thing you want to do is think long-term. Depend on Social Security for all your needs. Aspire to be working hard labor into your 90's. Only the courageous do that! Your money is best used while you still can spend it – before the immanent financial meltdown the news would have you believe. 401-blahs. Roth IR-yuks. Those are just terms the winners use. Who wants to thrive anyway?
So there you have it! Five ways to successfully fail at personal finance. Easy, isn't it? But wait, maybe you're not wanting to fail. Perhaps you're wanting something different, something abnormal. You want to be a winner, not a failure. Of course you do! Nobody actually wants to fail with money. They want to do well and live in abundance!
Want To Win?
You can win. You can pay off your mortgage early, live debt free, and build up an emergency fund. I promise you it won't be as easy as the five ways to fail listed above, but it will be worthwhile. You owe it to your family and yourself. It's our responsibility as Christians to handle God's money well, and to use it in ways that glorify him. Here are some ideas to get you started:
What are some financial pitfalls you see people engaging in? What are some mistakes you've made in the past? Let us know in the comments!