Because I'm a personal finance blogger I try to stay on top of what banks are out there, what the best bank rates are on high yield savings accounts, and what banks tend to have the best customer service and online tools. I've written about quite a few banks here, including the one we currently have our cash stashed at, Ally Bank (Although we do have an account with ING Direct as well).
Up until a couple of months ago one bank that I had never heard of, however, was Zions Bank. At first I thought that maybe they were a newer bank trying to capitalize on the slow savings market, but then after doing some research I found that they've been around since 1873. So they're definitely not a flash in the pan. After doing a little more research I found that they've got a decent slate of offerings, so I thought that I'd do a review of them here.
Zions Bank History
From Wikipedia:
Zions Bank (Zions First National Bank) is an American bank, and a subsidiary of Zions Bancorporation. According to the company, it is the oldest financial institution in Utah. The bank has 103 full-service branches and 150 ATMs, and over 2,700 employees in both Utah and Idaho

Zion's Savings Bank and Trust Company was started by Brigham Young on July 10, 1873. This became Utah's first chartered savings bank and trust company.

On April 22, 1960, The Church of Jesus Christ of Latter-day Saints decided to sell a majority of Zions First National Bank to Keystone Insurance and Investment Company. Zions First National Investment Company became the majority owner of the bank stock in Nevada on February 17, 1961. Still under the control of the Keystone group, the investment company became Zions Bancorporation in 1965. Zions Bancorporation went public for the first time in January 1966. There were some minority shareholders of Zions First National Bank, but in April 1972 all of the remaining shares were exchanged for Zions Bancorporation shares.
Is Putting My Money With Zions Bank Safe?
With Zions Bank your money will be safe and sound because the bank is FDIC insured. If you deposit your money and the bank goes under, you'll be fine – as long as you don't have more deposited than the FDIC insurance will cover. Currently that amount is $250,000 per depositor. I would never even consider a bank unless they were FDIC insured.
Zions Bank Account Types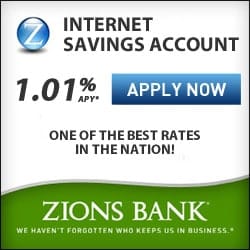 Zions Bank has several different account types that you can get, but I'll focus on three of them here – their savings, checking and money market accounts.
The minimum to open a savings account is $100, which is about standard for a lot of these accounts. One thing that should be noted is that you'll need to maintain a minimum balance of $1,000 in order to receive the maximum interest rate. That rate is currently at 1.01% APY – easily among the top interest rates in the nation as of the day this post was written.
Zions bank has several checking account flavors – one for whatever your tastes are. They have options with great perks, ones with a good interest rate or no fees. Their three most popular checking account options include:
Gold Account Checking – While this account has a $10/month fee associated with it, it has a bunch of services included. Among them are unlimited check writing, free personalized checks and better rates on a variety of savings accounts. You even get a discount on most consumer loans if you are already a Gold Account Checking customer. There is a $100 minimum deposit
Free Checking – This is the standard free checking account with no monthly free, and a $100 minimum deposit.
Free Interest Checking – This account will earn some interest along with giving you free checking, although it may not have all of the options of the other account. Direct deposit is required and there is a $100 minimum deposit.
This account type is going to be similar to the online savings account. Sometimes a money market account will give you a better rate, but this particular one currently has the same 1.01% rate. Among the provisions of this account type is a $3 fee for withdrawals at a teller window, and that you can make up to six transfers within a 30-day period. There is an initial minimum deposit of $2,500.
Opening An Account With Zions Bank
Opening an account with Zions bank sounds like a simple 5 step process. You'll select the account type that you want along with if you'll have a joint account holder. Then you'll enter your personal information including full name, date of birth and social security number. Next you'll choose account options and setup a linked account to fund your savings. After entering some final details you'll receive confirmation of how to use your new account once it is approved. I'm told that your application for an account will be processed within two days and you'll then be able to proceed and login online.
Sounds like a piece of cake!!
Open your account with Zions Bank. Click here for details!
Zions Bank Mobile Banking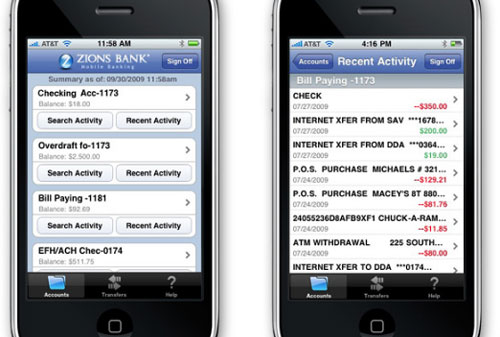 Zions Bank mobile banking service allows you to bank anytime, anywhere from your smartphone or mobile device. You can securely access your checking, savings or money market accounts to:
View account balances
Search account activity
Transfer funds
There are apps for Iphone, Ipod Touch, in addition to a ton of other smartphones. As always, please be careful when using mobile banking.
Conclusion
At the time that I wrote this, Zions Bank has some of the highest interest rates in the country and all of their accounts are FDIC insured. Add to that their other solid account options, mobile banking, no fees or minimums, good security and solid history, you've got a bank you can count on.
If you're looking for a good high yield savings account where you can put your money, I think Zions Bank should be near the top of your list. To check out the details of their accounts, click on the links below.
Do you have any experience with Zions Bank? Are you using them, and how do you like them? What are the pros and cons of their accounts? Leave us a note in the comments!