And On The 8th Day, They Saved For Retirement
Don't make the unholy mistake of shortchanging your retirement savings. In the midst of life's daily demands, it's easy to do so. But it's also not terribly hard to squeeze some money from your everyday spending to bulk up your retirement plan.
Here are a few surefire ways to make some minor changes that can result in large increases to your retirement savings.
Shop Online For Household Items
Paper towels, garbage bags, and even breakfast cereal–who among us hasn't run out of a household essential and had to run out to buy it at a convenience store, and paying a few extra bucks for the privilege. There's a much better way to stay stocked up, and save a bundle while doing it: Try an online subscription service like Amazon.com's "Subscribe and Save." Amazon allows you to set a regular schedule for delivery of products ranging from dish soap to pet food, and gives you an extra discount for doing so. Best of all, you don't have to lug heavy packages from the grocery store, and can cancel the service any time.
Other sites, like WalMart.com, offer free shipping and other discounts on bulk purchases of everyday goods.
Cut The Cord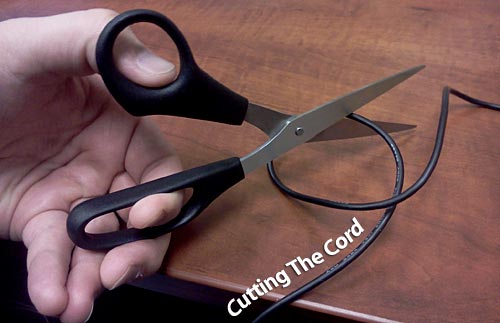 Does your cable bill have you tied in knots? There is a way to get untangled: Drop the cable in favor of a digital broadcast antenna, a mail-in or streaming DVD service, and Internet television and video. It's called cord-cutting, and it's a low cost way to get all the entertainment you want, and none of what you don't. It can take a bit of time to sort out the right services to fit your needs, but the savings can be substantial.
Just one word of caution: if you live far from a broadcast signal (check antennaweb.com), watch tons of sports, or can't wait to watch shows from premium channels like HBO, "cord-cutting" may not be for you.
Be Ready, And Willing, To Switch Cell Phone And Cable Carriers

Your cell phone and cable companies don't want to lose you, and they often have the financial resources to take a hit for a customer willing to put up a small fight. Come contract renewal time, always research other wireless options and negotiate with your carrier for a better rate. If they refuse to match or beat a competitor, be ready and willing to move on. It's a hassle for a day or two, but the savings are often worth it. You'll then be paying more for your retirement, rather than for calling your mother.
Do It Yourself
That leaky faucet, squeaky windshield wiper and dusty car don't require a professional: They require a few bucks and a few minutes of your free time. When it comes to small maintenance tasks, it's often better to address it yourself than pay a tradesperson $75 for a job that takes 15 minutes or less.
Don't know how to snake a drain or fill that nail hole in the wall? Check out the dozens of do-it-yourself Web sites online. With free videos and step-by-step written guides, they can help you fix it yourself and save a bundle in the process.
Keep Texting, The Right Way
Texting has become one of the most convenient ways to communicate. Too bad cell phone carriers charge you up to 25 cents per text for the privilege. Even $5 for a block of monthly texts robs you of $60 a year that could be put to good use in a retirement account.
Services like Google Voice offer unlimited text for the best price of all: free. Most require a new number to send the text, but the short-term hassle of sending an e-mail to your contacts asking them to update their phone books pales to the long-term benefit of compounded retirement savings. (One caveat: most free services offer limited support for photo, audio or video messages, but those features are in the works).
Conclusion
Search around and you'll find a ton of ways that you and your family can save, and start boosting your retirement savings. Just start tracking your spending every month, and figure out where the leaks are – and start plugging them!
Have your own favorite ways to save in order to boost retirement savings? Tell us in the comments!
Matthew Malone writes for the leading Roth IRA and online retirement planning resource, RothIRA.com. He is a CBS SmartPlanet contributing writer whose work has appeared in The New York Times, Cosmopolitan, Smartmoney.com, Fortune.com, Forbes.com, and other publications.