A year or so ago we decided to sign up for a pay TV service because we wanted to have a few more entertainment options at our house.
My wife wanted to be able to watch her favorite HGTV and TLC shows, while I wanted to be able to watch my favorite sports teams like the Minnesota Twins and Minnesota Wild on a regular basis.
Since finding those types of things can still be tough when using a free tv watching option like the one I've talked about on this site, we decided to sign up for some sort of pay TV package.
We did our research when signing up, and ended up getting a good deal on cable TV when all was said and done. We got a package for 1 year through Comcast that included service and 1 HD DVR for one year at a $36.99 price, with free HBO. The package normally costs $85.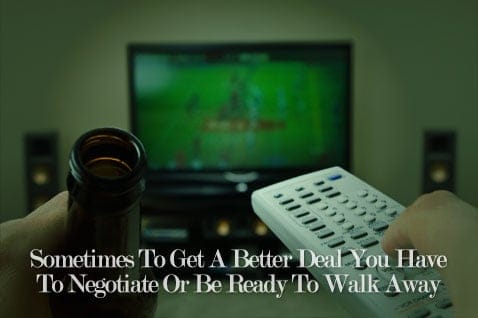 Finding A Better Cable Or Satellite TV Deal
This past month our initial deal with Comcast ran out and we got our first bill in the mail for $85 for the same package we've been enjoying for a year. Obviously we don't want to pay that much for our TV service when we know we can get a better rate. I decided it was time to start researching how to get a better deal.
While I didn't necessarily want to switch away from Comcast because of the hassle factor, I still wanted to make sure we were getting the best deal possible.
I started researching deals online to find out what our other TV options were in our area. Basically it comes down to three options, Comcast cable TV, Direct TV or DishNetwork. It seemed like both Direct TV and DishNetwork had similar deals, offering their entry level package that included the sports channels for around $29.99/month for a year. Then when you add in things like free premium channels, HD DVR and HD channels, Dish Network became slightly cheaper.
So now I had my research done as to the pricing of all of our options, and I decided to take the next step – to do some research surrounding current promotions or deals that were running for Direct TV and Dish Network, beyond what you could find on their websites. After doing some searches on deals sites like retailmenot.com I found another deal via Amazon.com that would give you a $100 Amazon gift card if you sign up for Dish Network.
Try To Negotiate A New Deal
Armed with information it was not time to go back to Comcast and demand a better deal. In all honesty I didn't want to have to cancel and move to a new service because we've been relatively happy with the Comcast service, we just didn't want to pay $85/month.
As I talked about in another post, I decided to try several different avenues to get a better deal. First I tried the chat, where I had the most luck when actually signing up for cable TV. This time I was able to get them to reduce our rate to $60.99/month and free HBO for 3 months. That just wasn't enough, however, especially since we could get a comparable package at Dish for $25/month less. No thanks.
Next I tried the phone support, again, getting a similar deal. Finally I tried the twitter account for comcast, @comcastcares. Through the support staff there I was able to get a call from a local Comcast rep who was able to give me the best deal yet. He would give me $39.99/month for our same package, plus free HBO for 3 months and half price HD DVR. That would mean essentially about $45.99/month.
That still wasn't going to cut it. By going with Dish Network we'd be saving about $120/year plus we'd be getting a $100 Amazon gift card. I told the rep that and he told me he had already given me the "best deal possible".
Time To Cut Our Losses And Walk Away
Sometimes you have to know when you're not going to be able to negotiate a better deal, cut your losses and walk away. Sometimes you have to go elsewhere to get a better rate. I told the Comcast rep that they weren't able to give me a good enough deal, and that I would be canceling the account. He obliged, and we have now canceled.
I then went over to Dish Network the next day and signed up for the promotion that I had found while searching online. We're now awaiting the installation of our Dish package sometime in the next week or so.
It's a bit of a hassle to switch, but as Dave Ramsey talks about in his Financial Peace University session called "It's Not Good Enough" , you have to be willing to say when a deal isn't good enough, and you have to be willing to walk away if you don't get the deal you want. You have to keep the walk away power. If you don't you'll end up paying more than you should, and writing that check out every month will leave a sour taste in your mouth.
Do you have your own tips for finding the best deal on pay TV or on other high ticket items? Tell us your own cable TV stories, or a time when you used "walk away power" in order to get a better deal.