When it comes to finding an online brokerage there is no shortage of options. One that we haven't done a proper review of yet is actually one that has gotten quite a bit of buzz as one of the top brokerages out there, optionsXpress.
When looking at a brokerage there are a lot of things to consider. Chief among the things to consider are the costs associated with having an account. If trades are too expensive, your returns are taking a hit right out of the gate. optionsXpress is consistently among the most affordable, and in addition they're consistently getting good reviews, and adding to their offering of trading tools and educational resources.
optionsXpress Background

From Wikipedia, here is a quick look at optionsXpress and their history since their founding in 2000:
optionsXpress Holdings, Inc. is a retail, online brokerage firm, headquartered in Chicago, Illinois, that provides brokerage services for options, stocks, futures, mutual funds, and fixed-income investments in the United States and internationally. Its browser-based technology provides trading tools, enabling investors to identify, analyze, and execute a range of investment strategies.

Virtual Trade, optionsXpress' virtual trading platform, gives customers the ability to test trading strategies and ideas under real market conditions, without putting real money on the line.


The Charles Schwab Corporation and optionsXpress Holdings, Inc. announced on March 21, 2011 that Schwab will acquire optionsXpress.
Awards
optionsXpress has received recognition in the industry as one of the top online brokers. Among their most recent awards:
2011 — Barron's rated optionsXpress 4 stars – based on Usability, Trade Experience, Trading Technology, Range of Offerings, Research Amenities, Portfolio Analysis & Report, Customer Service & Access, and Costs – making it ten years in a row that the company is recognized for its excellence in the online brokerage industry
2011 – Kiplinger's Personal Finance – 5 Stars for Costs and a "Mecca for Options Buffs"
"2010 Broker of the Year" by The Options Insider, based on tools/platform quality, quantity/quality of education, execution quality, commissions, and order routing
2010 — Barron's rated optionsXpress 4 stars
2009 — Rated 5 stars (highest) for Trading Tools by Smart Money
As you can see they've had quite the good run of positive press, so that's a good sign.
optionsXpress Fees, Commissions And Minimums
Probably one of the most important things to consider when opening an online brokerage account is to consider what fees, commissions and minimums you'll see when using an account. Here are what you'll see at optionsXpress.
Stocks: $9.95/trade ($0.01/share over 1,000)
Options: $14.95 for up to 10 Contracts, $1.50 per contract there. Active traders $12.95 up to 10 contracts, $1.25 thereafter.
Futures: As low as $2.99/contract
ETFs: $9.95/trade
Mutual Funds: $9.95/trade
Bonds: $9.95/trade
They're not the cheapest brokerage out there, but their costs are still reasonable and in line with the other discount online brokerages.
Fees And Minimums For An Account
optionsXpress doesn't require a minimum balance and doesn't charge fees for periods of inactivity, volume or quantity of activity, or standard withdrawals or deposits.
optionsXpress Tools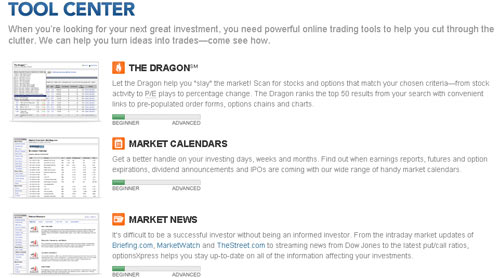 optionsXpress has a nice offering of close to 30 online trading and educational tools that you can use, which sets them apart as a technology and education leader among the online discount brokers. Among the features you'll find, via their site:
The Dragon: The Dragon help you "slay" the market! Scan for stocks and options that match your chosen criteria—from stock activity to P/E plays to percentage change. The Dragon ranks the top 50 results from your search with convenient links to pre-populated order forms, options chains and charts.
Market Calendars: Get a better handle on your investing days, weeks and months. Find out when earnings reports, futures and option expirations, dividend announcements and IPOs are coming with our wide range of handy market calendars.
Trading Patterns: Can you keep up with the Dow by keeping up with the Joneses? Find out by entering a security symbol into Trading Patterns to help find what other anonymous like-minded investors are trading. Who knows? Your next great investing idea might come from someone just like you.
Virtual Trade: Get your feet wet before you take the plunge. Our Virtual Trade feature allows you to utilize real-feel optionsXpress account screens, tools and resources to gain trading experience and test strategies without putting any money on the line.
Exchange Traded Funds Center: ETF traders can find everything they need—all in one place—in our Exchange Traded Funds Center. It's a modified version of our Quote Detail feature, enhanced with ETF-specific tools and information for researching this growing marketplace.
Customer Service
optionsXpress also has a good customer service reputation, and they've got several ways you can contact them if you ever have questions or need help.
Phone. Phone support is available M–F, 9AM–10PM EDT at 888.280.8020. Trader support is available M–F, 9AM–5.30PM EDT 888.280.6505
Live Chat. Live Chat is available M–F, 8AM–10PM EDT | Sa, 10AM–2PM EDT.
Email. You will receive a response by the end of the next business day.
As you can see they're open beyond normal trading hours, which isn't the case for all brokers.
Conclusion
When considering an online discount brokerage optionsXpress has reasonable fees and a set of tools and educational resources that are second to none. They've also been awarded by Barron's, Kiplingers and Options Insiders as a top notch brokerage. When you consider all of these things together optionsXpress should definitely be near the top of your list.
Have you used optionsXpress? What has your experience been like? Are you happy with them? Tell us your thoughts in the comments.
Open An Account With optionsXpress And Get A $100 Bonus!
Check out our comprehensive listing of discount brokerages and mutual fund companies