Lending Club has been around for a few years now, and as time goes on, more and more people are coming around to peer to peer lending, and agreeing that it may be a legitimate part of a diversified portfolio.
The technology behind Lending Club has continuously shown improvement during the time I've been using the site, and I think they've got an innovative idea, and a great platform that will only continue to improve.
Apparently some people in high places agree because it was recently announced that Lending Club was honored as a World Economic Forum 2012 Technology Pioneer!
The World Economic Forum annually selects approximately 30 visionary companies in the fields of information technology and new media, energy/environment and life sciences/health," said Olivier Schwab, director, Head of Technology Pioneers, World Economic Forum. "The selected Technology Pioneers represent the latest generation of innovators, poised to have a critical impact on how business and society work."
Lending Club was honored in part because of their innovation in the lending and banking industries, which they are helping to change.
All I know is that in the time that I've been using Lending Club I've shown great results with almost 11% returns in a time when the stock market has been down, and high yield savings accounts are showing tiny interest rates. In short, I think it's a great way to diversify your investments into something that won't show as much volatility during rough economic times.
Interested in my original Lending Club Review? check it out below.
Check out my original Lending Club review
Returns Increase To 10.93%
My Lending Club investments have continued to improve, and they're now pushing 11% net annualized return.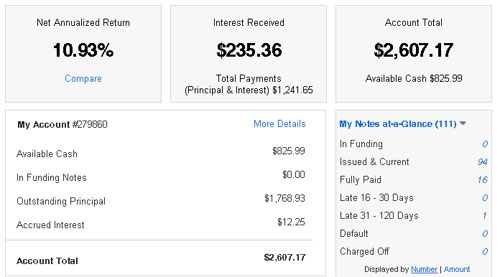 Net Annualized Return of 10.93%: Up from 10.76% in August, 10.53% in June and 10.13% before that. That puts me in the 57th percentile. My returns are higher than 57% and lower than 43% of all investors. So that means I've reached my goal of doing better than 1/2 of other investors, so now it's on to doing better than 75%!
Number of defaults remains at zero: Despite all odds I'm still showing zero defaults on my account, despite having given out over 100 loans so far. I'm actually surprised I haven't had at least one or two. I do currently have one loan that is late, with partial payments coming in the past couple of months. The funny thing is that the late loan is a Grade B loan, not one of the lower grade ones. Go figure.
Sixteen loans have been paid off early: Nine were A grade loans, three were C grade loans, three were grade B and one grade E. Looks like grade A loans, while they're more likely to be paid back, may also be more likely to pay of early – reducing returns.
My account balance still going up: I currently have $2,607.17 in my account, with $825.99 of that ready to invest. I'll be the first to admit that the last couple of months I haven't added many loans as I've been distracted by other things. I'll probably be trying to invest the money sitting dormant right now.
I'm still diversified by investing across a large number of loans: I've got 111 loans, with no more than $25 in each loan. That way if I do have defaults, while my return may go down, my risk will be minimized. Lending Club noted earlier this month, that 100% of their investors who have invested 800 notes or more had positive returns. Not too shabby, not everyone in the stock market can say that!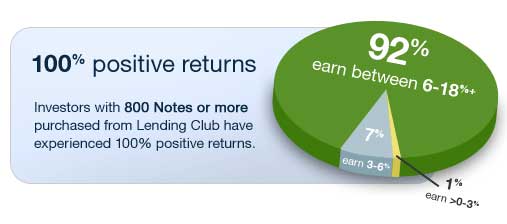 So it looks like my strategy I laid out a few months ago of adding more risky C, D and F grade loans is paying off so far.
Risky Loans Still Defying The Odds With Zero Defaults
I mentioned a while back that I was changing my Lending Club investing strategy and starting to invest in more higher risk lower grade loans. The rationale was that you can still find people that are relatively good risks, but who have bad credit. Most of these are going to be loans from people who have high incomes and steady employement, but for one reason or another have had a hiccup in their credit causing them to be lower grade.
I've invested in a bunch of these Grade C-E loans over the past year, and since doing so my returns have steadily climbed. I would have expected to see a few defaults in there, but so far I've been investing in the riskier loans for about a year now, and none of them have defaulted yet. Would you think some of them will still default despite my early success? Possibly. But I'm hoping my gamble on those with steady jobs and high incomes will mean I wont' see many defaults.
Here's where my NAR stands now, getting better every month. Now standing at 10.93%. I'm hoping I can break through that 11% threshold soon!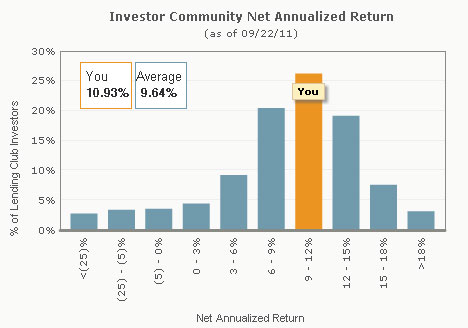 Lending Club Strategy
Here's the basic strategy I've been using with Lending Club over the past couple of years.
Less than $10,000: I believe I'll still be sticking with mostly loans below $10,000. Lower amounts mean higher likelihood of payback of the loan.
Zero delinquencies: Again, I may fudge slightly on this one, but I still want it to be very few or zero delinquencies.
Debt to income ratio below 20-25%: I like to invest in loans where the borrowers have a lower DTI ratio, and preferably have higher incomes. I'll try to keep this as is.
Borrower answers to investor questions: Because of privacy and liability concerns you can no longer ask whatever question you want from borrowers, but only ask from a pre-set list of questions. It's still good enough for me I think, although I'd prefer being able to ask specific questions.
So that's what I'm doing with my Lending Club portfolio right now, and how I'm investing.
Not ready to invest, but looking to consolidate debt or pay off a high interest credit card? You might want to consider borrowing from Lending Club. Check out my post on borrowing from Lending Club.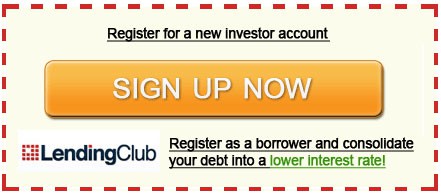 Are you currently investing in Lending Club? How are your returns looking? Tell us in the comments!