My cousin recently got married. He and his wife had a nice ceremony and reception, but what was even more impressive is that they saved money for the wedding in advance, paid cash, and left the wedding with nothing owed. By the time they got married, everything, including the wedding and the honeymoon, was paid for.
In an era where the average wedding tab is $30,000 (Huffington Post) and the average honeymoon tab is almost $4,500 (Kiplinger) finding two young people who paid for their wedding and honeymoon entirely by themselves and did it without debt is refreshing.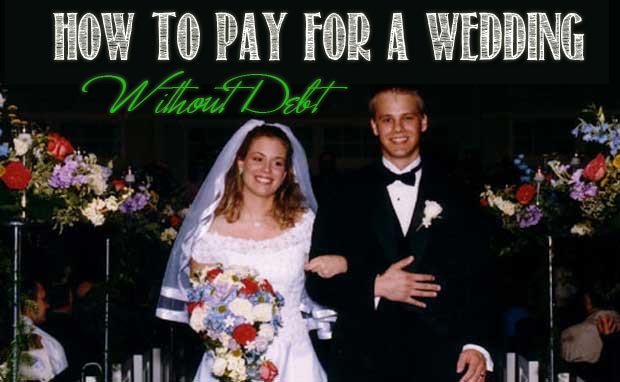 Unfortunately, this is not typical. Many couples have to take out loans for their weddings. In fact, this is so common, Prosper, a peer-to-peer lending site, even offers wedding loans. Some banks offer loans specifically for weddings at 13% interest or more and terms as long as six years.
Many companies cheer about how great these loans are–they take the stress out of planning and paying for a wedding. But what happens when the wedding is long over and the newlyweds are making installment payments? I can't imagine the financial strain that puts on a marriage.
I would much rather see a simpler wedding that was paid for in cash.
How They Did It
My cousin and his fiancee had a fairly long engagement–18 months. That gave them time to save money and to find the best deal on the services they needed.
While I didn't grill them on how they saved (trust me, I would have like to, though!), here's what I observed and learned from them in conversation:
1. Be flexible on venue. They looked at several venues in the midsize city they live in, but most were too expensive or were already booked months in advance. They took their search outside traditional venues and instead looked at alternatives. Ultimately, they chose to get married in an apple orchard that also offers a wedding venue.
2. Be flexible on location. Because they moved their search out of the larger city they live in and into a rural location an hour and a half away, they were able to save significantly. The only downside to the location was that it was a bit inconvenient for guests. However, I didn't mind the drive, especially since the location helped them stick to their budget.
3. Look for off days or off seasons. The apple orchard where they were married offered couples the chance to be married on Saturdays or Sundays. Sundays were significantly cheaper than Saturdays, so that was the day that they chose. To save even more, they had their wedding on the Sunday of Labor Day weekend because most people don't want to get married on that weekend. Of course, the trade off was that many of the people they invited already had plans, so the wedding was smaller than they had anticipated.
4. Simplify. While their wedding was tastefully done, it was simple. Because they were married outdoors, they did not have to provide floral decorations as they would have had they married in a church. At the reception, there were no table top decorations, and there were no favors. Their catered meal only offered one choice for meat and sides.
5. Wait for sales. Whenever possible, they utilized sales. For instance, because they utilized a Father's Day sale, each of the groomsmen saved $50 off the cost of their tuxedo rental, and the groom got his tuxedo for free. Likewise, they bought their wedding bands during a sale.
The wedding industry is flourishing, especially with the help of lavish bridal magazines and shows like Say Yes to the Dress. However, paying for a wedding outright is still possible.
I think my cousin and his new wife choose the best possible way to financially start their new life.
What are your thoughts? Would you take out a loan for your wedding or would you prefer to simplify and pay cash?