From the white dress to the perfectly planned décor, it's no surprise that weddings usually come with an astronomical price tag.
But even if you're just a bystander to the festivities and not actually the one saying "I do," you could still end up spending far more than your summer budget has room for.
Sometimes we let tradition trump what we can afford, but there are plenty of ways to be a stellar wedding guest without driving your own finances into the ditch. All it takes is a little creativity and some careful planning. Here are a few tips.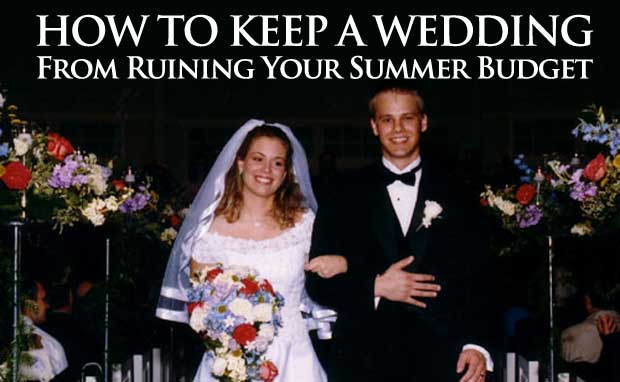 Think Outside the Registry or Stretch Your Gift Giving Dollars
Just because something isn't on the registry doesn't mean the couple-to-be couldn't find it useful.
One of my financially savvy friends gifted her sister a marathon financial planning session in which she spent an entire day helping the couple learn the ins and outs of money management and create a finalized budget they could stick to. It wasn't something they would have thought to ask for, but they were astonished at how helpful it was in the end.
Another friend offered to style the hair of the wedding party on the big day. Not only did it save the bride a bundle, but the amount of work that went into it served as a clear indicator of how much she cared.
Sometimes the services you could offer are worth more than what you could shell out in cash for a gift, and all you have to give is your time and expertise.
But if you still would rather be safe and give the couple something they explicitly asked for, consider sharing the expense with another guest at the wedding. This will stretch your dollars without shortchanging the couple on what they would want or find useful.
Be Creative With Your Attire
Before attending the wedding of a high school friend a few weeks ago, I went searching for the perfect dress to wear. And then I realized that I had at least three more weddings to attend between now and the end of the year, and I quickly changed my style plan.
If you're like me and have a multitude of events to plan for, opt for basics when it comes to pants, skirts, and tops, and pour your creativity into selecting the best accessories for the occasion.
I settled on two simple yet stylish skirts that I could pair with tops and shoes I already had. Then, I purchased a few flashy (but inexpensive) necklaces. Not only was it far cheaper than buying a dress I wouldn't want to wear for multiple occasions, but everything I purchased could be paired with other pieces for everyday use.
If you really want to look high class without the expense, you can also consider renting an outfit (it's not as sketchy as it sounds, I promise). Check out sites like RentTheRunway.com or LendingLuxury.com.
Don't Spend Out of Obligation
Now days it seems like what was once a couple's single wedding day has morphed into a long series of parties and celebrations leading up to the event – engagement parties, bachelor/bachelorette parties, wedding showers, etc. etc. etc.
If you've ever been apart of these festivities, you know that each one comes with a price tag all its own. Add all of it together, and you could be in the hole before you even see the couple walk down the aisle.
Instead of allowing an invitation dictate whether or not you attend each of these events, let your budget in on the conversation. If you can't afford what was planned and you don't feel comfortable going sans gift, politely bow out. The wedding is the main event and the couple-to-be would likely rather have you there than at all of the other less significant events.
Plan, Plan, and Plan Some More
Most weddings are planned months, if not years in advance. While the bride and groom are doing their planning, start doing some planning of your own.
My experience is that when I don't know exactly how much breathing room I have in my budget, I tend to buy on impulse and cross my fingers that it doesn't stretch it to the breaking point. That plan rarely, if ever, works.
Do you need to travel to attend? Is it even feasible for you take on the costs of the trip? When do you need to book your hotel and flight by in order to get the best deal possible?
What is the reasonable amount you intend on spending on a gift? Where is that money going to come from?
All of these are questions that need to be considered once you get your save-the-date. The more you plan, the better the entire experience will be – both for you and your budget.