For years, my favorite part of relaxing on Saturday night was watching Suze Orman followed by 'Til Debt Do Us Part. I soaked up Suze's words and tried to guess how she would respond to callers' questions. I also listened to Dave Ramsey and subscribed to his principles.
But slowly, my faith in these financial gurus began to waiver. The discontent began slowly.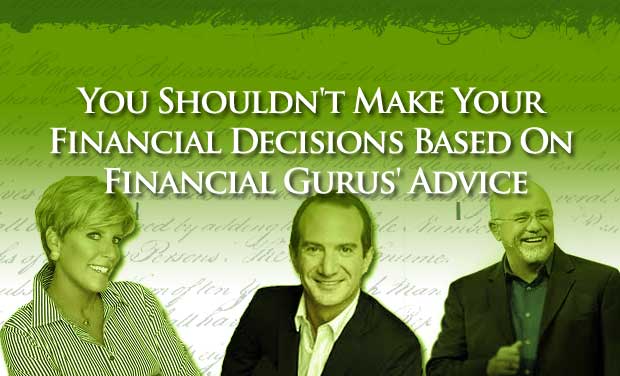 Gurus Don't Account For Unique Situations
My husband and I, inspired by Dave Ramsey, became gazelle intense when we tried to pay down our debt. But after several months of gazelle intensity, I watched our family life unravel. Thanks to all the extra work I took on, I found myself sleep deprived and short tempered with our youngest children, who were then only 1.5 and 3 years old. I still regret that I pushed myself so hard when my children needed me so much back then. My husband and I decided that while a gazelle intense push is great, it's hard to sustain for the amount of time it takes to pay of tens of thousands of dollars of debt as we are.
Of course, because we were Ramsey followers, we had our $1,000 emergency fund. All other money went to debt. And the decision to only save $1,000 put us in a tight position several times. My husband often pays out of pocket to attend professional conferences, and then he's reimbursed 6 to 10 weeks later. Frequently, his expenses are more than $1,000 especially when he has to fly to the conference, so our emergency fund is wiped out until we're reimbursed.
I'm a freelancer, and we had a few months where I suddenly lost jobs or didn't have as much work as I thought I would and again, $1,000 wasn't enough. We ultimately decided our minimum comfortable emergency fund was $3,000.
Blanket advice by financial gurus can be a good starting place, but ultimately you have to do what you're comfortable with.
Another popular piece of financial advice is that you shouldn't buy a home until you have a 20% down payment and a hefty emergency fund. Where some people live, you can get a very nice house for $150,000. While $30,000 to save for a down payment is a good chunk of change, saving that amount over a few years is possible.
What about someone who lives in an area where starter homes run $400,000? How long will it take to save an $80,000 down payment? Certainly more than it takes the person who is saving for a $30,000 down payment. To make it worse, people who live in high cost of living areas often have to pay a high price for rent, making saving for such a huge down payment even more difficult.
Finding a Financial Advisor You Trust
My husband and I searched for over two years to find a financial advisor we liked and trusted. When we interviewed Sean, the financial advisor we finally hired, we were shocked when he went against the advice of financial gurus and other financial advisors we had interviewed and suggested that when I rolled over my IRA, I should take some money out to pay off our credit card debt.
He assured us that the tax burden wouldn't be as bad as we thought, and he also showed us that by paying off the debt, we'd have more cash flow every month to meet our financial goals and regularly contribute to our retirement. He was right, too.
Am I suggesting everyone take money out of their IRA to pay off some debt? Absolutely not.
However, I am suggesting that you not take financial gurus' advice as a one-size-fits all approach to your finances. While their advice is a good place to start, you have to financially do what is best for you and your family as well as your unique situation.
If you're not comfortable making these decision on your own, find a financial advisor who will consider your situation and advise you based on that, rather than conventional wisdom.
Do you remain true to popular financial gurus, or do you see their advice as a springboard for your own actions?