Free money sounds too good to be true, but there are actually a number of different ways to get your hands on money with no cost and very low effort on your part.
Here, we'll take a look at more than 20 free money apps that will put some extra money in your pocket with minimal time or effort.
While you're not going to get rich or generate a full-time income from these apps, you will be able to get a little bit of extra money that you can spend, save, or invest. And best of all, anyone can do it.
Best Free Money Apps
1. Swagbucks
Best for: Earning easy money in lots of different ways during your spare time.
If you're looking to make some extra money in your down time, you'll definitely want to check out Swagbucks. This popular website and app gives you several different ways to make money including:
Taking short surveys
Watching videos
Playing games
Downloading and installing apps
Taking advantage of special offers
Cashback for your online purchases
Using the Swagbucks search engine
Most people know Swagbucks as a survey app, and while that's true, you can make more money with Swagbucks than most other survey apps because there are so many different ways to earn.
Each task or activity will earn you a specified number of points (referred to as "Swagbucks" or SB). After you've accumulated some SB, they can be redeemed for your choice of rewards, including cash via PayPal or a wide variety of gift cards.
The best way to earn significant amounts of money with Swagbucks is to take advantage of special offers. When you're logged in to the dashboard, click on "Discover" to see the offers that are currently available. You might be able to earn Swagbucks for creating an account at a website, opening a bank account, starting a free trial, or any number of other things. The offers change frequently and if you take advantage of the highest-paying offers while they're available, you can do pretty well with Swagbucks.
One of the many reasons to love Swagbucks is because you can redeem your rewards very quickly. While some sites/apps don't allow you to cash out until you've earned $20 – $30 in rewards, Swagbucks allows you to redeem your rewards for as little as $3. They also run a lot of sales, which allows you to get a higher value gift card for your points.
Get Swagbucks here | Read our Swagbucks review
2. InboxDollars
Best for: Supplementing Swagbucks as another way to make money with easy tasks.
InboxDollars is very similar to Swagbucks. As an InboxDollars user, you'll be able to make money by:
Taking surveys
Watching videos
Playing games
Printing coupons
Shopping online
Claiming special offers
Like Swagbucks, the best way to earn money quickly with InboxDollars is through the special offers. The available offers will change periodically, but as an example of what you'll find, right now here are a few of the offers that I see in my dashboard:
$10 to get a free insurance quote
$2 to enter a competition/giveaway
$1.50 to download an app and create a free account
$2 to get a free credit score and credit report analysis
Those are just a few examples of what's available. If you take advantage of these easy offers, you can earn a decent amount of money with very little effort.
Unlike Swagbucks and many other similar sites, InboxDollars doesn't work on a point system. Instead of earning points that will be redeemed for prizes, you'll earn real cash. Each task or offer has an assigned dollar amount that you'll earn.
InboxDollars requires you to have a balance of at least $10 in order to redeem your cash.
Get InboxDollars here| Read our InboxDollars review
3. Survey Junkie
Best for: Making money with simple online surveys.
While you can make money by taking surveys with both Swagbucks and InboxDollars, Survey Junkie is a bit different. Instead of offering surveys plus several other ways to make money, Survey Junkie focuses exclusively on surveys.
If you want to earn cash through online surveys, the best approach is to use a few different websites and apps. If you're really active, you may run out of available surveys from a particular app, until new surveys are added. Using a few different sites or apps gives you more possibilities. Plus, you can pick and choose the surveys you take since you'll have more selection. You can opt to take only the surveys that allow you to earn the most money for your time.
Since Survey Junkie focuses exclusively on surveys, most people are able to make more at other sites like Swagbucks that have more options. However, if you're looking specifically for surveys, there's no better place to find them than Survey Junkie.
When you create an account and login to the dashboard, you'll need to take a brief profile survey with some details about yourself so you can be matched up to the right surveys (you'll also earn a little money for completing this intro survey).
Then you'll see a list of the available surveys. Each one will list the amount that you'll earn for completing it, as well as the estimated amount of time it will take to complete the survey.
4. Vindale Research
Best for: Supplementing Survey Junkie as a source of paid surveys.
Vindale Research is another survey website/app that allows you to earn money by:
Completing short surveys
Watching videos
Opening promotional emails
Referring your friends
Although Vindale offers a few different ways to make money, taking surveys is the primary offer here. You'll earn real cash that can be redeemed by PayPal.
Vindale Research is a good option for anyone who wants to make money with online surveys. The income potential is not as high as Swagbucks or InboxDollars, but Vindale is worth including in your collection of sites/apps that you use for surveys.
5. Rakuten
Best for: Easy cashback for online purchases at thousands of websites.
Rakuten (formerly Ebates) is the most popular cashback website/app and you can save money on many of the purchases that you would be making anyway.
With a free Rakuten account, you'll earn cash back at thousands of their partner stores and websites. While there are some options for cashback on in-store purchases, the majority of the offers are for online purchases.
Thankfully, using Rakuten is extremely simple. They offer a convenient browser extension you can install, and then whenever you visit a website that offers cashback through Rakuten, you'll see a notice in your browser. All you need to do is click on that notification and Rakuten will track any purchases that you make and credit your count with the appropriate amount of cashback.
If you do any shopping online, using Rakuten is a no-brainer. It takes no extra effort and you can save money on a lot of the things you need to buy. The browser extension is awesome because you don't even have to remember, it will notify you of opportunities. The browser extension will also automatically search for and apply coupon codes when you're checking out, which will also save you a lot of money.
The amount of cashback you'll earn will vary depending on the store and the specific purchase. It can range from 1% up to 50%.
One of my favorite things about Rakuten is the fact that you can stack these rewards on top of credit card rewards and other loyalty rewards to save even more.
Get Rakuten here | Read our Rakuten review
6. Ibotta
Best for: Cash back on grocery shopping.
Ibotta is another must-have cashback app. Unlike Rakuten, Ibotta is great for in-store purchase, as well as online shopping.
There are a few different ways you can use Ibotta:
Claim offers in the app and then scan your receipt after purchasing.
Link your store loyalty accounts from your favorite retailers to earn cashback faster.
Buy gift cards for your favorite stores and restaurants to earn cash back on the entire amount.
Earn cash back for online purchases that originate through the app or website.
With the help of Ibotta, you can save money on groceries, clothing, home goods, and more. Ibotta is easily one of the best ways to save money on groceries since they are partnered with many leading grocery stores and there are always a lot of offers available.
Before you go shopping, you'll simply browse the current offers in the Ibotta app and claim the items that you want to purchase. After the purchase, you'll scan the receipt using the Ibotta app and you'll be credited for the offered items that you purchased. Alternatively, you can link your store loyalty account to Ibotta so you won't need to scan receipts.
And just like Rakuten, Ibotta is great for stacking rewards on multiple levels. If you're shopping for groceries, you can earn cashback through Ibotta, earn cashback or rewards through your credit card, and rack up loyalty points through the store's program.
Get Ibotta here | Read our Ibotta review
7. Fetch Rewards
Best for: Supplementing Ibotta to save more money on groceries.
Fetch Rewards is another cashback app, but it was created specifically for grocery shopping. It works a little bit differently than Ibotta. You don't need to claim offers ahead of time. You'll simply do your shopping and then scan the receipt with your phone or submit the digital receipt for your online grocery shopping.
The best thing about Fetch Rewards is that it's very easy to use since you don't need to browse and claim offers before you go shopping. You'll simply open the app and scan your receipts. At any time, you can browse the app to see the available offers and see what purchases will earn you money, but you don't need to claim anything. The cashback will be automatically added when your receipt is scanned.
In general, most people earn more cashback with Ibotta, but Fetch Rewards is great to use in addition.
Once you've accumulated some rewards, you'll be able redeem them for your choice of gift cards.
Get Fetch Rewards here | Read our Fetch Rewards review
8. MyPoints
Best for: Alternative to Rakuten, plus surveys and other ways to make money.
MyPoints has a cashback component that is similar to Rakuten. You'll earn cashback for your purchases at all of their partner websites. MyPoints also has a browser extension you can install that will notify you of money-saving opportunities while you're browsing.
In addition, you can also earn money in a few other ways like taking surveys, watching videos, playing games, and printing coupons. Like Swagbucks and InboxDollars, there are also special offers available through the dashboard that allow you to earn points quickly.
MyPoints uses a points system and then those points can be redeemed for gift cards or your choice of rewards. However, the conversion of points to dollars is not as straightforward as Swagbucks, so MyPoints can be a little confusing. For example, a $10 gift card might cost you 1,590 points. The fact that it's not a round number makes it a little more challenging to know how much your points are worth.
If you're looking to make money with surveys, special offers, or cashback, MyPoints is definitely and app that you should be using.
9. TopCashback
Best for: Maximizing your cashback for online purchases (offers are sometimes better than Rakuten).
TopCashback is very similar to Rakuten and it's one of the best ways to get easy cash back for your online purchases. They have a huge collection of more than 4,000 partner retailers offering cash back through their platform.
Rakuten is the most-well-known cashback program and probably the easiest to use, but TopCashback actually offers higher amounts of cashback in many cases. Of course, the details vary from one retailer to the next, but TopCashback has done a really great job of providing users with the best offers possible.
If you're looking to maximize the cashback you earn, you should be using TopCashback in addition to Rakuten. Like Rakuten, TopCashback also offers a browser extension and mobile app that provide easy and convenient ways to save on many of the purchases you need to make anyway.
10. Dosh
Best for: Automated cashback from participating merchants, including local retailers and restuarants.
Dosh is a cashback app that provides automatic cashback. When you download and install the app, you'll link it to your credit cards or debit cards and then whenever you make a purchase at a participating retailer, you'll automatically earn the cashback for your purchase.
When you're in the Dosh app, you can view the offers from retailers and restaurants that are near you. You can also shop online through the app and earn cashback.
One of the nice things about Dosh is that you'll find cashback offers from many smaller businesses and local restaurants, not just the major retailers and chains.
After you've earned some cashback, you can redeem it by having it transferred directly to your bank account.
Get Dosh here | Read our Dosh review
11. Pei
Best for: Automated cashback, plus savings through the app/website.
Pei is another cashback app that allows you to link a credit or debit card to earn automatic cashback. You'll earn cashback automatically from purchases made in-store at participating retailers, and you can also browse the app or website to find offers for shopping online.
You can even use Pei as a search engine to search for merchants or products and see if there are any current offers.
Pei is a great app for earning cashback on in-store purchases because it's so simple to use and there's really nothing you need to do after linking your cards.
One of the most interesting things about Pei is that you can claim your rewards in Bitcoin instead of cash, if you prefer.
12. Lucktastic
Best for: A chance at winning large prizes by playing games.
Lucktastic is a free app that allows you to earn money and rewards by playing games. You can win expensive trips and huge cash prizes (up to $1 million) with Lucktastic.
If you're not lucky enough to win one of the big prizes, you can still earn tokens as you play and redeem those tokens for your choice of gift cards.
While hitting it big with Lucktastic certainly isn't something that everyone is going to do, it can still be a fun way to try and make some money while playing games in your spare time. If you're looking for something that gives you a more predictable way to earn money, the options covered earlier in the article would be more appropriate for you.
13. Mistplay
Best for: Earning smaller rewards, like gift cards, for playing games.
Mistplay is another app (available only for Android) that pays users for playing games. You can find and discover new games, earn units based on how long you play, and redeem those units for your choice of rewards.
As you use the app, you'll be able to unlock different achievement badges and earn more units.
To date, Mistplay has paid out more than $13 million in rewards. Try another app that pays you to game here: Gamehag
14. Zap Surveys
Best for: A good source for surveys that actually pay out.
Zap Surveys is the #1 survey app, and by using the app you can get paid to share your opinion on a variety of topics. To date they've paid out over $30 million dollars in rewards to Zap Surveys members, and when you sign up with our link you'll earn $6.25 on your first survey.
Types of surveys they have include: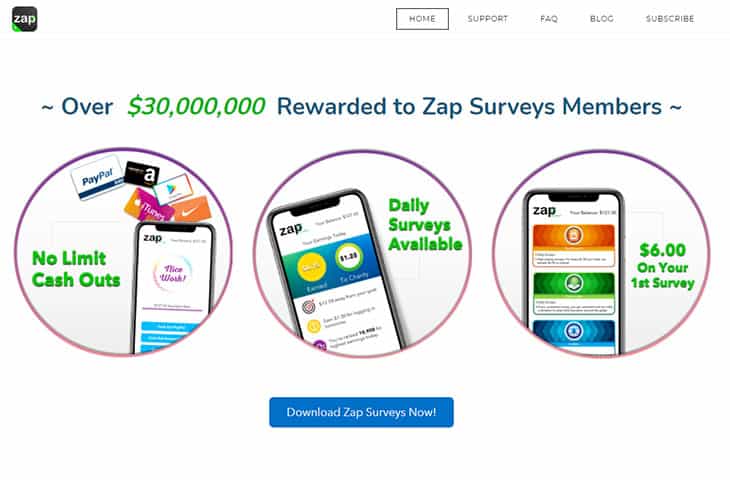 High paying surveys where you will not only be rewarded, but we will also donate to child starvation every completed survey!
Logo polling – get paid to tell companies what design they should use for their next logo!
Surveys that appear based on your location!
There is no limit to the number of times you can cash out, but the minimum cash out is $25.00. Cash out with PayPal, Amazon gift cards or Visa gift cards!
15. Nielsen Computer & Mobile Panel
Best for: A chance at monthly prizes, in exchange for your browsing data.
Nielsen is a data research company that's willing to pay for your browsing data. Nielsen can be used on laptops in addition to mobile devices.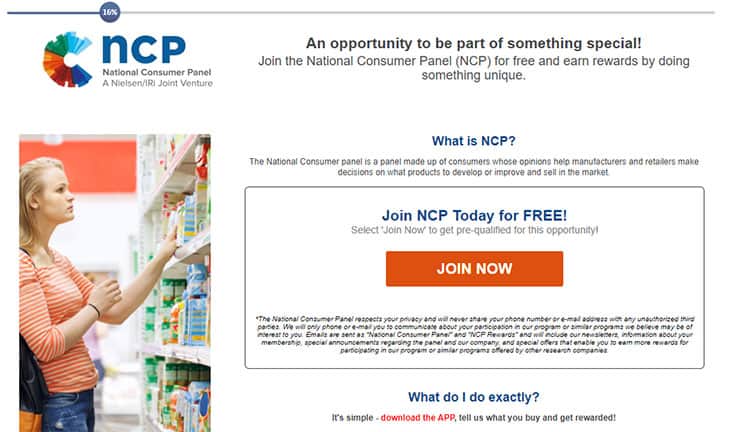 You'll simply download it to your computer or device and let it run in the background. In exchange, you'll be rewarded for leaving it active and have a chance to win the $10,000 that Nielsen gives away each month.
Get Nielsen Computer & Mobile Panel here
16. Embee Meter CX
Best for: Passive rewards for your mobile browsing data.
Embee Meter CX is another mobile data research app (Android only) that rewards you for providing access to your device. Simply install the app on your device and you'll earn "meter points" for leaving it active.
You can redeem the meter points for cash through PayPal or your choice of gift cards. Like Nielsen and MobileXpression, Embee Meter CX is an easy way to earn a little something extra.
17. UpVoice
Best for: Passive rewards for visiting websites you probably already visit.
UpVoice is another easy way to earn something for the things you're already doing. You probably already visit websites like Amazon, YouTube, LinkedIn, and Twitter on a daily basis, so why not get some rewards for it?
All you need to do is download UpVoice to your computer and let it run in the background. You'll earn tokens whenever you visit these sites. After you've earned enough tokens, they can be redeemed for your choice of gift cards.
UpVoice obviously monitors your browsing, however, it's anonymous and no personal data is tracked.
18. Honeygain
Best for: Payment for sharing your internet access.
Honeygain is another option for earning money passively, but you don't have to provide access to your data in order to do it. Instead, you'll install Honeygain and it will allow users to access the internet from your location. There are a number of reasons why a business would want to do this, including testing to see what ads are being shown to a user at your location.
Other users don't get any access to your data through Honeygain, and you'll earn money for providing the internet access.
Like the other passive apps, you're not going to get rich with Honeygain, but it does present an easy way to make a little bit of extra money.
19. Rocket Money
Best for: Bill negotiation services to lower your monthly payments.
Rocket Money helps you to manage your finances in a few different ways, but the most significant is by reducing your monthly bills through negotiation. You can allow Rocket Money's professional negotiators to work on your behalf to get you the best deal cable TV, internet access, mobile phone service, and more.
If Rocket Money isn't able to save you any money, you'll be charged nothing. If they are able to lower your bills, they'll keep 40% of the savings.
20. Trim
Best for: Bill negotiation services to lower your monthly payments.
Trim is another bill negotiation service that's similar to Rocket Money. Both companies offer some additional features and services as well, but the bill negotiation is the easiest way to save money.
Trim's rates for bill negotiation are actually a little lower than Rocket Money. Just like Rocket Money, they won't charge anything if they can't save you any money, but they'll take 33% of any savings.
21. Paribus
Best for: Monitoring price changes for low-price guarantees and monitoring shipments from Amazon.
*Capital One Shopping compensates us when you sign up for Capital One Shopping using the links below.
Paribus from Capital One helps you to get easy money that is owed to you. You'll sign up for free and link it to the email account you use for online shopping. Whenever Paribus sees a receipt it will automatically go to work.
After you've made a purchase, Paribus will monitor price changes and notifies you if the price has dropped on a purchase from a retailer with a price-match guarantee. They'll tell you exactly what to do in order to get the refund that is owed to you.
Paribus also monitors shipments from retailers like Amazon and helps you to get compensation when a shipment is late.
Get Capital One's other shopping tool, Capital One Shopping, to save money when you're shopping online. The browser extenstion will tell you if you're getting a good price, help you comparison shop and more. Read a full Capital One Shopping review here.
Get Paribus here | Get Capital One Shopping
22. Upside
Best for: Saving money on your gas.
Upside is a savings app that helps you to find the best prices on gas, and also get additional cash back savings once you find the best price.
Not only can you get cash back on gas, but many local restaurants, grocery stores and convenience stores have cash back offers available as well.
Upside works with major gas stations like Shell, BP, Exxon, Speedway, Holiday Stations and more. See gas prices near you at 9000+ stations and earn fuel rewards with real cash back every time you fuel up.
I've found that the stations near me typically advertise around $0.25 cents/gallon savings on their gas prices. You can also save additional money on the price by referring other users to the app.
We've been using the app quite a bit for Burger King and Wendy's restaurants in our area as they give anywhere from 25-40% cash back on your order. That's pretty awesome, and it usually stacks with cash back from other services like Dosh or Pei!
In checking our cash back history just now I realized we've earned over $1210 in cash back using Upside. I'll take that!
You can cash out whenever you want in the app, and they pay cash back via PayPal, check, or gift card.
Sign up for the app through our link below, and use promo code: AFF25 to get an extra 0.25 cents/gal cash back on gas on your first fill-up.
23. ReceiptPal
Best for: Making money on all of your receipts, no matter where they come from.
ReceiptPal is a receipt scanning app, similar to Fetch Rewards mentioned above. Often you can use multiple apps like this to earn rewards at more than one service. I personally use ReceiptPal and Fetch Rewards for most of my grocery receipts.
With ReceiptPal you earn rewards points simply for scanning all of your paper receipts, along with getting points for linked Amazon or email accounts where additional receipts can be counted.
For every 4 receipts you can you'll get 100 points that you can use towards a reward. You can redeem your points with as little as 2200 points for a $5 Amazon gift card, or a Target, Lowe's Best Buy or Visa gift card, among a few others. You can also refer other users and earn 250 points per user.
While it takes a while to earn rewards with ReceiptPal, I like it because it's easy, and you're taking something that wouldn't otherwise earn rewards, scanning receipts, and monetizing it.
I just started using it a few months ago and so far I've been able to cash in my points for several $5 and $10 Amazon gift cards.
Make Money With Apps In Your Free Time
While these apps may not make you rich, even a small amount of extra money is a good thing.
These free money apps work in various ways, but they all help you to make or save money with little-to-no effort needed.
Have your own favorite apps that you've used to make money? Tell us what they are in the comments!
Frequently Asked Questions
Are there apps that pay you cash?
Yes, there are countless apps that will pay you in cash, bitcoin and gift cards. I've earned thousands of dollars myself by using many of these apps, and you can too. Check out our full list of apps at Bible Money Matters for more information.
What apps pay you instantly?
Most apps allow you to earn points until you reach a certain payout threshold. Some secret shopper and gig apps like Field Agent, Gigwalk or Mobee will give you an instant payout. Uber and lyft will also allow you to do a same day cashout, although there are some limitations. Other services like DoorDash will offer an immediate payout once you've been with them for a while, but not before.
What cash back apps are the best?
My favorite cash back apps are Upside, Drop, Ibotta, Fetch Rewards and Dosh. Apps like Dosh, Drop, and Upside even work automatically with no receipt scanning or anything else, once you link a credit card. I use them the most becaause they're the easiest to use.
What apps pay you money to play games?
There are a lot of apps and websites that pay you to play games. Some of the more popular ones include Swagbucks, Mistplay, Gamehag, Inbox Dollars, Lucktastic, MyPoints, and Bananatic.
Can you make money from apps?
Yes, you can make money from apps. Some apps will pay you for doing your onlineshopping using their app. Others will pay you to fill out surveys, or to scan your receipts from your in-store purchases. Others will pay you to perform small tasks, or to partake in the gig economy (dog walking, ridesharing, etc). Others you can use to sell your stuff, and then get a payout when it sells. It just comes down to deciding how much time you have to invest, and how much you want to make.
Which apps pay the most?
The highest paying apps are probably going to be the ones where you're actually engaging in a side hustle to earn income. Apps like Uber, Lyft, Rover and other gig economy apps can help you to earn close to a full time income. Other apps will have good sign up bonuses that it pays to take advantage of. Personal Capital has a $20 Amazon gift card to sign up, Ibotta has a $10 sign up bonus. Otherwise, other apps may take a while to earn as much as you want.