This month the folks over at GoBankingRates.com launched a contest to have bloggers shoot a short 1 minute video with their best money saving tip, and the winner would receive a $1000 prize and have their video shared at the Financial Blogger Conference. I thought it sounded fun, so I decided to enter.
I decided to go beyond just reading my short tip on my webcam, and instead wrote a short song called "Cut Your Budget Some Slack".
Here's my song, with the lyrics included below the video:
LYRICS:
Cut Your Budget Some Slack
If your pockets are empty and dinero is short
Take time to examine before you are poor
The bills in the mail and your other big costs
You'll be glad that you did, save money, you boss!
If you want to save money and your bills just ain't funny
It's time … to cut back
If your costs are sky-high and you're asking why
Cut your budget some slack
Cutting your cable and your magazine scrips
Your Netflix and your cell phone and life insurance
Refinance your mortgage, insurance and car
You'll be well on your way to being a star
If you want to save money and your bills just ain't funny
It's time … to cut back
If your costs are sky-high and you're asking why
Cut your budget some slack
Ah yeah, time to cut..
If you enjoyed the video, I'd appreciate if you could head on over to their site to share it!
Save Money By Cutting Your Regular Monthly Expenses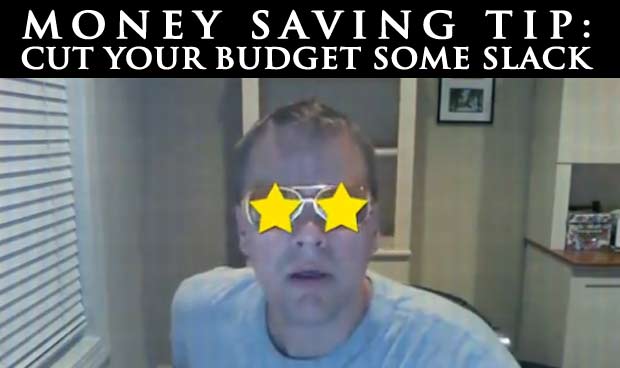 The tip I was singing about in the video up above is one that I've talked about more than once on this site, that you should find where you're spending money every month on a regular basis, and find ways to cut those recurring costs.
When you take the time to write down all of those recurring expenses, you might be surprised by just how much money you're spending every month. By the same token, when you start cutting those costs you'll come to realize that you can save hundreds – if not thousands – of dollars every year just by cutting existing expenses.
Start Tracking Your Spending
So where can you start? My suggestion is to start by actually sitting down and figuring out where your money is going.
Track your regular recurring expenses: I use a software at our house called "You Need A Budget" that helps you setup a household budget by category, and then track your spending every month in each category. When we first started tracking our budget we found we were spending much more money than we thought.
Find pain points in your spending: Once you've figured out where the money is going, it's time to identify areas that you can cut back. Look for bills that are especially high, or that are for services you no longer use.
Figure out ways to cut those recurring expenses: Look for bills that can be cut completely, negotiated for a lower amount, or that can be switched to a new service to save.
Wash, rinse and repeat on a yearly or bi-yearly basis: You may want to set an entire day aside in order to find ways to cut those costs, and then re-examine your recurring expenses once or twice a year to ensure you're not overpaying.
Typical Places To Cut Costs
There are a million and one places that you might be spending money on a regular monthly, quarterly or yearly basis. Here are a few places you can look for savings.
The tips above are just a few of the ways that you can save on your recurring expenses. You just have to be creative, and find ways that you can cut. Often you won't even notice once you've made the cuts that you've lost a service, or that you've downgraded levels of service. But you'll notice the extra money in your account at the end of the month.
Have your own tips to save on recurring expenses? Tell us what they are in the comments!