One of the most important things when it comes to personal finance is taking control of your money, instead of allowing it to control you. You need to track your monthly income and expenses, and give every dollar a name and a job. All income should be assigned to an expense category, or to a saving category. Every penny. If you allow your excess income to remain unassigned, it will disappear, I guarantee it. (I know from personal experience.)
Budgeting Programs To Help Track Your Money
Continues after Advertisement
---
---
Tracking your family budget is becoming easier all the time as new software options appear on the market every day. Here's a giant list of some of the best budgeting options available.  Some programs are free, some have free trials, and some do cost money.  Both Mac and Windows programs are included.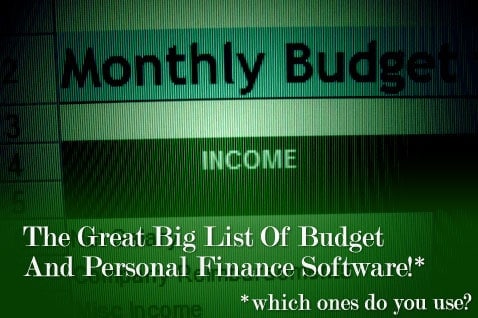 Desktop And Online Applications

Excel Budget Templates

Iphone And Ipod Touch Apps

So there you go.  There is no shortage of options when it comes to personal finance tracking and budget software.   There really is no excuse for not doing a budget.  So why not get started today?
Do you have a favorite personal finance software – either online, desktop or mobile?  If you do, let us know about it (and leave a link) in the comments.  We'll add it to the list!
*some links may include affiliate links.