I'm the one who handles the budget in our family, and for years I've been struggling to find the perfect software to help me handle our budget. Budgeting was easy when I was single, and not too complicated when we were first married. Now, however, with three kids, a mortgage, student loans, medical expenses, retirement savings, etc., the budget is a lot more complicated.
I sometimes feel like I've tried every software out there without success, but that was before I found Goodbudget.
Goodbudget: Envelope Budgeting
Goodbudget is based on the envelope system, so it's perfect for the Dave Ramsey fans out there.
I tried the traditional envelope system before—bringing cash with me everywhere in my little envelopes, but that simply didn't work for me. If I went to the grocery store and bought groceries, toiletries, and entertainment items like a magazine, I had three different categories of purchases. What was I to do? Divide out all the expenses between envelopes when I got home? Pay for three separate transactions from my three separate envelopes? What a pain! And that's not even mentioning the times I was at the check out line and realized I'd forgot my cash entirely.
Goodbudget is set up like the envelope system, but the envelopes are virtual. You set up your virtual envelope for each category and then budget how much you plan to spend out of those envelopes during a particular time frame, which you can choose—weekly, every two weeks, monthly, etc.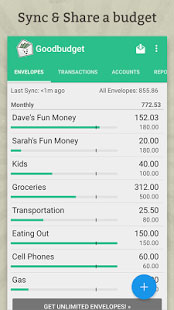 You fill the envelopes virtually, and then deduct the transactions as you make purchases.
Goodbudget has a number of features that I don't use because I'm not all that hi-tech. I don't import my transactions electronically; I do that manually. If you choose to do it electronically, it would likely save a great deal of time, but I prefer to enter them manually, which isn't that time consuming.
In addition, I don't have a smartphone, so I don't access my accounts with a device even through there is an Android and iOS app that works wonders by all accounts. Instead, I tend to check my balances in Goodbudget on my laptop at home before I go out.
If you do end up running an envelope into the red, which, ahem, I've done a few times, Goodbudget has a funny response such as "Hhhmm, negative money. That's interesting."
What I Dislike About Goodbudget
While I like Goodbudget for the most part, I find that it is lacking in certain ways.
For instance, we have some credit card debt that we're paying down. I'd like to have a separate place for that to keep track of how the balance is going down, but if I put it in Goodbudget, that whole credit card amount is subtracted out of my cash flow, aka money available to budget, so it makes figuring out how much I have to allocate to my other envelopes very difficult.
Instead, I use Goodbudget for my monthly budget needs, and I use The Budget Kit to track our net worth as well as our debts that we are repaying.
How Much Does Goodbudget Cost?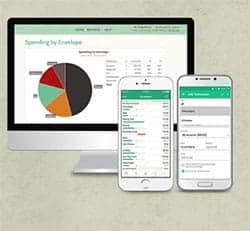 Goodbudget has a Free option that:
gives you up to 20 envelopes to use,
saves up to one year of transactions,
has one account that is accessible by up to two devices, and
offers community support.
I wanted to go the free route, but I found that option didn't have enough flexibility for our complicated budget. If I was single, this would be the perfect option.
The other option is Plus, which costs $5 a month or $45 for the year. Plus includes:
unlimited envelopes,
unlimited accounts (perfect for a family with older kids who keep their own budget or spouses who manage their money separately) that are accessible by up to five devices,
saves up to 5 years of history, and
offers e-mail support
I have used the Plus version for a few months now, and I'm planning to switch to the yearly fee to save money.
There have been a few times where I have not understood how to do a transaction, so I e-mailed customer support. The answers have always been prompt (coming within 24 hours), and they have been thorough so I know how to do what I asked by the time I finish reading the e-mail.
If you're frustrated by the budgeting software out there and you like the budget envelope system, I highly recommend Goodbudget.