The decision to have children and how many to have is deeply personal. Yet, most people can't help but chime in and try to sway your decision.
In my twenties, long before I was married or even had a suitable boyfriend, my mom would regularly express her longing for a grandchild.
When my husband and I had two kids–a boy and a girl–and mentioned to the OB Gyn that we might try for a third, she looked at me, baffled, and said, "Why? You have a boy and a girl; it's perfect."
Who Is To Decide When Having Kids Is Irresponsible?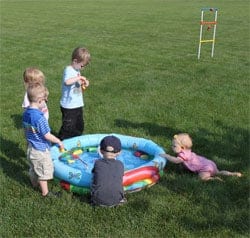 My mom comes from a family of nine, my dad from a family of 10. The family of 5 we have is small in comparison. Yet, I'm surprised how many people refer to our family (with three kids) as large–all because we went beyond the stereotypical, expected, two children.
Ironically, my mom gets angry whenever I talk about the Duggars. She insists that they're irresponsible for having 19 children. Yet, are they?
The Duggars live within their means, raise well-behaved children, spend abundant time together as a family, and have a large, paid for house that accommodates all of their kids. How many typical American families with only two children can say the same?
My husband and I are on much rockier financial footing. We're paying off student loan debt, and we still live in an apartment. However, we both work hard, and our kids always have their needs met for food, shelter, clothing, time and attention. We cut corners where we can. I often buy secondhand clothes for the entire family, and I cook all of our meals from scratch.
Would we be more financial secure with only one child? Absolutely. We could live in a much smaller apartment, and our oldest is old enough now that I could get more work done from home because he could entertain himself part of the time. We could have a smaller car with better gas mileage. But my husband and I knew by having three kids, our finances might be strained. However, finances alone didn't help us decide to have more kids.
When Is Having More Kids Irresponsible?
Having said that, sometimes I see what I deem as irresponsible behavior when it comes to having children. A woman I know is pregnant with her 7th child. She and her husband have always lived with her parents, and now, with so many people in the house, tensions between her and her own parents are rising. She'd love to move out, but they just can't afford to.
I'm not suggesting this woman not have any more children, but perhaps she should wait a few years to add to the family until they can find a place they can afford to rent on their own. Her parents also pay for the majority of the groceries. When you regularly can't afford to house and feed your children, having more children is irresponsible.
The Decision Is For You Alone To Make
I have another friend who takes her family on vacation to Florida once or twice a year. They have taken international vacations. They love to travel, and it's also important to them that their two daughters are very involved in extracurricular activities. The girls are each involved in multiple sports and also receive private music lessons.
A family like this needs to have only one or two children because they expect to spend so much on their kids. TIME, in an article extolling the benefits of having only one child notes, "According to the USDA, two-parent households with two children devote over one-third of their income to their kids. Add it all up, and there's a strong economic case for stopping at one child."
In our family, we afford three kids by living very simply. It's a trade off we're glad to make and that we knowingly embraced when we decided to have three kids.
What are your thoughts? Is there a time when it's irresponsible to have more kids, or should finances not largely factor into the decision?