For many people being an entrepreneur and owning their own business is an appealing idea. They have visions of being their own boss, working 4 days a week and swimming in piles of money like Scrooge McDuck.
But do all of those folks really have what it takes to live the entrepreneur lifestyle? Is it harder than it might appear, and is it really for everyone?
Here's a discussion I had recently on the Money Mastermind Show where we talked with entrepreneur Jason Vitug of Phroogal.com.
What Does It Take to Be an Entrepreneur?
What does it really take to be an entrepreneur, beyond the ability to work hard? What attributes do they need in order to be successful?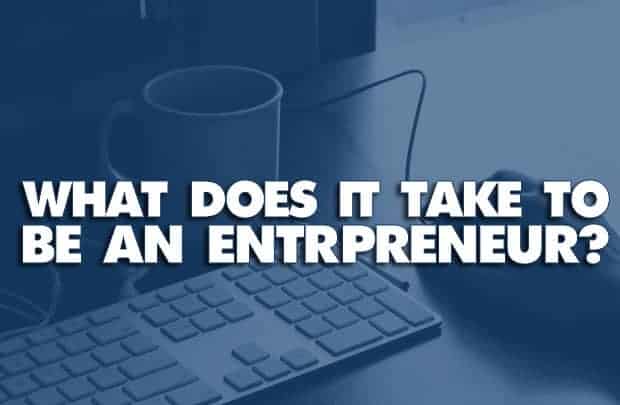 My guess is you need to have similar attributes to the ones millionaires possess, since a majority of them are in fact entrepreneurs. According to Thomas J. Stanley here are some attributes of high networth individuals, that I believe might also apply to entrepreneurs:
They allocate their time, money and energy efficiently in ways conducive to building wealth: They spend their time, money and energy in ways that promote building of their business, and lead to wealth creation.
They're good at targeting market opportunities: When opportunities arise, they're good at realizing and targeting those opportunities before others do.
They've chosen the right occupation: They enjoy the fast paced life of an entrepreneur, and enjoy the process of creation and growing of a business.
Able to focus on a goal: They're able to focus their efforts on realizing a goal, without allowing by unimportant distractions to get in the way.
Disciplined: They have the discipline to focus on their goals, and do the things necessary every day in order to reach their goal.
Jay Goltz, entrepreneur and columnist at the New York Times, talks about some attributes that entrepreneurs have that make them successful. In his opinion, it's not always traditional schooling:
In my 30 years in business, I have never seen a relationship between being a good student and being a successful entrepreneur. If anything, there might be some correlation between people who were bored or annoyed with school and people who succeed in their own businesses. I have my own theory that I have shared with college classes over the years — often at schools that would not have admitted me as a student but are happy to have me speak to their students.
Some of the attributes that Goltz says successful entrepreneurs have:
Ambition: Hungry, driven and ambitious. They have a need to be successful, no matter how hard they have to work.
Creativity: They're able to come up with innovative ideas about marketing, management and finance.
Tenacity: When you're a rookie entrepreneur you'll make plenty of mistakes that have to be fixed. Bad things happen to economies and markets. Sometimes you just have to be tenacious enough to stick with it and survive
Risk tolerance – being able to take a calculated risk: It's pretty hard to succeed without taking calculated risks in business. At times you may need to take the risk of investing capital in a growing business, taking on loans to get you through, or taking an unproven product to market. Those who succeed are able to take those risks, and take the risk when it is worth taking – and not before.
Intuition: Some are better at just knowing what is coming down the road, even with the outlook is a bit hazy. Goltz says, "Think Steve Jobs. Even just a little bit of Steve Jobs can go a long way".
Personality: Having an optimistic outlook and a go-go-go mentality can be key to success as an entrepreneur. Times can get tough, and you need to be able to have an optimistic outlook and an eye towards the future to succeed. The caveat is that you can't be so optimistic that you don't see the writing on the wall because you're living in the clouds.
Things That Successful Entrepreneurs Do
What do successful entrepreneurs do in order to ensure they succeed?
Become known as an expert in their field. Becoming known as an expert in your area can be key to finding new business. When you become the expert, others will come to you for feedback, and in the end many become clients.
Build a rock solid reputation: Be known as reliable, ethical and trustworthy, someone who will come through no matter what.
They get organized: If you're not organized as an entrepreneur, things can quickly get away from you.
Ask for what you're worth: As an entrepreneur it can be easy to undercut yourself, and not ask for what you're worth, especially when you're first starting out. Value the work that you do and don't be afraid to ask for what you deserve.
Wisely manage money: Staying on top of dollars and cents is key to being successful. Whether it is operating on razor thin margins at the start, or making sure to keep accurate books.
Keep a customer focused outlook: Often as an entrepreneur it can be easy to focus just on what you want and what you like. If you're not focused on the customer, however, you'll
They're good at promoting their business (without being obnoxious): They know how to pitch and promote their company without being annoying. Not an easy skill!
3 Bad Habits That Can Harm an Entrepreneur
So what are some things that can get in the way of your success as an entrepreneur?
Making Excuses
He that is good for making excuses is seldom good for anything else. — Benjamin Franklin
If you're not careful you'll find yourself coming up with all sorts of excuses for why an idea or product can't work. Instead, be a problem solver, have a positive outlook and figure out ways to do things that may seem hard or impossible.
Brandon Turner at Bigger Pockets in a recent article talked about how it's so important for entrepreneurs to get rid of two words in their vocabulary, "I can't". You need to stop thinking of reasons why we can't do something, and instead think of ways that you can make something happen. Be a problem solver, find ways to make things work and don't just give yourself an excuse to not make things happen. Find a way and say "I can".
Procrastination
Successful entrepreneurs know that doing things today can give forward momentum to your business. Hard work and action begets more action. Putting things off until tomorrow will mean it doesn't get done, and leads to a lethargic business environment.
Tomorrow is a lie. Great entrepreneurs and highly productive people know that you have to do today everything that is truly in your power to do. Action helps propel more action and more forward energy. You can amass great momentum by taking actions every day toward your vision. However, just like momentum builds on itself, so too can lethargy.
Complaining
If you cannot be positive, then at least be quiet. – Joel Osteen
Entrepreneurs can get in trouble when they complain because not only does it mean you're buying into your own excuses, but it means you're poisoning the environment around you as well. People who complain a lot tend to find themselves alone and unhappy.
If you complain or are angry often, don't be surprised that most people won't want to be around you. The only people who will be are other complaining, angry people. Successful entrepreneurs don't whine and complain. If there's something truly worth complaining about, they're going to make the effort to change it, not get mad about it.
Entrepreneurship: Rewarding, But Not For Everyone
Being an entrepreneur isn't for everyone. In order to succeed you'll need to be ambitious, creative, tenacious, not risk averse and have a relentlessly positive outlook.
Are you a self starter with a go-getter attitude? Able to find and capitalize on new opportunities when others are still making excuses why it can't succeed? You might be ready to embark on this adventure of entrepreneurship.
What other attributes of successful entrepreneurs have I missed? Tell us in the comments!