I've always been a proponent of using credit cards sparingly on this site. I believe when you depend on credit too much, it can quickly become a crutch and an excuse for poor planning.
With that said, I do believe there is a place for the responsible use of credit cards, especially if you're paying them off with cash on hand every month.
If you do your research, make a plan for your credit card spending and play the game responsibly, credit cards can be a useful tool.
So what are some things that you can do in order to get the most of out of your credit cards?
Think About Which Credit Cards Fit Your Needs
When considering which type of credit cards to sign up for, it pays to take the time to first sit down and think about how you'll primarily be using the card.
Is the card going to be mainly used for everyday expenses like groceries and gas? Is it a business card to be used for business expenses? Do you plan on doing a lot of travel?
Think about how you're going to be spending, and what type of a card – and card benefits – will be the best for you.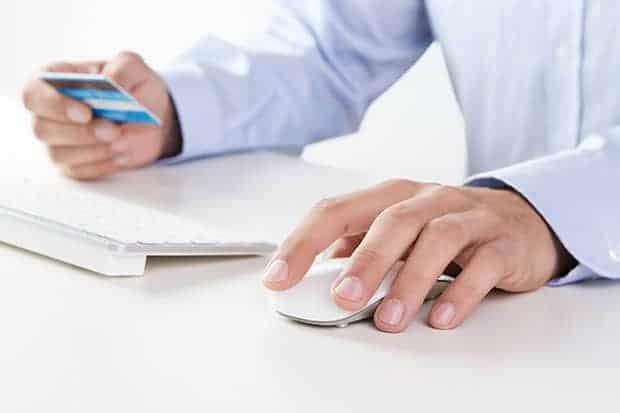 If you're going to be doing a lot of travel, you may want to consider signing up for a travel rewards card with mileage signup bonuses or other travel perks.
If you just want to get cash back, do your best to find the card with the best cash back percentage.
Don't Just Dismiss Cards With An Annual Fee
When shopping for cash back cards some experts will often tell you to eschew signing up for credit cards with an annual fee. But according to David Rubenstein of CreditShout.com, that may be short sighted.
On a recent episode of the Money Mastermind Show (above) he gave a good example, of when this might be the case.
The American Express Blue Cash Everyday card is a good card for those looking to save money on their groceries. You can get 3% cash back at grocery stores. The American Express Blue Cash Preferred card, however, gives 6% cash back at grocery stores, but carries with it a $75 annual fee. At first glance many people would avoid the Preferred card because of the annual fee, but if you spend just $2500 at the grocery store in the year (versus 3% cash back version), you'll make back the annual fee and be in the black after that. Most people, even singles, would likely reach that threshold. Add to that the cash back you would earn in other categories and it seems the annual fee may be worth it if you spend enough at grocery stores.
Try Negotiating Out Of An Annual Fee
If you want the benefits of a card with an annual fee, but don't want to pay the fees, there is another option that some have suggested. Negotiate your way out of the fee.
Many cards will waive the annual fee in the first year, but in the second year you'll have to pay unless you do something about it. Here are some ideas for how to get the fee waived:
Call customer service: Just call and ask nicely for the fee to be waived. Be firm, but polite, and be willing to cancel the card if they won't credit the fee. Sometimes the first or second customer service rep may not be able to waive it, you may need to talk with the cancellation department. Sometimes if the fee can't be waived, they can offer extra points or rewards which will offset the fee. Sometimes they will offer to downgrade you to a lesser card without a fee. If you can't get the fee waived this way, try the next tip.
Reach out on social media: If calling doesn't work, another trick to try is to try talking with the company on social media. Often their social media teams are able to help give customer service and positive PR on social channels. Follow the company's social media accounts first, and then tweet to them mentioning how disappointed you are in the fee. Often they'll offer to help you out with the fee that year, or even suppress it moving forward as one colleague told me they did for her. I've found that the more followers you have, the more receptive they are to helping you out.
Use un-redeemed rewards to pay the fee: If you have more rewards than you're using, some cards will allow you to redeem those points to offset the cost of the annual fee.
Credit card issuers often spend hundreds of dollars to acquire new customer, and it's usually in their best interest to keep you around if they can. If all else fails, be willing to cancel the card, and sign up for another one that won't charge a fee (at least in that first year).
Make Sure To Make The Most Of Your Rewards
When signing up for your card, it's important to make sure you're getting the most out of your rewards.
Experts at Consumer reports found that cash back cards tend to offer better rewards in general. They also found that with cards that give points, often end up not using the points. In most instances, getting a cash back card will help you to optimize your returns.
Here are some other tips to make sure you're getting the most out of your credit cards:
Find the best bonuses: Take your time to research which cards have the best bonuses.
Find the best fit: Sign up for cards with bonuses that fit your needs.
Find extra bonuses: Add authorized user if it will give additional bonus.
Find your card's shopping portal: Shop at credit card reward portals to get extra savings.
Find bonus rewards: Take advantage of bonus rewards deals that will give you extra cash back during certain months or rewards periods. For example, 5% bonus cash back categories at chase freedom.
Find cards and programs that work together: A strategy some folks will use is to couple up credit cards with one issuer, or with compatible cards to maximize their rewards. For example, if you have the Chase Freedom and Chase Sapphire Preferred cards, you can use the 5% bonus categories and the Chase Ultimate Rewards site for redeeming the rewards to maximize your points. You could use your Chase Freedom to get 5% cash back rewards and then transfer those points to your Chase Sapphire Preferred card through which you could redeem at a rate of 1.25 cents per point for travel on the Chase Ultimate Rewards site. Or if you're a travel hacker, transfer those points to a frequent flier program to get better deals.
Maximizing Your Spending To Reach Bonus Spending Goals
Often when you sign up for a credit card with an attractive bonus, you have to reach a spending goal within a certain time frame, like $3000 in the first 90 days, or something along those lines. Sometimes that can be tough unless you get creative. One way to reach those goals is to use credit card rewards to pay for things you're buying now anyway.
Pay medical bills: This is one I hadn't thought of before because we use our HSA card to pay medical bills. Instead, use the credit card for rewards, then ask for a HSA reimbursement later via your HSA online account.
Buy groceries & gas: Most people are paying for groceries and gas anyway, why not put it on the credit card and then pay it off?
Pay for recurring bills: Use your credit card to pay Netflix subscriptions, cell phone bills, life insurance payments and any other recurring bill if you can.
Part of a car purchase: In buying a car recently I found that you can put a portion of a car purchase on your credit card. Most dealerships will not allow you to put the whole purchase price on the card because of transaction fees they have to pay, cutting into their margins, but in many cases they'll allow you to put $2000-5000 or so on a credit card. Just make sure you have the cash to pay it off!
Buy gift cards: One creative trick some people will use to get around spending goals is to buy high dollar gift cards to reach their spending goal – that they can use later on. To double up they'll often buy those gift cards at places like grocery stores where they get extra cash back since sometimes those purchases will show up as "grocery" spending.
Don't Forget To Take Advantage of Perks
Most credit cards these days have some pretty awesome perks that you can take advantage of. So what are a few?
Price protection: Many credit cards now have some sort of price protection built in that allows you to submit a request for a refund if an item you buy with the card drops in price, during a certain time-frame.
$0 liability for fraudulent purchases: Having experienced credit card fraud recently I don't take this one for granted anymore. Having that fraud backstop there is a lifesaver.
Extended warranties: Many cards will offer an extended warranty on items that you buy, usually doubling the original warranty of an item.
Trip cancellation insurance coverage: If you booked a trip using your card, you can often be reimbursed if your trip has to be cancelled for some reason.
Lost luggage coverage: One of my cards gives $3,000 in lost luggage coverage for me and my dependents when the fare was charged to my card.
Roadside assistance: Broken down on the side of the road. Many cards offer roadside assistance at no charge, which means you can leave that coverage off your insurance.
Car rental insurance: Decline the car rental company's collision, loss/damage waiver insurance if your card already has this type of coverage. Why double up?
These are just a few of the benefits that some cards will have. Just make sure you check what perks your card has – and don't forget to take advantage of them!
A Credit Card Should Fit Your Needs
When it comes down to it, credit cards are a tool. As long as you're finding the right card for your situation, taking advantage of the rewards and not allowing yourself to carry a balance month to month, using a credit card can be a great benefit.
If, however, you find that you're becoming lost and unorganized in a maze of points, restrictions, spending goals and so forth, it may not be the right thing for you.
Make sure that the credit cards you sign up for are working for you, and not against you.
Have any of your own tips for making the most of your credit cards? Tell us in the comments!