Are you engaged? Married? Wondering if you should combine your finances during marriage? What are the pros and cons of a combined financial plan? Let's explore this topic and figure out why you should or should not combine your finances when you're married.
Two Arguments on Combining Finances After Marriage
Everyone I've met with when talking about this topic has always been passionately on one side of the argument or the other. People a lot of different feelings when it comes to this debate, and I'm going to try and be as objective as possible and then propose the best course of action.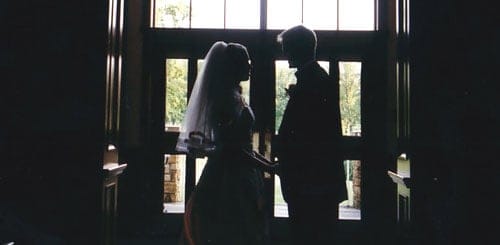 Argument 1: Combining Money During Marriage is Important
For Christians and non-Christians alike, combining finances after marriage can do a number of important things for the relationship.
One of the most important changes it makes is that it creates an environment that fosters trust. Trust is a vital element in any marriage. Without trust, marriages cannot last.
When you share the same bank accounts, agree on a budget, and review each other's transactions, you'll know where you're both headed financially which will give you a greater sense of security. Transparency in a married couple's finances allows both parties to see the trajectory of their financial situation, allowing a greater degree of planning to take place that leads to a more secure future.
It is also argued that combining finances allows greater degrees of simplicity. By not having to deal with multiple bank accounts, couples can more easily track their financial situation. Money doesn't have to be transferred between separate accounts, and both individuals have equal access to all the funds.
Christians believe that when a man and a woman marry, they are becoming one unit. This sense of unity extends to every aspect of life, including finances. As it says in the Book of Genesis:
That is why a man leaves his father and mother and is united to his wife, and they become one flesh. – Genesis 2:24 NIV (emphasis added)
Argument 2: Combining Money During Marriage is Unnecessary or Unwise in Certain Circumstances
There are those married couples who keep their finances separate. Here are some of their reasons for doing so.
Some couples feel that the money they earn individually should be their own separate money because they earned it individually. They point to personal responsibility and believe that individuals should be self-sufficient and not dependent on their spouse for anything.
Other couples keep their money separate simply because it is what they are accustomed to doing. They started off single, and never took action to combine their finances. For them, it was merely natural to keep individual bank accounts and continue how they were living when they were not married: separate financial lives.
One reason why some couple keep their finances separate is because they have a general distrust of their spouse. Perhaps their marriage is struggling and separation or divorce is immanent. To protect their financial well-being, one spouse might wisely take half of their savings into a separate account to ensure the overspending and abusive spouse doesn't keep all the money for themselves.
There are married couples who have been previously married and combining finances will be more difficult for them due to previous bad experiences. When this occurs, both the husband and wife have to be careful in how they handle combining their finances.
How to Talk to Your Spouse about Combining Finances
Talking with your spouse about money is certainly one of the most difficult conversations. If you've never really discussed money with your spouse-to-be (or spouse), here are some tactics you can use to make it easier.
First, decide which argument above you agree with more. Every married couple is different, but in my estimation most couples should combine their finances except in certain extreme situations. Let's say you'd like to combine your finances with your spouse but aren't sure how to go about the discussion. What do you do?
1. Start the conversation with your vision of a better life.
The conversation might start with something like this:
Honey, down the road I want to be able to [fill in the blank with your financial ambitions such as buying a house or retiring early so that you can spend more time with each other]. In order to do these things, I think it would be helpful if we combined our finances. The reason why is that [fill in the blank with your own reasons]. I'd love to continue this conversation with you to figure out a way to strengthen our marriage in this area. I love you lots and want the best for our relationship and future!
Now, whatever you do, don't memorize a script! Simply think a little bit about what you are going to say and your main points.
2. Continue the conversation periodically to show you value this change.
If your spouse is reluctant to combine finances, you may need to give them some time. Bring it up periodically and remember to stick with your vision of a better future.
Marriage counseling might be required if you feel you've hit a dead end in the conversation and it's becoming a point of contention. Communicate with your spouse gracefully and understand that change is always difficult – especially if it's not their idea in the first place!
3. When you gain agreement, talk about the specifics.
Once you are both on the same page, talk about how you are specifically going to combine finances. What bank accounts are you going to combine? How will you both make sure you don't overdraft the joint checking account? What will your budget look like? How much fun money (money spent freely by each spouse without discussion) will you each have? These are all important questions and you should figure out the specifics so you can act on your new plan!
Do you believe you should combine finances after marriage? How do you handle the finances in your household? Leave a comment below and let's get the conversation started!