First things first, congratulations to anyone who has recently married or is getting married. I wish you the best of luck.
Once you get married, a lot of things change real quick.
One area of change that takes some time to get used to is in your personal finances. Even if you decide not to combine financial accounts at first, your money needs to be handled a lot differently now.
After you tie the knot, big financial decisions start coming at you really fast. Should you open a combined checking account? What bank should you deposit your wedding gifts? How will you handle current debts? Plus, there are going to be plenty of things that you don't even think of such as changing beneficiaries on your life insurance or adjusting the amount withheld from your paycheck.
I thought it would be helpful for any current or future newlyweds to have a checklist. An outline of what to do, things to change, and what to discuss after you have been married.
Let's start with the exciting process of legally changing your name and what needs to be done after changing your name.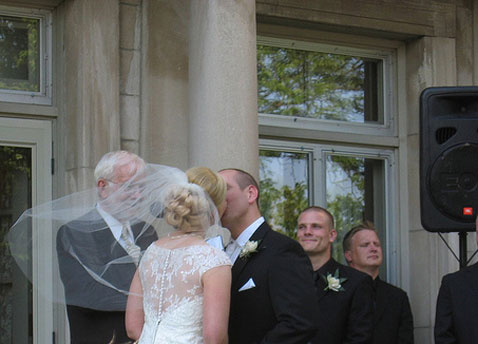 Step # 1 – Personal Documentation
If one person in the marriage is going to change their name, you first priority is to legally do so. (Your name doesn't change automatically once you're married) This is usually accomplished by visiting the County Clerks or Social Security Office where you were married.
After one of you has changed your name, you will need to update the following:
Driver's license and ID Card
Passport
Social Security Card
Credit/Debit Card
Bank & Investment Accounts
Mortgages/Loans
Titles to house and car
HR Department (paycheck, health insurance and other benefits, 401K, business cards, etc…)
Prescriptions
Postal address
Any services, subscriptions, or clubs
Voter registration
Step # 2 – Getting Your System in Order
After you name has been changed, it's time to get your financial system in place.
The first big decision you need to make is to decide if you're going to combine or split your finances. There is no right or wrong answer, just choose a system that you think will work best.
Don't be afraid to to test out both methods. If you're going to be together till death do you part, time is on your side.
With your decision in place, you then need to start or update the following:
Set financial goals together
Start a monthly budget(s)
Start tracking your combined net worth
Delegate certain financial tasks (paying bills, tracking expenses, etc…)
Adjust withholding from paychecks
Set a time once a month to review your finances and goals
Start a filing system for financial documents
One tip, don't be afraid to talk about this stuff even before you get married. That way, once you're married, you can spend less time decision making and more time doing.
Step # 3 – Insurance, Investments, and Wills
Getting married, is a great time review and adjust your current insurance coverage and investment plans.
Change beneficiaries on investments and insurance (401K, life insurance, Roth IRA, bank accounts, etc…)
Close any unused checking or savings account
Apply for or adjust life insurance policy
Look into purchasing a disability insurance policy
Combine car insurance policies to get a multi-car discount
Add wedding rings to insurance policy
Compare health insurance plans to see if combining will provide better coverage
Update or draft a wills
One last tip, always order one more copy of your marriage certificate then you think you will need. The last thing you want to do is find yourself going bank and forth from the clerks office, to get marriage certificates.
There is sure to be something that I missed. If you see anything or would like to add this checklist, let the readers know in the comments.