Some couples combine their money while others choose to keep their money separate.
Perhaps both couples were earning and managing money individually before they got married, so why not continue doing it that way once you're married? It's the easy thing to do, right?
Of course there is always the discussion about who will pay what when your shared bills arrive in the mail.
And if you get a new car, who's name goes on the car title? Keep financial matters separate, right? Nah, you don' want to do that. Dividing up your finances and claiming territory leads to communication challenges, individualism in your marriage (in a bad way) and developing the wrong perspective about money.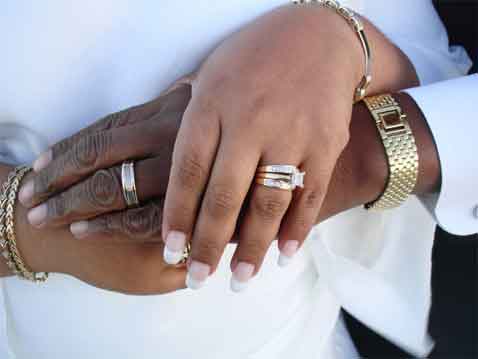 Communication Challenges
Oh yeah, we'll each pay our own bills and have our own spending money. But when big financial decisions need to be made who is going to handle what? I'm talking about that big unexpected expense or emergency that occurs.
Bill, do you have enough money in your savings to cover this one. No, Jane, I spent every bit of it this summer on entertainment and my new super gadget.
What about you, Jane? Well, I needed a new wardrobe for work. I know it's important to save, but I just needed my new clothes. What? You mean neither of us have an emergency savings account between the two of us? Geez.
So, you get the picture. You want to avoid arguing about money. If you're not talking about your money then you're in separate worlds and you definitely can't hold one another accountable for wise financial decisions.
Individualism
So we all know that marriage is about becoming one, right?
You leave mom and dad, meet the love of your life and decide to tie the knot for the rest of your life.
You're no longer dating, you're married.
When she is upset about something, you're upset about it too. When you leave the house, you have to tell your honey where you're going. Yes, you're one. You're in lock-step, well, at least you're supposed to try to be as much as possible.
Men and women are no doubt different and that is what makes relationships so great. But you shouldn't manage your affairs as individuals and this certainly includes money dealings. Come on! Are you going to fix your own dinner each night? Which affairs will be together and which will be separate? Nah, just become one in your marriage and work through it all together! It's a lot more fun that way.
Perspective
Ah, the perspective on money management. Common perspective says money is our money and we can do with it what we please. But the Christian knows that's not true.
Our money, is really the money God has entrusted to our care. It's all His money. But when you're in a relationship and you start drawing lines between his and hers; you're already creating an atmosphere counter to Godly principles on money. Rather, the perspective should be on God's economy and managing together what you've have been blessed with in your marriage.
You know, it's not easy keeping the right perspective on money. Money is powerful and it takes accountability and help. Who better than your spouse to be there for you when your selfish tendencies start to take over.
Final Thoughts
Alright, just put your money together and be done with this. What do you have to lose?
Oh, he or she is going to go out and spend it all? Sit down with a cup of coffee, tea, or whatever once a week have a money meeting and talk about your money. Talk about it over a spending plan you both create together. You'll learn you get to experience more joy and develop a deeper bond in your marriage when you can manage your finances together.
Nothing will be more pleasing to God and your sex life will be better too. Yeah, I said that. Personal finance, if done right and together, can deepen your relationship on many levels. :)
So, reader are you convinced married couples shouldn't divide their money?