When i attended college back in the mid 1990s, the cost of college was nowhere near where it is today, in fact the average cost has more than doubled over the past decade.
When I attended the University of Minnesota the cost for tuition and fees was just under $6,000/year. Now it is closer to $13,500/year. If you add in room and board and other miscellaneous costs – it's much higher.
I had some help from my parents in paying for my schooling, especially my first year, but my schooling wasn't completely paid for. I had to hustle to get scholarships and grants, and I also worked during school and got student loans.
When I graduated I had just over $10,000 in student loans, and I had them paid off within a few years.
The question is this. With costs skyrocketing over the past 15-20 years, and college costs outpacing inflation, do students of today need a lot more help in paying for their schooling? Should parents be paying for their children to go to school so as to keep them from acquiring crushing debt? Or should they focus first on their retirement?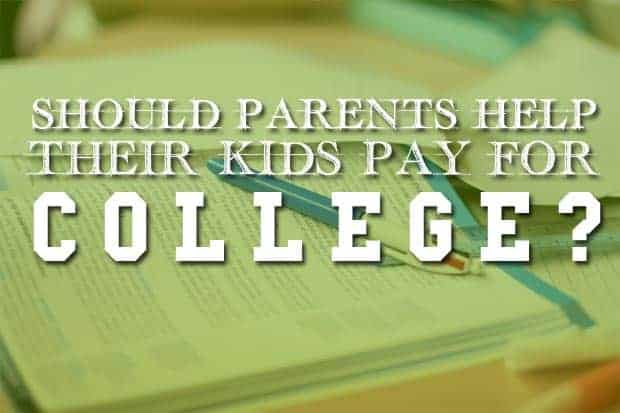 Here's a discussion we had about this topic on the Money Mastermind Show this week.
How Much Does College Cost?
Let's take a brief look at some stats at just how much college costs have grown in recent years.
Costs to attend college have more than doubled in the past decade.
The cost of attending a public college grew at 6.5 percent a year between 2001 and 2010, according to the U.S. Department of Education. (source)
According to the College Board, 4 years of tuition and fees at a private college will cost about $129,700. In 18 years it will be around $312,200. Tuition and fees at a public university (in-state resident) currently costs about $38,300. In 18 years it will be closer to $92,200 (source). (Assuming the historical 5%/year inflation of costs). The figures above do not include room and board, transportation and other costs.
The average graduate in the United States and Canada has tens of thousands of dollars in debt when they graduate.
Average debt of 2014 U.S. four-year grad $33,000.
Average debt of 2014 Canada four year grad. $26,000
In the past year we also surpassed over 1 trillion in outstanding student loans for the first time. The amount of debts held by students and graduates is staggering. Many graduates are having a hard time paying back those loans due to the soft job market, underemployment and a variety of other factors.
More than 7 million borrowers are in default on their loans (source)
The Project on Student Debt, a non-profit, says that 15% of borrowers default within three years of entering repayment. At for-profit colleges the rate is 22%. (source)
2012 data from the credit bureau Equifax, determined that 35 percent of people under 30 who were supposed to be making student loan payments each month were actually 90 or more days delinquent.
So students are borrowing money to pay for the rising costs of college, but in the end they're having a hard time paying it back because it's so hard to find a good paying job.
How Does the Average Family Pay?
So how does the average family pay the cost of a college education? According to Ipsos Public Affairs the average family pays 100% of the cost of college through the following means:
Grants/scholarships 30%
Parent income and savings 27%
Student borrowing 18%
Student income and savings 11%
Parent borrowing 9%
Relatives and friends 5%
So up to a third of the cost is typically covered via student or parent borrowing, and the balance coming from savings, income and scholarships and grants.
Should You Pay For Kids College?
So as the numbers above show, the cost for college is high, and it's rising. Should parents feel obligated to help their children cover the cost of their education? According to a survey released this week by Discover Student Loans, more parents are saying no.
more parents are saying no when it comes to helping their kids pay off student loans.While 58% of parents in 2013 said they were very likely or somewhat likely to help out with student loan payments, just 52% said that this year — the lowest percentage since the survey began three years ago (it was 55% in 2012); the national survey was of 1,000 adults with teens planning to attend college. (source)
Granted, over half still say they would help, but less parents are saying that they will help their kids with student loan payments. Is the reason that they aren't helping because they don't want to, or because they just can't? Helping Out Is A Good Idea, But Consider Your Own Retirement First Helping out with your child's education costs is a great idea, but many parents in age groups with teenage kids in the U.S. have saved far too little for their own retirement:
A survey released last year by the National Institute on Retirement Security shows that households with teens, college-aged kids and older are vastly under-saved for retirement . Households where the head of household is 45 to 54 that have saved anything for retirement only have balances of $60,000, and those with heads of household that are 55 to 64 that have retirement savings have only saved $100,000.
So families with teens may actually have more saved than some other groups in their age brackets, but they are still woefully behind in saving for retirement. If you figure that you'll need on average 10 times your annual income in retirement, both of those groups are extremely behind – and I think they might be better served saving for their own retirement first, before helping out their kids with college costs. After all, you can borrow to fund college, but you can't borrow to fund your retirement.
Consider Helping, But Have Your Kids Put Some Skin In The Game
If you're in a position where you are saving for retirement – and you're on track, you may want to consider helping your kids fund their education. There are good reasons to have your kids pay for at least a portion of their schooling, however. One study by Laura Hamilton, assistant professor of sociology at the University of California, Merced, found that kids that had their schooling completely paid for – did worse in school!
kids' GPAs actually dropped when parents were footing the bill for college. I call it "satisficing"—in other words, kids were doing just enough to stay in school. They dialed down the academic effort, and did less than other students who were paying part or all of their own way. When parents fund your education, it's a no-strings-attached situation. Kids are completely in the dark about what they're receiving, and how expensive it is. Parents also don't tell kids what they have to do to keep receiving it, and since paying for college makes it possible for students to spend a lot more time on the social scene, there's no motivating factor to make them focus on academics.
I think what it comes down to is talking with your kids as early as you can, and helping them to realize what the true cost of going to college is. Get them involved in planning for their education, and make sure that they understand that you will help them if you can, but that they will have a big part in paying for their own education.Start talking with them about these ideas early in high school – or even in junior high so that they know they'll need to apply themselves. If they realize they'll be paying for at least part of their own schooling, the hope is that they'll work harder in school to get academic scholarships and grants once they graduate. I had to pay for part of my own education, and doing so really helped me to mature, promoted responsibility and a better work ethic while I was in school, and taught me the true value of a dollar. In the end, there's no better teacher than real world responsibility.
How Much Should Families Save For College?
How many families are actually saving money for their kids' education? According to Sallie Mae's "How America Saves for College 2013" study, just 36 percent of middle-income families and 29 percent of low-income families have set aside money for college costs. So there are a lot of families not saving for education costs. How can you figure out how much you're going to need? A good start would be to check out one of the many college costs calculators, like this one:
The calculators can take different things into account including tuition, fees, room and board, the cost of inflation and more. Try a few of them and see what kind of a range you can expect. Figure out how much will be needed, high and low end, and then figure out how much of that cost you want to help pay for. If you can help with 1 year or 2 years of school, set that as your goal.
Where Should You Save For College?
So how can you save for your child's education? There are a lot of good ways to that.
529 College Savings Plans

Tax deductible in many states
Flexible – you can usually invest in any state's plan.

Roth IRA:

10% early distribution penalty is waived for college expenses.
Contributions always available.
Roth IRA value not considered for financial aid.
You still have the money if child doesn't go to college.
The 529 and Roth IRA are the two main ways that I would save for education here in the United States. In Canada you may want to consider an RESP.
Setting Expectations With Your Kids Early
I think it's key for parents and kids to have discussions about money from an early age, and once they get a bit older – in junior high or high school – to talk about college and how much it costs. If you plan on helping, start saving early, and let them know. But also let them know if you have expectations.
Set expectations with your kids early. Tell them they'll be responsible for getting good grades, and working hard in high school – and applying themselves in order to get scholarships and grants.
Encourage the child to examine the ROI of a certain major and school. Discourage high cost schools for wrong reasons (my friend is going there, party school)
If you're going to help with costs, set clear goals for continuing to help. For example, one father set a goal for his son of having a 3.5 GPA the first year in school (which the student paid for), and if it was maintained he would pay for the following three years. Be clear about what the money is going for (not for spring break!) and offer help in budgeting, goal setting, and so on.
Have them put skin in the game: Students that have something invested in the process tend to do better academically because they have more at stake. They realize better what the cost of their education is. Encourage them to work hard to get grants, work 20-25 hours a week and pay off as much of their school debt as they can while they go to school.
For me it comes down to this. If you can help your kids pay for school, go for it! If you're struggling to save for your own retirement, however, focus on that first. When you're on an airplane the airline attendants give instructions that if the plane is going down, put your own oxygen mask on first, then your child's. The same goes with paying for college. Take care of your own retirement first, and then worry about helping your child. What are your thoughts? Should parents feel obligated to help their kids pay for college?