We are coming up on graduation season and the focus on college will be starting soon.
There is a lot of confusion about which college savings plans are the best to save for college.
It's never too early to start looking at college funding for your children – even if there is one on the way (Pete! :))
Most of us have heard of 529 plans, and there are advantages and disadvantages to using 529 College Savings plans for college, but have you thought about using your Roth IRA for college funding?
Let's check out the positives and negatives.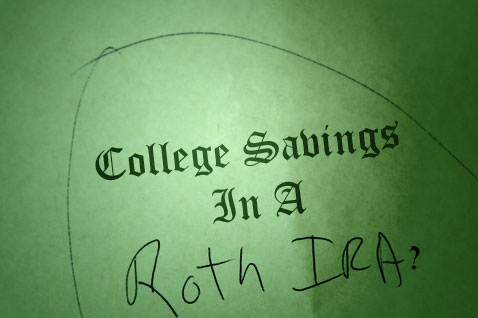 Advantages to Using a Roth IRA for College Savings
10% Penalty is Waived for Early Distribution
If you decide you should open a Roth IRA and would like to use it for college savings, but you will be taking the money before you turn 59 1/2, the 10% penalty for early withdrawals is waived.
Of course, this is provided you are using the money for college education expenses.
The same goes for withdrawing from Traditional IRAs as well.
Remember, you can always pull contributions out of your Roth IRA at any time without tax or penalty because it's after-tax money.
Normally if you pull earnings out of your Roth IRA early there is a 10% penalty applied to those withdrawals – so that is waived.
The Government Doesn't Factor Your Roth IRA Value for Financial Aid
Financial Aid is a big part of college funding, but the government does not count the Roth IRA values when you are applying for financial aid.
This is huge for those hoping to get some money from financial aid and are worried about shooting themselves in the foot because they've saved some money.
You Still Have Retirement Savings If Your Child Doesn't Go to College
One of the big detractors for 529 plans is that if your child doesn't go to school and let's say you don't have another who will go to college, then all of the earnings in your 529 plan are taxable and distributions are also penalized with a 10% penalty!
With the Roth IRA; however, you don't have to worry whether your child wants to go to college or would rather move to L.A. and start a rock band after graduation.
Your money will still be in your name and will be used for your own retirement!
Disadvantages of Using a Roth IRA for College Savings
Earnings are Taxable
Roth IRA rules state that you can withdraw your contributions at any time without tax or penalty.
Any earnings however, must have been in the account for at least 5 years and if used for higher education they are still taxable.
The 10% penalty for early distribution are waived, but the taxes are still owed.
Distributions from a Roth IRA are Counted as Income for Financial Aid
Ok, so they don't count the values of the Roth, but after you've taken a distribution –
"The entire IRA distribution, taxable or not, must be included in base-year income on the student's federal financial-aid application for the following year" according to Joseph Hurley, CPA for Bankrate.com.
This can reduce your needs-based financial aid package.
Your Contributions are Limited
You can only put in the max of $5,500 per year to the Roth IRA ($6,500 if over age 50) provided you have at least $5,500 of earned income.
With a 529 your contributions are essentially unlimited.
You Reduce Your Retirement Nest Egg
The last big trade off is the fact that you will be using your own retirement nest egg for your child's college savings.
Unless you know how much you need to retire and are sure that using your Roth IRA for college won't impact your retirement picture, then you may want to think twice.
What are Your Thoughts – Are Roth IRAs Good Ideas for College Savings? Tell us your thoughts in the comments.