Are you struggling with your debt? Do you wish there was an all-in-one tool that could help you plan how to repay your debt most effectively? If so, then ReadyForZero may be the tool that you are looking for.
ReadyForZero is a free program and was designed to help people get out of debt as quickly as possible.
UPDATE: From Wikipedia – Effective November 12, 2016, Avant shut down ReadyForZero's credit score and debt planner tools. All user accounts are deactivated and users are no longer able to log in. The company has not commented on the reason for shutting down the ReadyForZero platform.
Getting Started With ReadyForZero
Setting up a ReadyForZero account is simple. Simply choose a user name and password and begin linking your accounts.
ReadyForZero essentially serves as a bridge from you to your accounts; ReadyForZero does not store any of your personal or financial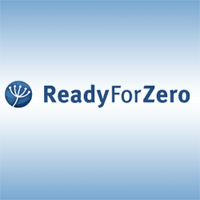 information.
When you link your account to ReadyForZero, you use the same username and password you use when directly accessing the web page of your credit card company or student loan servicer. After a minute or two, your account appears in your ReadyForZero profile and includes your current balance, APR and monthly minimum payment.
Tailoring A Debt Repayment Program For You
ReadyForZero has several tools that can help motivate you and hopefully speed up your debt repayment.
Your Payment Plan. Your Payment Plan starts with the minimum payments you need to pay to service your debt every month. It also shows you your total debt, how much you will pay in interest over the course of the repayment period as well as the total you will pay (debt and interest combined).
Want to get out of debt faster? Choose a higher amount you will pay monthly. ReadyForZero shows you how much faster you can get out of debt and how much less you will pay in interest. Alternatively, you can choose a date when you want to be debt free, and ReadyForZero will tell you how much you have to pay every month to achieve this goal.

Progress Graph. In addition to the Payment Plan, ReadyForZero has a progress graph that shows you where you are on your debt free journey. You can also see what your balance will be by month as well as your ultimate pay off date, which can be quite rewarding.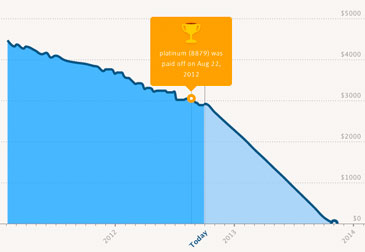 Purchase Alert. ReadyForZero can send you alerts if there is activity on your account. For instance, I made a $300 purchase with my credit card, and ReadyForZero sent me an alert. This service can help you detect if there has been any fraudulent purchases as well as motivate you not to charge more.
Due Date Alerts. ReadyForZero can also e-mail you payment reminders 7 days before your payments are due.
ReadyForZero Mobile Apps
ReadyForZero also has mobile apps available for Ipad and Iphone. From within the app you can view your accounts all in once place, schedule payments (if you have ReadyForZero Plus), view your progress on debt repayment, set mobile alerts and more.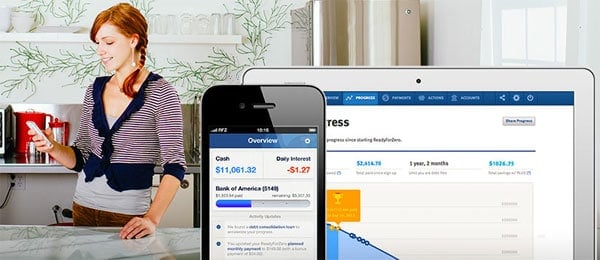 Drawbacks to ReadyForZero
While I think ReadyForZero is a wonderful program and want to take advantage of it myself, there are some glitches that left me frustrated.
Some Accounts Don't Link. Some credit card and student loan accounts simply don't link up at ReadyForZero. I had a credit card balance on my US Bank account, which happens to be one of the banks that doesn't readily link to ReadyForZero, so I couldn't access my account to add it to my debt repayment plan. I ended up switching my credit card balance to a Chase card to take advantage of a 0% interest promotion, and the Chase account linked just fine.
Likewise, my student loan is nearly paid off, and last year it was transferred to another servicer. I cannot link to this account either, though I had no problem linking to my husband's FSA Direct loans.
Rigid Repayment Plan. ReadyForZero's mission is to get consumers out of debt as fast as possible. That means they always compute your repayment plan with any extra money you have going on the highest interest debt.
If you are someone who is following Dave Ramsey's snowball method, ReadyForZero is not set up to put the extra money on the smallest debt. ReadyForZero is trying to make this an option in the future, but it is not available yet.
Final Thoughts
ReadyForZero is a valuable tool for those who want to get out of debt, and best of all, it is free! As long as your accounts link without trouble (unlike mine), and you want to pay off your debts based on the highest interest rate instead of the smallest debt, ReadyForZero is an excellent tool to use and may just help you get out of debt faster.
Have your own experience with ReadyForZero? Tell us your thoughts in the comments.