I signed up for Lending Club a few months back on a whim to try and see how it would perform. I'd been hearing about it quite a bit on personal finance blogs, and the returns that people were claiming to receive seemed like they were almost unrealistically good. There had to be a catch, it piqued my interest.
I started my investor account out slow. I took the $25 bonus Lending Club gave me for signing up (which you can get too) and added about $75 to that for about $100 in loans. I went into my account and hand picked 4 $25 loans to send out.

Purchasing investments in Lending Club is pretty easy. First, you link your bank account to your Lending Club account, and transfer any funds you wish to invest to your Lending Club account. Next you click on the "invest" tab in LC. On the invest page you can get as involved as you want with choosing your loans, or you can let the system choose loans for you. If you choose to allow the system to pick for you, you can just choose what type of investor you are (conservative, moderate or aggressive), and it will then give you a mix of loans to fit your personality and level of risk you're willing to take on. The higher the risk, the greater the rewards, but also the greater the risk of choosing a loan that will default.
My Lending Club Strategy
Personally I chose to hand pick the loans that I gave out to help minimize my risk. I went in, searched only for loans with an A or B rating (good to decent credit/employment), and only chose loans that were ones that I could agree with (for example, people who were consolidating debt to get out of debt or paying off high rate credit cards). I also chose loans for smaller dollar amounts, below $10,000 because in my opinion those loans are probably going to have a lower rate of default (because of the lower monthly payments). So again, my strategy for Lending Club was to purchase loans that were:
Less than $10,000: Lower loan amounts means a lower monthly payment and a lower risk of defaulting on their loan.
A & B credit rating: I've only invested in loans that have either an A or B credit rating (good credit). That means I'll have a lower return on my investment than someone with lesser credit, but it's trade off I'm willing to take. I may sprinkle in a few C class loans soon, but not more than a few.
Zero delinquencies: When you view borrower's profiles you can see from their credit report if they've had any reported delinquencies on their account. If they have, I skip their loan. If they've been late in the past or missed a payment – they're likely to do it again.
Debt to income ratio below 25%: I like to invest in loans where the borrowers have a lower DTI ratio. Because of that I know they're better able to afford the loan.
Loans over 60% funded: When other people have invested in the loan, a lot of the times that means that they're a better risk because others have done their due diligence and agreed to invest.
Borrower answers to investor questions: Sometimes you're on the fence about lending to someone, it can make the difference how the person answers questions on their loan request page. As an investor you can ask the borrower questions about their employment, debts, delinquencies and so on. Their answers can help sway me one way or the other.
Because I'm a conservative investor, my rates of return aren't as high as some people's, but I also feel like I have a lower risk of default on my loans. So far I haven't had a single default, and my rate of return is hovering around the 11% range – that's much better than my old high yield savings account! Since I've been happy with my returns so far, I've increased my loan total to $500 over the months I've been investing. I plan to keep on increasing that slowly over time as long as my success continues.

Lending Club By The Numbers
I was interested in just what the numbers were for Lending club as a whole, as far as amounts invested, number of defaults, how many people are declined, etc. I found these numbers on the Lending Club site:
82.80% of investors have earned between 6% and 18% net annualized returns since inception
Funded Loans (10,097) $96,195,875
Average Interest Rate 12.70%
Declined Loan Requests (96,063) $961,010,942
Annualized Default Rate 2.39%
Interest Paid to Investors $6,645,705.02
Average Net Annualized Return 9.65%
To be completely honest I was surprised by how many loan requests are actually declined by Lending Club for various reasons. In fact, the minimum FICO score to get a loan is 660. That makes me think that they're actually pretty serious about making sure that those with a high probability of defaulting on their loans are weeded out before they are even able to get a loan. The default rate was also lower than I thought it would be – again tribute to the fact that they're cutting out undesirable borrowers before they even begin the process of getting a loan.
One of the most important numbers that I see above is that average net annualized return of 9.65%. That means you're getting a return that's a lot higher than you'd be getting at your local bank, in a CD or in most investments. Yes there's always the risks that are involved with something like social lending, but I believe the risks are manageable. If you choose good borrowers to help out that have verified incomes and credit, and you diversify your loan holdings, in the long run you'll come out ahead.
So why not give it a shot?
Ready to sign Up For Lending Club And Start Investing?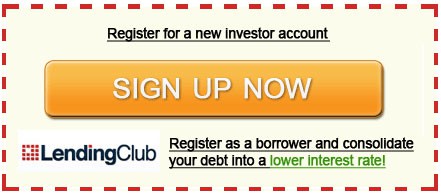 Have you had any experience with Lending Club? Tell us about how you're doing with your account, and how you manage the risk of peer to peer lending in the comments!