I remember like it was yesterday, my wife and I were deep in debt and creditors were calling us every day! Of course just like many "good people" that owed money and either didn't have the means to pay or just plain didn't want to pay…..I applied the strategy of not answering the phone!
Disclosure – I belonged to the category that because of being laid off I did not have enough money to pay but I will admit that eventually I got to the point that I just did not want to pay! Until one day I finally got fed up and said to myself: "I'm not supposed to be living like a prisoner in my own home, this has got to stop!"
I was tired of running and being a prisoner in my own home. Every time the phone rang my stomach felt as if I was on the worlds most violent roller coaster. I was tired of feeling ashamed and defenseless and full of fear! Enough was enough! A life full of fear and bondage was not the life God had intended for me to live.
So I got down on my knees and asked God for wisdom on how to deal with these creditors so that I can stop living a life of fear and regain my life.
If you need wisdom, ask our generous God, and he will give it to you. He will not rebuke you for asking.- James 1:5 NLT
Deal With Your Creditors Like David Dealt With Goliath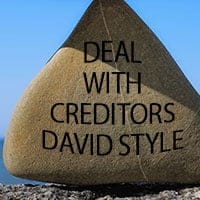 Here's the answer I got: "Deal with your Creditors like David dealt with Goliath"!
I learned that before I could start applying the Debt Snowball plan that I had heard so much about, I had to first learn how to talk with the creditors that held all this debt! But how could I possible talk with these people that seemed to hate me and really didn't care anything about my situation, all they wanted was my money! They didn't care that I had just been laid off and that I was fighting from week to week to feed my kids and to keep the lights on in my home!
So if I was going to "deal with my creditors like David dealt with Goliath" the first thing that I did was read about the account of how David defeated Goliath in I Samuel chapter 17.
From this story and experience I learned five key principals which I will call "Stone 1-5"! By applying these principals to my life I no longer feared talking with my creditors, I now actually looked forward to speaking with them. Very soon my wife and I were paying off our debts and got control of our life and our phone lines again!
The 5 Stone Principals of dealing with your creditors like David dealt with Goliath:
He (David) picked up five smooth stones from a stream and put them into his shepherd's bag. Then, armed only with his shepherd's staff and sling, he (David) started across the valley to fight the Philistine (Goliath). I Samuel 17:40 NLT
Stone #1) Be proactive
One of the problem's running from my creditors was that I became a very reactive person. Meaning that I was reacting to my circumstances instead of being proactive and shaping my circumstances. As it states above in I Samuel 17:40 NLT, "David started across the valley to fight Goliath." As you can see David did not wait for Goliath to come to him, David took the first steps towards Goliath! That is what I started doing, instead of the creditors making my phone ring, I had to make their phones ring!
Being proactive actually gave me the advantage because I dictated when the call was made and I already had a plan for what I was going to talk to the creditors about that day! Here's the funny thing, just like Goliath your creditors are used to people running away from them and being reactive and not proactive.
Stone #2) Understand what the reward is for winning this battle

There's an old cliche that says "You must pick and chose your battles" in other words if your going into a fight you should always know what the reward for victory is. And even more important, is that reward going to be enough motivation for you to keep going no matter what it looks like? Even David did this before he decided to go up against Goliath:
"Have you seen the giant?" the men asked. "He comes out each day to defy Israel. The king has offered a huge reward to anyone who kills him. He will give that man one of his daughters for a wife, and the man's entire family will be exempted from paying taxes!" 26 David asked the soldiers standing nearby, "What will a man get for killing this Philistine and ending his defiance of Israel? – I Samuel 17:25-26 NLT
I had to ask myself what will the reward be for dealing with these creditors and will the reward be worth the fear and discomfort that I was going to have to face? I decided that the rewards were: Peace of mind, control, confidence, freedom & freed up monthly cash flow! It was definitely worth going into battle for! What are you fighting for? Is it worth it? The answer in this case is definitely, Yes!
3) Make positive confessions before calling

One thing that really helped me eliminate some of the fear of calling a creditor was to make positive confessions before making each call. This helped me get the butterflies out of my stomach. I confessed things like: "I have favor with this creditor", "this creditor will honor that I am being proactive and will work with me"! Listen to how David spoke positively before he went out to fight Goliath:
Thy servant slew both the lion and the bear: and this uncircumcised Philistine (Goliath) shall be as one of them, seeing he hath defied the armies of the living God. – I Samuel 17:36
So before you make your call make positive confessions to help get the butterflies out of your stomach and build up your confidence for a positive outcome!
Stone # 4) You must document everything!
Ok, so you won't necessarily find this stone in the story but I learned this lesson the hard way since many of the creditors seem to forget promises that they were making on their end, I had to start documenting everything! I purchased a separate notebook to log all of my calls in one place and here's a quick run down on what I documented on each call:
Date & Time
Full name and extension of every person you spoke with
What did you talk about specifically that day
If an agreement was reached request that they send it to you in writing
Keep all documents in one file and store for future reference especially "Paid in full" statements!
Documentation is crucial as your dealing with your creditors.
Stone #5) Remember God has your back:

This is the most powerful out of all the stones! The one thing that I had to remember during this whole time that I was fighting to get out of debt and to work with my creditors was that God was in control and that he had my back. So no matter what the outcome of the call was going to be, I had already won! David told everyone who had his back before he set foot on the battlefield and right before he fought Goliath:
David said moreover, The LORD that delivered me out of the paw of the lion, and out of the paw of the bear, he will deliver me out of the hand of this Philistine. And Saul said unto David, Go, and the LORD be with thee.- I Samuel 17:37 KJV

And everyone assembled here will know that the Lord rescues his people, but not with sword and spear. This is the Lord's battle, and he will give you to us!- I Samuel 17:47 NLT
So, stay encouraged we have the greater one living on the inside of us. If you just remember this one thing you will be off to a great start in dealing with your creditors like David dealt with Goliath!
How do you relate to my story? What "stone" would you add that helped you overcome the fear of dealing with your creditors?
This is an article by Carlos Frank. Carlos is extremely passionate about helping people gain control of their personal finances. In his personal life, Carlos had to overcome poverty, severe paycheck to paycheck living,0 and layoffs from 3 jobs in corporate America! You can follow Carlos on Twitter @CarlosFrank.