Hospitality often seems like a dying art thanks to our busy, go go go society.
Yet, hospitality is so important that the Bible is filled with sayings about it.
One of my favorites is:
"Do not neglect to show hospitality to strangers, for thereby some have entertained angels unawares – Hebrews 13:2".
Even if you make the time to be hospitable, you may still be worried about the financial cost to do so. Making others feel welcome in your home, however, does not have to require a lot of additional money.
With some strategic planning on your part, you can welcome others into your home and be an accommodating host without damaging your budget.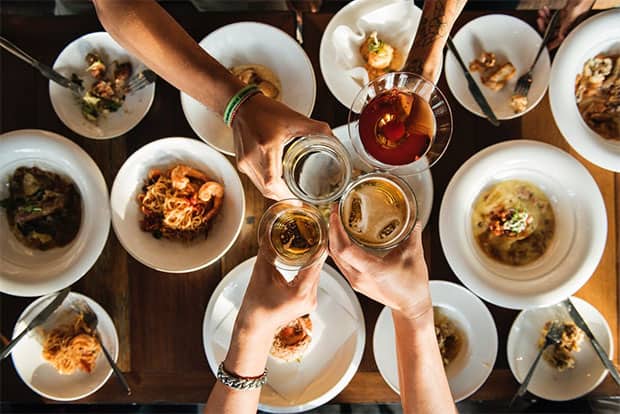 Consider Hospitality Part Of Your 10% Tithe
If you're Christian, you likely give a 10% tithe of your income. If your money is tight and you find hosting a financial burden, consider hospitality part of your 10% tithe and spend some of that money on hosting.
Peter 4:9 states,
"Offer hospitality to one another without grumbling."
Keep Frugal Meal Ingredients Handy
My friend, Tammy, who entertains frequently, has a stash of food that she keeps in a separate cupboard. This food is there just for when she has guests—expected or unexpected—and is food that will feed many people without costing a lot.
She keeps pasta and pasta sauce as well as canned beans, a bag of rice and boxes of macaroni and cheese in there. Within a half an hour of a guest arriving, she could make spaghetti, rice and beans, or mac and cheese, and she'd have enough to feed her own family and another visiting family.
Stay Stocked In Frugal Snacks
If your house is the hangout for neighborhood teens, first, consider yourself lucky that they're all hanging out at your house. Second, make your house hospitable to them; the easiest way to do this is to have food on hand as teens are always hungry!
There are simply yet tasty foods you can stock for this purpose. A homemade loaf of bread along with butter, jam, and nut butter can go a long way and tastes delicious. Consider buying popcorn kernels so you can pop your own popcorn, perfect for study groups and movie night, plus, it's so cheap!
Simple Drinks To Offer
You don't have to spend a lot of money on fruit drinks and soda pops.
If you want soda, stock up when it goes on sale, but for many parents, that strategy doesn't work because their kids drink the soda all up when they see an abundance.
Instead, offer more healthful frugal drinks like sun tea, coffee, tea, and water.
Double Your Meals
When I was young, I had a best friend, Cindy. Cindy's mom never, ever cooked. Cindy and her brother just lived off simple meals they could put together with canned and microwavable foods. Not surprisingly, Cindy often found ways to invite herself to Sunday dinners at my house. For several months, this drove my mom crazy as our money was tight, and she didn't want to feed Cindy every week. However, after a few months, she automatically made our Sunday dinners a bit bigger to account for Cindy's inevitable presence. She even took on a positive attitude by reminding herself that at least once a week Cindy got a nice, home cooked meal. After we grew up, Cindy told me how much she enjoyed having Sunday dinner with us.
Hospitality is something highly recommended and praised in the Bible, and it's something that can make us feel good if we offer it with an open and giving heart. A tight budget doesn't have to stop you from being hospitable.
How do you practice hospitality when your resources are limited?