There are a lot of different strategies you can take to make extra money that will supplement your primary income.
Some are relatively easy and allow you to start making money right away.
Others will take more work and some patience but offer greater potential.
If you're able and willing to wait a few months, or even a year, before your work pays off, creating a website or blog is an option that you should consider.
Not only can you make money from maintaining a website, but you can also collect a lump sum when you're ready to sell the site and move on. There are plenty of buyers who are looking to invest in established, profitable websites, and that means there are opportunities for you and me.
In the past five years I've sold multiple websites for prices ranging from $200,000 to $500,000. These are sites that I've built, maintained for a few years, and then sold.
In this article, I hope to show you that building and selling a profitable website is both realistic and achievable.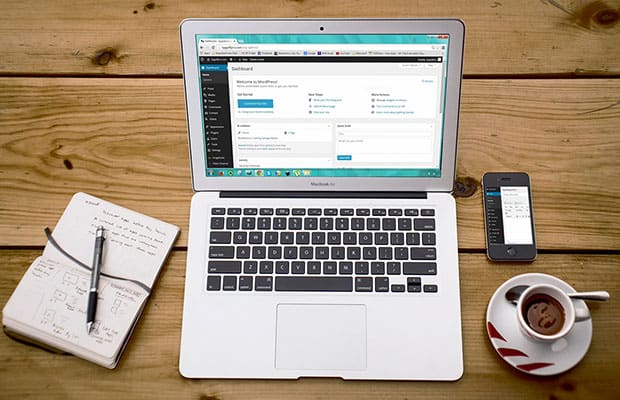 What Makes Building and Selling Websites a Great Opportunity?
Before we get into the how-to's of making it happen, let's first look at why you might want to create and sell a website.
1. You Can Do It Around Your Own Schedule
One of the most appealing reasons to run a website, blog, or some other type of online business is the flexibility. You can work on your site around your existing schedule. I worked on my first few websites in the evenings and on weekends while I still had a full-time job.
Regardless of whether you work full-time, part-time, are a stay-at-home parent, are retired, or whatever other schedule you have, you can work on a website when it is convenient for you.
2. Lots of Possibilities
When it comes to online business, the possibilities are endless. You can create a blog, membership website, e-commerce website, service-oriented business, or any number of other options.
Blogs and niche websites are very popular options, so I'm going to base this article on these types of websites.
Aside from types of websites, there are also unlimited possibilities for the topic or subject of your website or blog. I love being able to create websites on topics that interest me because it makes the work so much more enjoyable.
3. Low Startup Costs
There are hardly any startup costs that are absolutely necessary for a blog or website. You'll need a domain name, which you can purchase for $10 – $15 per year. You'll also need web hosting, which you can purchase for $10 per month or less to get started.
Of course, there are other things that you can spend money on if you choose, but it is lower than the startup cost for just about any other type of business.
4. High Income Potential
There is really no limit to the money that you can potentially make with a website or blog. When you sell a website you'll be able to collect a lump sum that can easily be worth 2-3 times the annual profit made by the blog.
How many jobs will pay you 2-3 year's worth of salary when you leave?
You may be starting a website for some extra money on top of your full-time job. But it's possible that your website income will allow you to leave your full-time job at some point in the future. That's what happened to me after about 1.5 years of consistent work on my first site.
5. It's Duplicatable
One of the best things about creating websites is that once you know how to do it successfully, it's possible to repeat the process with other websites.
I've built several websites over the years. Although each one has some things about it that are unique, I generally follow the same basic approach with my sites. That's what has made it possible for me to build and sell multiple websites for six figures.
How to Build a Website or Blog That Someone Will Buy
If you've never created a website or blog, the thought of selling one could seem overwhelming. You're probably thinking that you would need to create something extremely impressive and exceptional in order for someone to want to buy it from you.
The truth is, just about any website that makes a profit can be sold. Of course, the amount that you get for the site will depend on several factors, but there are buyers who are looking at all different price ranges.
Don't worry about the specifics of how to go about selling a website, we'll cover those details later in the article. For now, let's look at the keys to building a profitable website.
1. Pick a Topic That Interests You
The first thing you need to do is select a topic for your website. Ideally, this will be a topic that you know something about. You don't necessarily have to be an expert, but it's good if you are not a complete novice either.
When I'm choosing a topic for a website or blog, I like to pick something that I want to learn more about. Maybe it's something I know a little bit about, and I want to know more.
Through the process of creating and maintaining the website you'll gain a lot of knowledge, and if it's something you enjoy, the process can be fun.
Focus
One of the keys is to pick a topic that is focused. You don't want to cover several different unrelated topics on your blog if your goal is to make money. If you are going to be covering a few different topics, make sure they all connect and that they all appeal to the same audience.
Niche websites that cover one specific topic tend to be effective for search engine optimization. If ALL of the content on your site or blog is centered around one main topic Google will know exactly what your site is about, and you'll probably rank higher for related searches.
For example, if your website is focused on the topic of camping and all of your content involves that one main topic, you'll have an easier time ranking on the first page for searches related to camping.
On the other hand, if your blog covers parenting, cooking, camping, and money, you're likely to have a harder time ranking on the first page for camping-related content.
Your topic can be broad or narrow and still have focus. For example, a broader focus would be to have a site that covers camping, hiking, and fishing. They are all outdoor topics that are related and will likely appeal to the same audience.
In general, the narrower your topic is, the less competition you'll face. Broader topics give you more flexibility in terms of the content that you can publish and the ways you can make money from the site, but typically it will take longer to break through to profitability with a broader website.
For more on creating a niche-specific website please see my Complete Guide to Building a Profitable Niche Website.
2. Set Up Your Site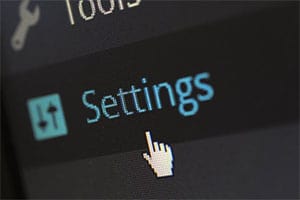 Once you've decided on a topic you can go ahead and set up your site. You'll need a domain name (for example, BibleMoneyMatters.com) and web hosting.
The easiest way to create a website or blog is to use WordPress. WordPress is a free open-source content management system (CMS) that makes it easy to create and manage your website without the need to code. And almost every web host makes it very easy to install WordPress with just a few clicks on the mouse.
I can't get into the details of how to set up your website, but if you need directions you may find Peter's ebook Blueprint For How To Make Money With A Blog to be a big help. He walks you through everything you need to know.
3. Pick a Monetization Strategy
Before you put a lot of time and effort into a site, it's good to think about how you will make money with it.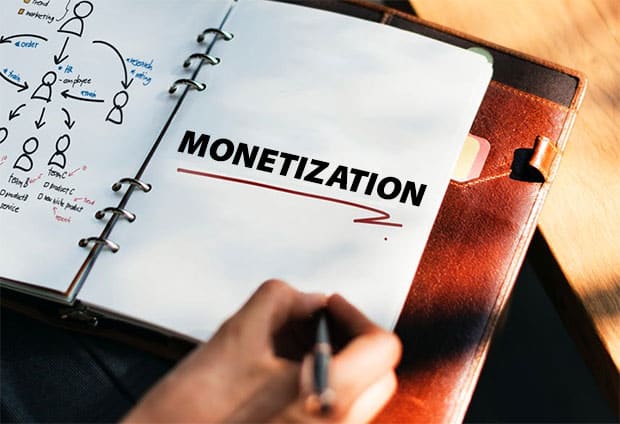 There are several different options, and to be honest, your approach may change or evolve as you go along. Even so, it's good to start with a plan.
Here are a few of the most common ways to make money from a blog.
Display Ads
If you have traffic coming to a website, you can make money with ads. The easiest way to monetize a site is with Google AdSense. You can sign up and Google will provide you with the code that you can put on your site. Whenever someone clicks on an ad you'll make money.
While AdSense is the easiest option, there are other ad networks that pay a lot more. The downside is that some other ad networks won't accept new sites, and you'll need to reach a certain level of traffic before you can get accepted into the network.
Mediavine and AdThrive are two of the best. They require at least 25,000 and 100,000 monthly pageviews respectively. (Pageviews is simply the total number of pages that have been viewed on your site. If a single visitor goes to 4 different pages on your site that will count as 4 pageviews.)
Ads can be a good way to make money because if you have the traffic there is nothing else you need to do. But ads also can detract from the user experience on your site if there are too many of them, and each visitor that clicks on an ad is being led away from your site.
Also, relying on ads is not the most lucrative way to monetize a site. If you choose to use ads I would recommend that it is a supplement to another monetization method, rather than your only monetization method.
Affiliate Marketing
Another way to make money from your website is through affiliate links. Affiliate programs allow you to earn a commission by promoting products and services.
For example, you can sign up for Amazon's affiliate program (they call it Amazon Associates) and add customized affiliate links to your content. If you have a camping website you can link to different tents that are for sale on Amazon. If someone clicks through your link and makes a purchase you'll earn a commission.
There are affiliate programs in just about any industry or niche, so it's a great opportunity. The potential income is high, especially with digital/downloadable products. Affiliate commissions tend to be much higher on digital products as compared to physical products because there is no cost for inventory and the seller can afford to give away a higher percentage of the sale.
Also, as an affiliate you won't have to deal with customer service. All you do is point visitors in the right direction, and once the sale is made your job is over. The seller will handle any customer service that is needed.
The downside to affiliate marketing is that you are building someone else's customer base for them.
In general, I recommend affiliate marketing for just about any website or blog. Check out Michelle Schroeder-Gardner's course on affiliate marketing to get a top notch primer on affiliate marketing.
Selling Your Own Products
Another great way to monetize a website or blog is to sell your own product. It could be a physical product that you ship to customers, or a digital product that customers will download.
Both are great opportunities, but personally I prefer digital products. WIth physical products you'll have to deal with paying up front for inventory, finding a manufacturer, quality control, warehousing inventory, shipping, and returns.
Digital products are my #1 choice for monetizing a website or blog, and what made it possible for me to turn a photography hobby into more than $1 million.
The downside of selling a digital product is that you'll need to spend a lot of time and effort in creating a great product. And depending on the type of product, you may also need time to provide customer service.
Selling digital products and promoting other people's products as an affiliate can be a great combination. No matter what product you sell, there will always be other products you don't provide that will also appeal to your target audience. For these products that you don't sell yourself, you can promote other people's products as an affiliate and earn a commission.
Sponsored Content
Another popular way to monetize a blog is to publish sponsored content. A growing number of companies are willing to pay bloggers to review their products and services, or even just to mention them in blog posts.
The income potential here is very good, and you don't need to have a huge audience (although a huge audience certainly won't hurt).
In my opinion, sponsored content is a great secondary income stream that can supplement another monetization method. I wouldn't advise making this your primary income stream because if you publish too much sponsored content you could turn off your readers.
For a detailed look at how to make money with sponsored content please see The Ultimate Blogger's Guide to Sponsored Content.
4. Brainstorm Content Ideas
Once you are ready to start your site, it's time to think about the articles that you will publish. I like to create a big list so I always have plenty of ideas ready. Whenever I come up with a new idea for a blog post I add it to the list.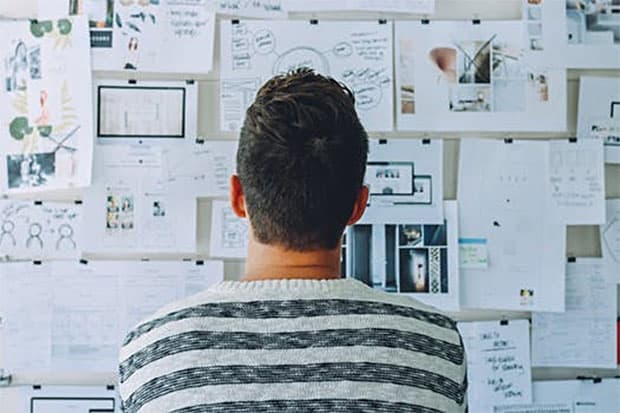 There are any number of different ways you can go about the brainstorming process. You can just sit down and list out all the ideas that come to mind.
One of my favorite approaches, especially when I'm starting a new website or blog, is to think about the most crucial topics that will interest a high percentage of people in my target audience. Articles that cover these topics can be useful for your blog for years to come, and they can serve as a great foundation for your blog.
For example, here at Bible Money Matters you'll find articles like 50 Easy Ways to Save Money Every Month and 50 Ways to Make Money. These types of articles will be of interest to a very high percentage of people that arrive on the site, and they should continue to be useful for years to come.
At Vital Dollar I've taken the same approach with articles like 9 Steps to Financial Independence and 21 Proven and Exciting Passive Income Ideas.
These types of articles are sometimes called "cornerstone content" or "pillar posts" because they can be an important part of the structure of your blog.
Another great way to come up with content ideas is to spy on your competitors and see which posts are bringing search traffic to their sites.
I won't go through all of the details in this post, but basically you want to find newer or weaker blogs in your niche, see what search phrases are driving traffic to their sites, and then create content that will target the same phrases.
The idea is, if a new or weak site is ranking on the first page of Google for a phrase it must be low competition. And if it is low competition, maybe you can rank on the first page too.
For a detailed, step-by-step look at the process please see SEMRush Review and Tutorial: Steal My Best Keyword Research Strategy.
Getting traffic to a new website isn't easy. But with this approach you should be able to find some phrases that can send traffic to your site relatively quickly.
5. Grow Your Community
In order to grow your website, you will need to connect with readers, as well as with other bloggers in your niche. The community around your blog is what will push it to the next level and allow you to make money with it.
There are a number of different ways to grow your community, but here are a few of the best options.
Comment on Other Blogs
As a brand new blogger, one of the best ways to start driving traffic to your site is to comment on other people's blogs.
Generally, when you leave a comment there will be a field where you can enter your URL and when your comment is posted your name will link back to your site. You don't need to leave your URL in the body of the comment, that is usually seen as spam and your comment will probably be deleted.
All bloggers love to get comments. When you comment on other people's blogs, they will see it, and many of them will click through and check out your site. This is especially the case if you are commenting on other newish blogs that don't get a ton of comments.
If you do comment on popular blogs that get a lot of traffic and comments, you may be able to get click through traffic from people reading the blog, although popular bloggers are less likely to click through because they get so many comments.
For this approach to work well you want to take a few minutes to leave a comment that actually says something of significance. Don't simply say "great post" or it looks like you didn't actually read the post. Share your own thoughts or comment on a specific part of the article. The more your comment stands out, the more likely you are to get traffic from it.
Although blog commenting can be a great way to start to get some traffic to your site, you're not going to get floods of traffic from this approach. I recommend settings aside a few minutes each day to leave comments at a couple of different blogs, but don't pour hours and hours of time into this.
Reply to All Comments on Your Posts
Whenever you get a comment on one of your posts, be sure to reply with your own comment. Visitors will see it and know that you appreciate comments, so it can lead to even more comments. Plus, the people you are replying to will feel valued and they'll be more like to keep commenting in the future.
Share Other Bloggers' Posts on Social Media
A great way to get noticed by other bloggers is to share their posts through your social media profiles (and tag or mention them).
I use Twitter a lot for this purpose. You can retweet or just include the bloggers Twitter handle in your tweet and they will get a notification.
Find an Existing Community and Get Involved
Most niches have some existing communities where other people connect. It could be a forum, a niche-specific social network, or a Facebook group. Find the place where other people in your niche hang out, and get involved.
Write Guest Posts for Other Blogs in Your Niche
Writing for other blogs is a great way to increase your exposure to new readers while also building your network of other bloggers. Many bloggers are open to guest posts, although some are not.
For a detailed look at how to do it, see The Ultimate Guide to an Effective Guest Blogging Strategy in 2018.
6. Stick With It
Now that you're on the path to growing your blog, the biggest key is simply to stick with it. The first several months can be really frustrating and you'll probably feel like you are writing for no one at times, but keep going.
Over the years I've known many successful bloggers and many who gave up. The biggest difference that separates the two groups is that the successful ones were more patient and consistent. Don't give up easily.
How to Sell Your Website
Once you have a profitable blog that is making money you may or may not want to sell it. I think selling websites is a great way to make money, but you don't want to sell too soon.
The hardest part of blogging is gaining the initial momentum. At some point you'll turn a corner and everything gets easier. You'll have visitors coming to your website without needing to work so hard for it.
At this point you can start to make more money with less time. If you sell too early someone else will take over just when your blog is turning the corner, and they'll reap all the benefits of your hard work.
That being said, when you do feel like you're ready to move on there should be people interested in buying your site. Let's take a look at those details.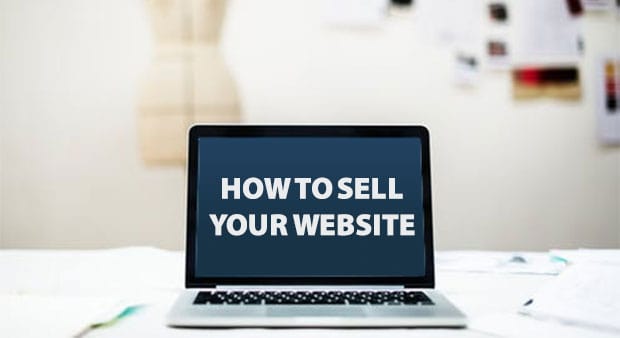 How Much is a Website Worth?
The true answer is that a website is worth whatever someone is willing to pay for it. I know that's a vague answer, but there's no way to know exactly what a website is going to sell for until you have people who are willing to buy it. Each buyer will have his or her own opinion about the value and what they are willing to pay.
However, many buyers will take a similar approach when deciding what they are willing to pay. In general, they will look at the average monthly profit over the past 12 months, and they will multiply it by some number.
For example, if your site has made $48,000 of profit in the past 12 months that would come to an average monthly profit of $4,000. The buyer might multiply this by 30 to determine that they are willing to pay $120,000 for the site.
For a site that is making a few thousand dollars per month, a typical multiple would be somewhere between 24 – 36 times the average monthly profit.
Right now it seems to be a seller's market, and many sites are going at the higher end of that range. I sold a blog two months ago and I got just below 36 times the average monthly profit.
The best way to get an idea of what your website is worth is to reach out to a broker. There are brokers that specialize in selling websites and online businesses, and most brokers will give you a free consultation to tell you what they would list your site for. Whether you decide to hire the broker or not, the valuation they give you can be really helpful.
Three brokers who will give you a free valuation are:
Quiet Light (I sold my last site through them and highly recommend them)
Two Ways to Sell a Website
The two most basic ways to sell your site are:
Hire a broker
Find a buyer and negotiate a price on your own.
I've done it both ways, but if you have never sold a website before it's easier and safer to go with a broker. In general, you won't pay a fee to the broker unless they sell the site. Brokers typically charge a fee of 10-15% of the sale price.
If you know someone who may be interested you can try to sell it on your own without using a broker. Either way, I recommend having your own attorney review the legal agreement before moving forward.
Although no one likes to pay a broker fee, the fee can be well worth it if the broker is able to get a higher price for your site. A few months ago I was looking to sell a blog and I had a buyer who was interested in the site with a price range around $130,000 – $150,000. We didn't come to an agreement so I listed it with Quiet Light.
Within four days of listing it for sale I had two offers, each over $200,000. The better offer, which I accepted, at $216,000. Even after 10% broker fees I walked away with $194,400… much more than I would have been able to get selling it on my own.
Tips for Selling Your Website
When it comes time to sell your site, here are a few quick tips to make the process smooth.
Keep Very Accurate Financial Records
Make sure you are keeping very accurate and detailed records of all expenses and revenue associated with the website. Brokers and buyers will want to see a profit and loss statement that breaks down the numbers by month.
If you have your records organized you can save yourself a lot of time. And I've found that buyers really appreciate the good organization, and they'll take you more seriously.
Know Why You are Selling
Everyone who considers buying your site will want to know why you are selling. Be prepared to answer this question.
Limit Your Hours
Another question every buyer will ask is "how much time do you spend working on the site?" The fewer hours your work, the better. The buyer will probably outsource the majority of the work, so the amount of time needed to run the site will impact how much the buyer has to spend to keep it going.
You definitely do not want to neglect your site before you try to sell it (because you don't want the profit to drop), but you do want to be sure that you are spending your time on stuff that matters. Evaluate how you are spending the time that you work on the site. If something you do isn't producing results, stop doing it.
Have Freelancer's in Place
Since most buyers will be outsourcing the work for the site, it can be helpful if you already have freelancers doing some or all of the work. The buyer can continue to use the same freelancers and the transition will be smoother. Plus, the buyer won't have to guess about how much they will have to pay freelancers.
Conclusion
While there are a lot of different ways to make extra money, building and selling websites presents a unique opportunity. The work is not easy, but it can be very rewarding. The income potential is extremely high, and you can also work on projects that you enjoy.
If you're interested in starting your own site please be sure to check out Peter's ebook Blueprint For How To Make Money With A Blog or the full course from Holly Johnson called Earn More Blogging.