I've been blogging 5 days a week for many years now, and in that time I think I've learned quite a bit about what it takes to run a successful blog. It's been quite a roller coaster ride.
I've been through ups as I watched my site take off after the 2008 economic crash, and I've been through downs when my site took a big search traffic hit after Google's Panda update in 2011 and beyond.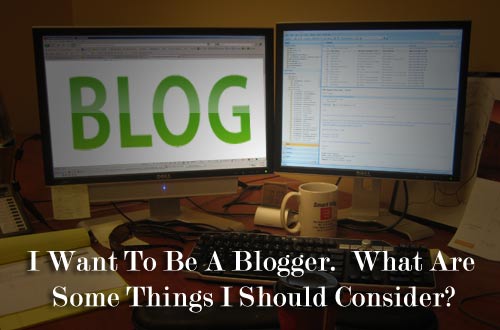 I think there are a lot of misconceptions about blogging.
I think some people have a romantic notion that they'll start writing a blog, 1 post a week, and magically a month later they'll be making enough money to quit their day job. Then there are the people who scoff at the notion that you could ever make money with a blog at all, and think that blogging is a waste of time. I think you'll find me somewhere in the middle.
Today i wanted to write a few things that I've learned about blogging, and what new bloggers should consider when they're starting up their own blogs. Hopefully I'll dispel a few misconceptions in the process.

Things To Consider When Thinking About Starting A Blog
So what are some things that I think people should keep in mind when starting up a blog?
Running a successful blog is a lot of work: I think some people have a notion in their head that running a successful blog isn't a lot of work, that it just means writing a post here and there, publishing it and sitting back as the money flows in. It's a lot more than that though. To have a successful blog you need to be a decent writer, you have to engage in social media, know how to do some basic SEO research, network with other bloggers, do some marketing and PR work, and so much more. My blog is a second job for me, and I can't even begin to think how many hours I've spent on it and other online projects. Starting a blog? Be prepared to put in some long hours.
Bloggers aren't just writers: If you have a blog you're usually going to have to wear a lot of different hats. You're a writer, a designer, a coder and an SEO consultant. You're going to have to figure out the basics of self hosting a blog and using WordPress (or other platform). You'll need to figure out how to promote and get links for your content. And when you've done all that you'll need to put your advertising hat on and work out some advertising deals in order to make money. Being a blogger means you'll truly be a jack of all trades.
Keeping traffic consistent and growing requires a strategy: If you want to be continually growing your site's traffic you'll need to have a strategy for growth. You'll want to have a plan for writing regularly on your site, promoting your content, networking with other bloggers, and finding ways to get links back to your site via guest posting and other methods. If you think you can just write and the site will grow, you're probably going to be mistaken.
Your site won't have thousands of page views right away: Sometimes people think that they can just start a blog and instantly rocket up the blog rankings and get thousands of readers. While that does happen from time to time, most sites have to slowly build a following and a nice archive of articles before they receive thousands of page views. Don't get impatient or discouraged if it doesn't happen right away. It took me months before I had that first 1000+ page view day.
If you want to make money with your blog, it will take time: Some people expect to be making money from their blog right away. The problem is that in order to start making money from your blog, you'll need to have built up some decent traffic. A lot of ways that people make money with a blog require traffic – like CPM ads, pay per click advertising and affiliate advertising. As your traffic grows, so will the income. You might be tempted to give in to the low hanging fruit like paid text links (I know I did way back when), but in the long run those things can hurt your site in search engine rankings, so I would do your best to avoid them.
If you don't make much money after a few months, it might be your content: I've heard newer (and not so new) bloggers complain about how they're not able to monetize their content. They talk about how they never get an Adsense payout, or how they're not getting enough traffic to make anything with CPM or affiliate ads. Then when you look at their content it's not very hard to see why they're not making any money. The topics they're writing aren't conducive to making money. The topics they write are very self and inward focused. They write about how they overspent on eating out or about how they are struggling with a budget. You'll do a lot better monetizing, however, if you focus your writing on other people and helping them to solve their problems. Think about what topics people search for, what companies might want to buy ads on, and that may monetize well. When creating content keep the focus outward on companies and people, and not on yourself. You'll do a lot better. Want some hints at what types of topics monetize well? Check out the bigger sites in your niche and see what things they write about, and ask for advice from more successful bloggers.
It pays to diversify your traffic sources: Far too often bloggers will rely on one traffic source or another for their site. I've done this at times relying far too much on Google traffic. So when I got hit with a penalty after the Panda update, my traffic suffered. While you will probably never be able to get completely away from Google since they're the big dog in the search world and refer a ton of traffic, you can at least diversify by creating other traffic sources. Use social media. Create an email list. Comment on other big sites in your niche. Guest post. Find as many creative traffic sources as you can think of.
It pays to diversify your income sources: Sometimes bloggers can get stuck in a trap of relying too much on one income source or another. The problem is that far too often you'll see that income source dry up if something happens, and then you're stuck with no income at all. For example, I've seen bloggers rely solely on Adsense income. I've read countless stories of people who had their Adsense accounts closed with no warning or recourse. If that happens you better hope you have other sources of income coming in. Diversify by creating income from an email list, from affiliate ads and posts, CPM ads, writing an ebook and more. Here's a post where I talk about some of my top income sources.
If you can stick with it past 6-12 months, you may have a chance!: The burnout rate for bloggers is extremely high. I started blogging in January 2008, and only a handful of the personal finance blogs that were around back then are still live on the Internet. People get tired of writing every day and get burned out after not seeing enough of a return. My guess is that most bloggers quit or stop updating their sites in the first 6-12 months. The thing is, if they had just stuck with it past the 6-12 month mark, they probably could have seen their income grow and created a viable money producing asset.
You can't treat it like a hobby and expect it to make income like a business: If you want your blog to be a true money maker, you'll need to treat it like a business. You'll need to keep track of blog income and expenses, build business relationships and find ways to make it profitable. If you don't care about making money, that's fine – you can get away with not posting regularly, engaging with your users, or building traffic. Just don't expect it to make quit your day job money, it's probably going to remain a hobby.
Creating great content on a regular basis isn't easy: If you want to have a site that shows growth and is consistently showing up in the search engines you'll need to publish regular content on your site. Thing is, it can be tough to come up with ideas for new topics every day. You'll need to come up with creative ways to diversify your content by coming up with post series, quick posts and long pillar posts, as well as doing video content or podcasts. Try brainstorming or mind mapping content ideas on a regular basis to keep things fresh, and don't forget to do some keyword and competition research to see what topics are conducive to creating income for your site.
When it comes down to it when you're running a money making blog, you're actually running a small business. You're doing things like keeping track of your blog income and expenses, you're paying freelancers for work they've done for you, you're doing marketing and PR work for your site, you're the IT guy keeping the website up and running and you're a graphic design expert making your site look great. Oh, and sometimes you write.
Long story short running a blog is a lot of work. But if you do it right all that work can lead to a great second income, or even a full time income if you desire.
So good luck as you start your new blog. Stay patient, work hard and you'll be an overnight success in only a couple of years!
Have your own tips for newer bloggers or things you think they should realize as they get started?
Check Out My Ebook And .MP3 On How To Start A Money Making Blog