Making Money From My Blog – More Than Just Adsense
Last time in the "Blueprint For How To Make Money With A Blog" series we looked at some hints to creating good content, ways to make sure your site has good SEO, and tips for promoting your content. This time, we'll look at how to monetize your site.

When I first started blogging I had no idea how many different ways there are to make money from a blog.
At the time Google Adsense was the only one I had ever used – and even with that I had never made more than a few dollars.
Once my site started gaining traction, however, I found that there are literally thousands of ways to make money.
Today I would like to go through some of the best ways that I have found to monetize a blog. Here's some of the topics we'll cover, click on the link to skip ahead:
How Long Does it Take To Start Making Money With A Blog?
Before we jump into the topic of how to monetize, I want to touch on the question I get most often from new bloggers.
"How long does it take to start making money with my blog?"
I can't give a hard and fast answer on that question, I can only tell you what my experience was. I started my blog in January of 2008, and at the time my only real monetization effort was the use of Google Adsense. My first month I made about $5 in Adsense clicks. My second and third months, just a little bit more. My fourth month I finally reached the payment threshold of $100.
I've made enough to receive a check every month since. My site has shown consistent growth in Adsense income since then (see the chart below for the increase in daily earnings over the past 2 years – without actual numbers). My blog earnings from other sources have shown steady growth as well.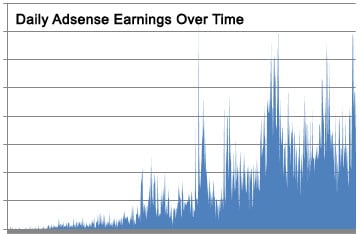 In talking with other bloggers my sense is that most blogs don't start earning any real money until around 6-7 months. That's pretty close to what I experienced.
Six months is also right about the time that most bloggers burn out and stop blogging altogether. So be encouraged.
If you can stick with it past the 6th month, and you're doing the things it takes to succeed, you have a good chance of making some decent income from your blog. Just remember though, making money from a blog isn't rocket science, but it's also not easy. It's a lot of hard work.
Make Sure To Have A Privacy Policy, Disclaimer and Disclosure
When you start accepting advertising you'll want to make sure that you put up a privacy policy on your website. Adsense requires it, as do many other advertisers. For an example of an updated privacy policy that you can use as a template, check out this site: example privacy policy.
If you are offering advice on your site you'll probably also want to post a disclaimer that your advice is not to be taken as professional advice, and that the user should educate themselves before making any decisions.
If you have advertising agreements or paid sponsorships you should disclose those agreements as well. You are now required by law to do that, according to the FTC. In general it's good practice to disclose affiliate agreements, sponsorships and other monetary arrangements on your posts, and on a policy page. Readers will trust you more if you do.
Along those lines – I am disclosing right now that some of the links in this page are affiliate links, and we will receive income if you sign up through our links. We only promote affiliates that we believe in, however, and if you prefer you can always go directly to the sites for those companies and sign up directly.
Don't Let Ads Overwhelm Your Site
One thing you need to be careful of when monetizing your site is to make sure that ads don't overwhelm your site and harm the user experience. A lot of newer bloggers, overwhelmed by all of the advertising choices available will sign up for all of them at once and put them all up on every page. The problem with doing that is that the user experience on your site will now be diminished through the completely ad focused pages, the slower page load times (because of all the ads), and the annoyance for your readers caused by all the ads.
It's important to balance your monetization of the site with a positive user experience. As such don't go signing up for everything all at once. Try out a few at a time, do some split testing to find out which ones perform the best, and keep the best ones live on your site. Remember, ad banners are only one avenue to creating income with your blog.
Different Advertising and Monetization Options
There are a lot of different advertising companies, ad types and monetization models. You can have ad banner networks, affiliate networks, "get paid to (GPT)" sites, private ad sales, create your own products, sell a service, and more. So let's get started looking at some of the options.
Ad Banner Networks, Affiliate Networks And GPT Websites
PPC Ad Networks (Pay Per Click)
Pay per click ad networks are companies that pay you when people click on the ads on your site. The most prominent example of a PPC ad network is Google Adsense.
The profitability that you have with your PPC ads depends on how much traffic your site generates, in addition to the click through rate (CTR) that you see for the ad units on your page. The CTR that your ads have will depend up on a variety of factors including how well the ads blend with your site, the ad's position on the page, and what topics you're writing about. The amount of money you make for every click on an ad will vary greatly as well depending upon the ad network, the niche of your site (some niches pay much better than others. The finance niche, for example, pays well while tech related niches don't pay as well per click) and where your users are coming from. Search engine visitors tend to be the ones who click on the most ads, so getting them to your site is key.
Some of the more popular PPC ad networks:
Text Link Ads
At some point Google declared that sites selling text links without the nofollow tag would be penalized (My site dropped from a PR5 to a PR3 after I sold text links. I have phased them out now). People purchase text links to artificially boost their backlinks, and in essence, game the google search engine. Getting links from a ton of sites with a decent page rank means you'll probably do better in the search rankings. Because the use of text links is essentially trying to "trick" the search engine, Google frowns upon them, and in the long run you'll most likely be penalized. If you want to chance it, you can probably find some companies out there that still pay for links – though I wouldn't recommend it.
Private Ad Sales And Sponsorships
Selling your own advertising space can be a very lucrative monetization method, mainly because it allows you to cut out the middle man (third party ad networks) and keep 100% of all the money you make instead of just getting a commission from a network. Popular money making methods include banner ads, RSS feed ads, sponsored content and text link ads (which we've discussed above). Set up an advertise page to let advertisers know what options you offer, and to give some of your vital traffic stats, media mentions, etc.
Banner sizes that are popular on blogs include 728×90 leaderboard, the 120×600 & 160×600 skyscrapers, the 300×250 rectangle and the 125×125 button. You may want to consider how you'll work these ad sizes into your design when you're putting it together.
Resources:
CPM Ad Networks (Pay Per Thousand Impressions)
Another great way to make money based on your traffic alone is through CPM ad networks. CPM networks are a lot like PPC networks, except in the fact that they don't pay you for clicks, but instead pay you each time their ad is served. CPM stands for "cost per thousand" impressions(M is the Roman numeral for 1,000) and is the standard way that CPM networks figure out how much they will pay. Networks will give you a CPM rate that you will be paid when you sign up. Some networks, like Adsdaq Ad Exchange, will allow you to set your own CPM rate.
By way of example, let's say your site has a $1 CPM. If you serve 1000 impressions, you will receive $1, as long as the network purchases all your impressions (which rarely happens). CPM networks often won't sell 100% of your impressions, so it's good to have ads (like PPC google ads) to fill in as backup ads.
Here are some of the more popular CPM ad networks:
Affiliate And Referral Networks (Pay Per Action Ads)
Companies are more than willing to pay you if you can get someone to purchase their product. They'll either do a referral program through an affiliate network, or sometimes they'll have their own in house referral program. To participate you will usually write a post about a certain product that you use and like, put an affiliate link on your post, and when someone completes an action after clicking on the link or banner, you get paid.
For example, one affiliate program I have on this site is for Michelle Schroeder-Gardner's affiliate marketing course. I paid for, use and believe in the product, and talk about it regularly in posts about how I make blogging income. On those posts I include my referral link. If someone signs up for the course, I get a 40% commission. If they don't complete an action, and don't sign up, I get nothing.
A great tool for setting up all your affiliate links within your WordPress dashboard, and keeping them in a central location is the Pretty Link Pro WordPress plugin. It is a premium plugin, but if you're looking to make money with affiliates, it is a tool that I've found to be well worth the cost.
Making Sense of Affiliate Marketing School
Some of the links above are affiliate links, and we will receive a small referral fee if you sign up through our link. As always, we only promote affiliate programs that we actually believe in.
Referral and GPT Networks (Get Paid To Websites)
There are quite a few sites out there that will pay you to fill out surveys, sign up for trial offers, buy products and refer new users to the programs. I've signed up for several of them, and found that the real money is to be made in referring new users. Here are a few of the ones I use most successfully.
The links above are affiliate links, and we will receive a small referral fee if you sign up through our link. As always, we only promote affiliate programs that we actually believe in.

Creating Your Own Product To Sell: Ebooks, Online Classes, Membership Websites
A lot of bloggers will diversify their income by creating their own products that they can sell on their site. Things like e-books, online classes, selling a service and membership websites have all become very popular.
Some ideas for things you can sell:
Optimizing Your Ads For Better Performance
When you setup your ads the first go round, you're probably not going to have the optimal setup for monetization. You're going to want to do some testing to figure out the best configuration of ads for your site. Here are a few things that you can do to optimize your earnings, especially for adsense ads.
Use Section Targeting For Adsense Ads
When setting up your site you can tell google adsense what part of your site it should take into account when targeting ads, and coming up with relevant results. This can make a huge difference in the types of ads that are showing, whether they are relevant to your content and can make a difference in payouts. To setup section targeting, you simply need to insert the following tags at the beginning and end of the content you want to target in your theme:
<!– google_ad_section_start –>
Your content here
<!– google_ad_section_end –>
For my site I've setup the section targeting to have the starting tag inserted before my post title, and the ending tag inserted after the page content (but before sidebars). For more details, check out the google help page on the topic.
Choose Where To Place Your Ads – And Test CTR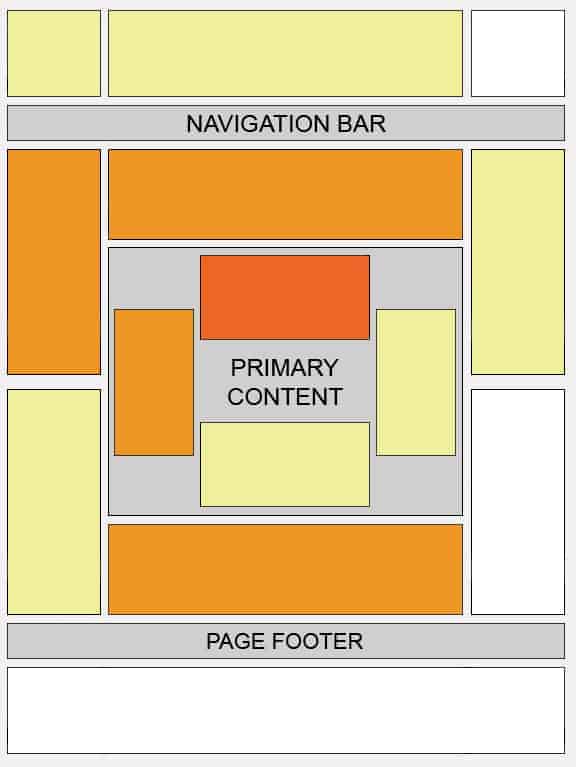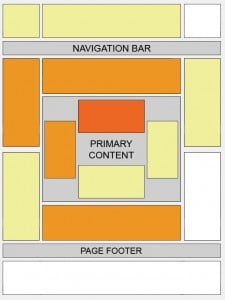 When you put adsense ads on your site, you don't want to just start putting ads everywhere willy nilly. You should carefully consider your ad placements, and do some testing to figure out what position works best for your site. Google has put out a heat map showing what ad positions traditionally do the best. You can find details here. For my site I've found that ads directly below the post title tend to do the best in terms of click through ratio. I have only 1-2 adsense ads per page at most, never more. Remember – what works for one site won't necessarily work for yours.
Split Test Your Ads
Different ad colors and and text sizes will work better for different sites. Because of that you should set up split testing of your adsense ads to find out what colors, font sizes and ad sizes are most effective for your site. To find out a simple way to do this check out this tutorial on split testing adsense ads.
You can also use an ad plugin like Who Sees Ads to do split testing of ads, as well as conditional display of ads to only certain types of visitors (like only search engine visitors).
Test, Test, Test
There are a variety of other ways that you can optimize your ads, and find the best ways to earn money for your site. The key is to test, test, and test. Test colors, ad sizes, ad placement, contexualization and anything else that you can think of that might affect your ads and their payouts.
Websites And Tools To Help You Succeed
A few more tools to help you succeed in your blogging adventures:
Have your own blog or website tools that you'd suggest? Leave us a note in the comments!
Monetizing Your Site And Optimizing Ads Wrap Up
Over the past 2 years of blogging I've learned that it is possible to make a substantial amount of income from a blog. I've also learned that it isn't going to happen for everyone, and it won't be easy. It's not a get rich quick scheme where you can expect to make $10,000 a day in some pay per click Google scheme. It's a process where you work hard and do the right things over a long period of time, and if you stick to it you'll begin to see rewards after many months where you make next to nothing.
Can you expect to be a problogger right away? Probably not. Can you create a site that will bring in some nice supplementary income? Sure. You just need to have a good work ethic, a will to learn things you don't already know, and you have to test, test and then test some more.
Next in the series, I asked a bunch of successful bloggers what tips they would like to give to new or aspiring bloggers who would like to monetize their sites. We got a lot of great input, and I know it'll be extremely helpful, their responses even taught me a few things! Stay tuned!
Have your own tips for making money with a blog? Have an ad network you think people should know about? Tips for optimizing ads? Helpful tools that people can use on their site? Leave us a note in the comments!
How To Make Money With A Blog – Series Links