Last time in the "Blueprint For How To Make Money With A Blog" series we talked about the basics of setting up your WordPress blog. We looked at picking a niche for your site, choosing a name and domain name, and buying a hosting package.
We also looked at some things you can do to optimize your blog and get it ready to start raking in the piles of cash! If you missed it you can read the entire article here.
In this post I want to look a bit closer at the things you can to do in order to bring traffic to your website, strategies for writing search engine ready content and ways to promote your articles once they're published. Here's a quick look ahead:
Writing Content For Your Site
If there is one thing that I can't stress enough, it is that you need to focus on your content.
Content is king.
Having a nice looking site is a good thing, but the fact of the matter is that a lot of the biggest sites have extremely ugly designs, but still have great traffic. The reason? If you have great content, good titles, good keywords and proficient writing, the traffic will come, especially from search engines.
Set up a posting schedule: Since having good content is probably one of the most important things you'll do with your blog, you'll want to set up some sort of a posting schedule that you can stick to. For me that meant writing a post at least 5 days a week, usually Monday through Friday. You might not want to post that often, but I'd suggest coming up with a regular schedule of some sort, and keeping to it. The more original content you can create for your site, the more pages the search engines will index, and the more pages can show up in searches. That means more page views and more ad revenue! While you may not see a huge return right away (it may take up to 6 months or more!), remember that you're investing in the future of your blog! So get to writing!
If there is one thing that I can't stress enough, it is that you need to focus on your content. Content is king
Write topics that people are interested in: If you're writing your blog to make money, you'll need to make sure that you're writing about topics that people are actually interested in. Are people going to be interested in what you spent money on last week, and how you're over budget? Probably not. Will people be interested in finding ways to save them thousands on their taxes? More than likely. The key is to write on topics that focus on other people's self interest. Saving them money, getting them a tax credit, how they can get stimulus money, how to get rid of their debt and so on. When you write informative posts that help other people, you'll end up helping yourself in the process!
Do some keyword research: Research the keywords for topics that you'll be posting about, and find ones that have enough search volume, but that aren't over-saturated with competition. Keyword Research Tools here.
Focus on your titles: Not only do you have to write on topics that people are interested in, you need to format your titles so that they will come up in search engines. Think about how you search for an answer to a question on google. How do you phrase your query? Try formatting your post titles to grab as many of those search queries from the search engines as possible, and use keywords that people search for in your title tags.
Vary your content: Try to vary your content so that you've got a variety of different subjects, and post types. Write posts strictly tailored to search engines and to bring in revenue, and then write pieces more tailored to generate comments and discussion. Have longer pillar posts (banner posts, usually 700+ words that you build your site on) that generate good traffic and links back from other bloggers, and then also have short news item type posts, and informational posts. You can also do roundup and link type posts to build good will with other bloggers and encourage them to link back to you.
Do your best not to get burned out: From time to time you'll probably get a little bit burned out on blogging, and you're not going to want to write your regular daily post. When that happens to me I'll just take a day or two off, and then just resume my normal posting schedule. People won't usually notice, and when you get back into it you'll be refreshed. If you prefer to keep the posting going you can always put out the call for a guest post, or you can just do a quickie news item post that only takes a few minutes. Often those quickie posts end up doing the best!
Search Engine Optimization For Blogs
Search engine optimization is a difficult and shadowy topic to learn about because not a lot of people completely understand how the search engines work, and how they create search results. A lot of what we think we know are just educated guesses. Because of that, as time goes by our knowledge about SEO changes – it's a constant learning process.
Here are some things that I have learned along the way that I believe will help your site to have better SEO.
Time is your friend – sites get better with age: One thing that can be frustrating with optimizing for search engines is that it is a long term process. Search engines by default have a preference for sites that have been around for a long time. Because of that you may not do as well in search engines until you have been around for a while, built up some links, and created some authority for your site.
So don't despair if your site doesn't do well right away. I think it took my site about 8-12 months before i consistently started doing well in search results.
Get as many links to your site as you can: While content is king, getting links back to your content is what will help you to begin your reign.
Getting as many links back to your content as you can is key because it tells the search engines that your site is an authority on whatever your topic is. The more links you get, the more of an authority you are perceived to be by the search engines. So whenever you have a chance to be linked, do it!
Have good titles: Make sure that your site makes good use of it's title tags. On your homepage for example, your site title should include your site name and a tag-line giving some idea of what your site is about. Search engines will see and use this information.
On your post pages, your post title should have keywords included in the title that you've researched, and that will be words that people are searching for when using search engines. Note: When writing your posts, you can include two page titles. One catchy title for your readers, and one more keyword rich one for the search engines.
If you're using a plugin like Yoast SEO, you'll be able to set the post title tags on a post by post basis so that you'll have a post title optimized for readers displaying on the page (title 1 below), and another one for search engines (title 2 below).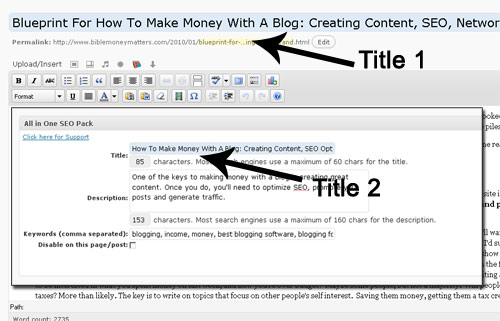 Make use of keywords: One of the pillars of good SEO is the strategic use of keywords in your main title, sub headers and throughout your content.
Use keywords that people will be searching for when trying to find out about your topic.
Try to use your main keyword in your first paragraph, and even bold it using the <strong></strong> tag, as that can help stress that this is an important keyword (both for your readers, and for Google) One of the biggest mistakes I see new bloggers make is writing great content, but not having an effective use of keywords in their content, titles and sub-titles.
If the keywords you're targeting are too competitive for you to rank, try making use of long tail keywords. Instead of focusing on the exact keyword, use a variation. Example: instead of writing about "economic stimulus" try writing about "economic stimulus benefits for individuals" or "details of the stimulus package". For more tips on the use of keywords, check out SEO Copywriting.
Make use of links with good anchor text: You won't always have a say in what text people use as an anchor when linking to your site, but when you do – make sure to use keyword rich links. For example, if someone was linking to this series of posts, I'd ask them to use something like "how to make money with a blog" as the text when linking. Make sure when linking internally, linking from article sites and doing link exchanges with other bloggers – to use relevant keywords for the link.
Helpful SEO resources for further study:
I'm by no means an expert when it comes to SEO, I'd encourage you to do some further study on the topic. Some resources for you:
Remember, SEO is a constantly changing science (or is it art?), so keep educating yourself!
Promoting Your Content
Promote your content on social media: One of the main things I do to promote my content is to promote my posts and my brand on social media. While social media can be a huge time waster if you allow it to be, it can also be a great place to network with others in your niche, build an audience and get to know your readers. I consider my use of social media to be a big contributor to the success I've had so far. In fact, I like to think of my blog, twitter, facebook and other social media as one big Bible Money Matters presence – all of which you need to pay attention to in order to succeed.
When you first start your blog, you may want to think about signing up for all of the popular social media sites using your brand name – which you should try to keep consistent across sites if you can. For example, I use the profile name "moneymatters" for most of my social media profiles. A good site for checking to see whether your name is available on all the social media sites is NameChk.com.
More popular social media:
Pinterest: Pinterest has quickly become one of my top referral sources for traffic. Find and follow popular users in your niche, see if you can get added to their group posting boards and start posting there regularly.
Twitter: When you signup for twitter consider creating a background and color scheme that looks and feels consistent with your blog (And that has contact information and URLs included on it. Examples of some backgrounds here). If you're considering blogging about personal finance you can get a good start by following everyone in my Personal Finance Twitter List. Remember, the key to twitter is to add value, chat with other users, share some of your content, and re-tweet other people's content. In return they'll share your content as well. When you sign up for Feedburner you can even enter in your Twitter login information, and have Feedburner automatically tweet any new posts to your users.
Facebook: Facebook is one of the most popular websites in the world, and because of the sheer number of users on the site, it's a great place to promote your blog, and get new readers. Put up a facebook page, invite people to become a fan, get involved in groups related to your niche, and hook up your Twitter, YouTube and other accounts on your page using facebook apps.
Google Plus: At one time having a Google Plus account was important for good SEO. While the importance may not be as big as it once was, still worth getting an account for your site.
Instagram: Instagram can be a good place to share branding pieces and some of your best cornerstone content via well done graphics.
YouTube: Youtube can be a good place to post videos for your most popular content, companion videos that can help to boost your SEO. You can also get some good comment strings going there, and redirect people to your site.
LinkedIn: A good place for certain types of contents, although the users don't seem to be as clicky as some other social media.
Other social media I use:
Reddit: I've had some success using reddit to promote my articles. There is a financial planning group there you can submit to if you're a personal finance blog.
Stumbleupon: Stumbleupon can be a good place to get some good rushes of traffic (which can be good for CPM ads), but it isn't always lasting. A lot of times you'll get a rush of traffic one day, and then the article that got all the attention will just die. Think of the stumble traffic as a supplement to twitter and facebook.
Network with other bloggers in your niche
One of the best things you can do when starting your blog is to network with other bloggers in your niche, and get their help in growing your blog.
Sign up for forums in your niche, actively comment: Sign up for as many forums in your niche as you can. If you're in the personal finance niche one of the bigger ones is Rockstar Forums. When you sign up for the forums set up your signature so others can see your blog name and url. Don't actively spam the forum trying to get people to your site, but be a helpful user, engaging with people and if it's appropriate leaving a link to one of your posts. One of the biggest hooks of the forums for me is the great advice you'll get from other bloggers, and the occasional linkback. It can also lead to great guest posting opportunities.
Network with bloggers on social media including Twitter and Facebook: I've found a lot of helpful bloggers through my use of Twitter and Facebook who have helped me to grow my site. They offer constructive criticism, contacts for advertising sources, and of course links through their roundup posts and articles. If you can get together a close group of blogging friends who will help you to promote important pilllar content on your site, that's extremely valuable.
Comment on other blogs in your niche: A great way to get to know other bloggers and get them to link to your site is to regularly comment on other blogs. Bloggers love getting comments, and if you take the time to add some valuable comments to their pages, a lot of them will reciprocate, and think of you when giving out links. This works especially well on more popular blogs. I will usually try to comment on 10-15 other blogs per day.
Offer to do guest posts: One great way to build a rapport with other bloggers is to offer them free content in the form of a guest post. This means that you'll be giving them free content (which frees up their time for other tasks on that day), while in return you'll usually get a couple of links back to your site. Links back to your site are extremely important, and guest posting can be a great way to get links.
Link other bloggers in your posts: When you link to other bloggers in your posts, they are often notified that they've been linked, and will then come to visit your page as well. This will often lead to increased comments, links back to your site, and quite often a relationship of some sort with the blogger that you've linked to. Make sure that you enable trackback notification on your blog so that the owner of the blog you link to is notified.
Promote your blog everywhere you go
Promote your blog in your email, with your family and friends, and everywhere you go.
Put a link to your blog, your rss feed and email subscriptions in your email signature: I have automatic signature set up in my email account that will show up whenever I email someone about blog related things, they'll have a chance to subscribe. I use a tool called WiseStamp to put the email signature into all my emails.
Get business cards: Consider getting some business cards. I got some online for free from Vista Print, I just had to pay shipping. I can't tell you how many times I've handed my cards out and gained a new reader, and several times – a guest poster!
Mention it to people when you talk to them!
Getting Links Back To Your Articles
While content is king, getting links back to your content is what will help you to begin your reign.
In addition to generating links back to your site by relying on other bloggers and social media, you can also create your own links with good anchor text through a variety of article sites, free blogs and other content sites. As mentioned above, getting your articles linked is extremely important to having your articles appear high in the search rankings.
Use article submission sites to generate incoming links
You can submit your original articles to article sites like ezinearticles, and give a linkback to your site using the keywords of your choice. There are a ton of them out there that you should investigate, but here are some of the better ones I've found.
Use free blogs and content sites to create keyword rich links

Hubpages.com: Create content pages that link back to your popular content.
Blogger.com: Create as many free blogs as you want where you can post some free content that links back to your site.
WordPress.com: Another site where you can create as many free blogs as you want to link back to your content.
Creating Content And Promoting Your Blog: Wrap-Up
In this second post in the "Blueprint For How To Make Money With A Blog" series we talked about creating engaging content, optimizing SEO and promoting your content.
First we examined why content is king, and how having a large amount of indexed articles will work to your advantage. The more pages you have indexed, the more chances you have to capture readers.
Next we talked about optimizing your on-site SEO by having good titles, doing keyword research, getting keyword rich links and by being patient and waiting for your authority with search engines to grow over time.
Finally we talked about some places that you can promote your content including social media, other blogs, forums and article sites.
Creating a blog with great content, SEO and good traffic isn't going to come easy. It's a lot of hard work. You'll have to take a lot of time to write content, promote the content and network with other bloggers who can help you to promote your content. You'll need to take the time to educate yourself further as to what are good ways to optimize your SEO. And it will take time before the search engines assign your site with enough authority to give you high placement in search results. In short, it will take a lot of time, hard work and sweat equity to build your blog. But if you take the time, your site will grow.
Next up in the "Blueprint For How To Make Money With A Blog" series we'll be ending with a discussion of the many ways that are available for a blogger to make money with a blog – as well as looking at some helpful tools that bloggers should take advantage of. Stay tuned!
Do you have your own tips for creating great content, improving site SEO, promoting your content or networking with other bloggers? Confused about something we wrote here? Tell us your thoughts in the comments!
How To Make Money With A Blog – Series Links
Part 2:

Creating Content, Optimizing SEO, Generating Traffic