Lending Club announced earlier this week that they had originated over $1.65 billion dollars in personal loans given to borrowers since the company launched in 2007. The numbers have continued to rise in recent months, with loan volume increasing and the number of new investors coming on board increasing at an even faster rate.
You may have noticed that the number of Notes listed on our Web site has recently been lower than usual. This is not due to any slowdown in Lending Club's growth — April will be our largest month yet, with roughly $140 million in loans issued, a 10% increase over March and more than triple our volume in March of last year. More loans than ever are hitting the platform.

The decrease in visible loans is due to recent record inflow of investors and capital over the past two months (we signed up 2-3 times more new investors last month than average). This capital is causing loans to be fully committed very quickly after listing — usually within 24 hours.
So despite the fact that over $140 million in loans were issued on Lending Club this past month, the number of notes listed on the site at any one time has been lower than usual because so many new investors have been signing up for the service. I guess the word is out about how effective an investing platform LC is, and the new investors are coming in in droves, snatching up loans within an average of 24 hours of their appearing on the site.
So what is Lending Club doing to address it? They're planning on reducing investor acquisition efforts to a degree, spreading larger investments over time and working on an automated investment tool that can invest for you when a loan with your parameters shows up. It should be available later this year. Some investors will be happy to hear that news, allowing them to automate their investing a bit more. I'm sure others will continue to want to be more hands on.
Google Buying Minority Interest In Lending Club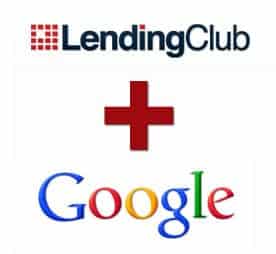 The news about Lending Club is getting out, and other companies are taking notice. This past week
Google stepped up
to the plate and bought a minority interest in Lending Club!
Lending Club today announced that Google has acquired a minority stake in the company. The investment by Google came as part of a secondary transaction whereby new and existing investors acquired shares from existing investors. Buyers include Google and existing investor Foundation Capital."Lending Club is using the Internet to reshape the financial system and profoundly transform the way people think of credit and investment," said Google's David Lawee. "We are excited to be a part of it."

As part of this investment David Lawee will take an observer seat on the Lending Club Board alongside existing Board members including Mary Meeker, John Mack and Larry Summers.

"Few companies have such an in-depth understanding of the Internet as Google," said Lending Club CEO Renaud Laplanche. "We believe our relationship with Google will be very helpful in better serving our customers. We couldn't be more excited to have them on board."
Google seems to have recognized what a revolutionary product Lending Club is, helping to reshape the financial industry. They've made an investment in Lending Club now and will have an observer seat on the Lending Club board.
Lending Club Returns Back Up To 11.18%
The last time I did an update on my returns with Lending Club I'd had a rough couple of months with my account showing a run of 5-6 charged off loans. Right before that happened my net annualized returns had topped 12.22%, but I knew my strategy of investing in more low graded loans would have it's risks, namely that more of the loans would go late or go into default.
Over the many years I've been with Lending Club now, up until this last run of charge-offs I had only see 1 loan go into default. I've now had a total of 7 charged off loans, along with 2 more being late. Within the past month or so one of my late loans got back on track, so I'm now down to one late loan and 142 issued and current loans.
Even with my recent defaults, my returns are still doing well with the returns bouncing back a bit from last time again topping 11 percent.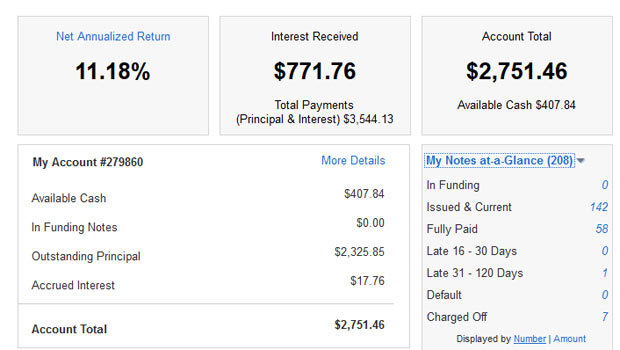 Net Annualized Return of 11.18%: After my loans were charged off within the past few months my returns dropped from 12.22% down to 10.83% a month or two ago. Since then a couple of loans are back on track and my returns are back up to 11.18%
Number of defaults. Seven charged off, with 1 late: I've got 7 charged off loans with about $109 in outstanding principal unpaid, mainly on a couple of the non-aged loans. There is one A, two B, two C a D and an E loan charged off. The late loans are a B and a D, so if you look at the grades of my late and defaulted loans, they seem to be pretty spread out. That doesn't give me much reason to get away from my strategy of investing in lower graded loans, especially if the higher graded ones are almost as likely to default.
Fifty eight loans have been paid off early: 21 were A grade loans,17 were grade B loans, 10 were C grade, 2 grade D, 4 grade E and 2 F. Looks like grade A and B loans are more likely to get paid back early, reducing returns. The earlier a loan is paid off, the less likely you are to be making money, and in some cases you may actually lose money! Another reason to consider investing in lower grade loans.
I'm diversified by investing small amounts across multiple loans: I've had 208 loans since joining (142 issued and current loans, 58 paid off), with no more than $25 in each loan. In other words, I'm diversified across a decent amount of loans, lessening my risk from any one loan going into default or getting charged off. Of course to be fully diversified I believe Lending Club recommends 800 or more notes. I'm not there yet, and won't be until later when we've finished saving up a down payment for a home.
Open Your Lending Club Account Today
What's Your Actual ROI?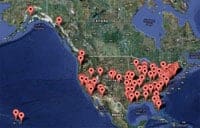 When you're looking at the numbers on the Lending Club and Prosper sites, it has been pointed out time and again that their numbers are overly rosy view of what your actual return on investment will be. The ways that they calculate the ROI isn't really standardized, and they don't take into account how old your loans are, possible future default rates, or other things that may become a factor. The numbers they show are just something you have to take or leave.
Nickel Steamroller's Lending Club portfolio analyzer, which has recently been re-designed a bit, does a better job of giving you an idea of your actual ROI. Basically the analysis tool with give you an estimated ROI after you download all your notes from your Lending Club account and upload the .csv file. It will go through you notes and give sell recommendations, show duplicate notes and highlight notes that are below Lending Club's average return (so you can sell them on the secondary platform). It will even give you a fun little map showing where your loans are (see mine above).
In looking at my returns on the analyzer, my actual return according to the site will be closer to 10.28%. It also gives me quite a few sell recommendations, particularly on some of my older lower interest loans that I did when first starting out. Those particular loans tend to be grade A or B, and have interest below 8%. I'm sticking with some of them for now, but down the road I may lean more towards the lower grade loans in my portfolio.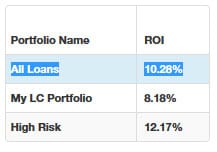 Lending Club Strategy
Here's the basic strategy I've been using with Lending Club since I started investing. The strategy has changed a little bit over time to include more low grade loans and more loans with higher balances.
Less than $10,000: I believe I'll still be sticking with mostly loans below $10,000. Lower amounts mean higher likelihood of payback of the loan.
Zero delinquencies: Again, I may fudge slightly on this one, but I still want it to be very few or zero delinquencies.
Debt to income ratio below 20-25%: I like to invest in loans where the borrowers have a lower DTI ratio, and preferably have higher incomes. I'll try to keep this as is.
Good employment history: I like loans with a decent employment history of at least 2 years, and a decent income.
So that's what I'm doing with my Lending Club portfolio right now, and how I'm investing.
Not ready to invest, but looking to consolidate debt or pay off a high interest credit card? You might want to consider borrowing from Lending Club. Check out my post on borrowing from Lending Club.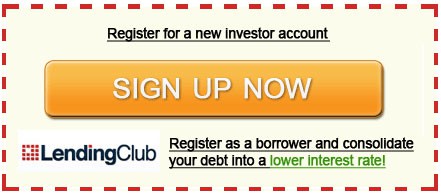 Are you currently investing in Lending Club? How are your returns looking? Tell us in the comments!