Dave Ramsey recommends a small emergency fund of $1,000 so you have enough to cover any small emergency that comes up while the rest of your money is freed up to knock out your debt, ala gazelle intensity.
We have 3 small children, and only my husband's income is relatively secure. As a freelancer, my income varies wildly from month to month, so we've decided to have a $3,000 emergency fund. Even though this is more than double what Dave Ramsey recommends while we get out of debt, I still feel nervous.
If you're digging out of debt and only have the small $1,000 emergency fund (or worse yet, no emergency fund), there are ways you can add a little extra padding to your emergency fund without taking away from the money you apply to debt.
Consider these other ways you can develop several small emergency funds:
Have A Full Pantry Or Freezer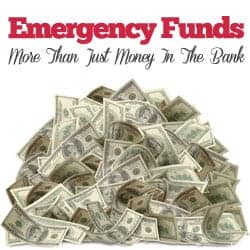 If you're good at using coupons and stockpiling food when you can get it at rock bottom prices, you can have a perpetual full pantry and freezer. If you hit a rough patch financially, rather than dipping into your emergency fund to pay for basics like food, you can temporarily stop buying groceries and live off your stock pile. If you spend $150 a week on groceries for your family, and you don't buy groceries for two weeks, you've just stretched your emergency fund by an additional $300.
Cash Out Rewards Programs
Credit cards
Chance are you inadvertently belong to several rewards programs. We only have one credit card, but it has a gift card reward program. For every 5,000 points we earn, we can get a $50 gift card. We can use the $50 as a payment on our credit card, as a Visa debit card, or a variety of other ways. Right now we have enough for three $50 Visa debit cards. If we need to cash them out, we won't get them immediately, but they would get to us in 6 to 8 weeks, stretching our emergency fund by another $150.
Swagbucks
We use Swagbucks to search the internet, and I let the points accrue. Right now I have enough points to cash out for a $75 PayPal deposit. Again, I would have to wait a few weeks to get this money in my account, but free money is free money.
Rakuten
Rakuten lets you earn cash back when you shop on the Internet. My biggest problem is that I forget to go to Rakuten first before making a purchase! Right now I only have $5 here, but if someone was less forgetful than I am, they could easily earn $20 or more in cash back every quarter.
Frequent Flier Miles
Frequent flier miles are something that most people don't think of until they need them. Recently, Kevin at Thousandaire found out that his father was dying. Rather than use money from his emergency fund to pay for the ticket to see his father and say goodbye, he cashed out his frequent flier miles, easily saving $300.
If having a small emergency fund of $1,000 or even $3,000 makes you nervous, keep in mind that you probably have much more than you think.
Our emergency fund is only $3,000, but if we got desperate, we could cash out our credit card rewards, Swagbucks, and Rakuten rewards for a total of $230. Our pantry is also stocked, so we could easily go without grocery shopping, giving us at least another $300. Without significantly changing out lifestyle, our emergency fund is actually $3,530.
What sources could you tap if you needed to bulk up your emergency fund?