Over the weekend I was looking at some of our household bills that we're currently paying and was looking for ways to cut back on some of them. One of the bills that I was looking over was the one from Dish Network. I hadn't looked at it for a couple months since it is on auto-pay, so when I checked the statement I was surprised to find that my bill had gone up for the second time in 3 months. (Another good reason to cut the cord)
The first increase in our bill had been expected as we're now in the second year of a 2 year contract. The first year we had received a promo price, after which our monthly bill increased by $20/month or so. We agreed to that stipulation when we signed up, so there was no problem there.
The second increase, however, as unexpected. We had another $5/month increase in our bill which had no identifiable source as far as I could tell. Time to do some further research.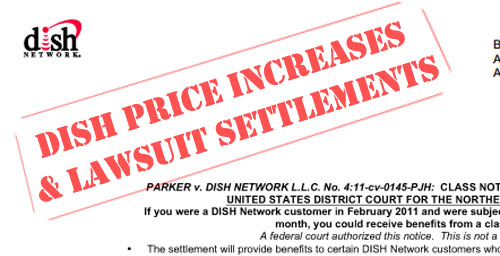 Dish Network Price Increase
We signed up for Dish Network back in December of 2010. If it had been up to me completely I probably would have forgone the premium TV subscription, but my wife loves watching a few shows that you can only get on cable, and in the end I didn't mind watching a few of my favorite sports teams on a regular basis. So we signed up.
At the time we signed up we signed up for one of their lower tier packages, one of the ones that included the sports channels. After credits, DVR rentals and so forth our bill came out to about $40. After 1 year it would increase to about $60 or so.
Less than 2 months after we signed up, however, we saw an increase in our bill! Our bill went from $40 to $45+ after taxes. Something wasn't right. Hadn't we just signed up for a 2 year contract with a price guarantee, only to see an increase 1 and a half months later?
Calling Customer Service To Complain
Obviously i wasn't happy about seeing a price increase so shortly after we signed up. I thought our price was guaranteed for the life of our contract? Apparently it wasn't.
When I called customer service they had apparently seen quite a few calls from other confused customers about the price increase. Other customers apparently thought they had price protected packages as well. The customer service agent started reading from a well practiced script that told me how the fine print in my contract says that they can basically raise the price at any time due to price increases from TV networks/etc – and that there was nothing they could do for me.
Obviously I wasn't happy about that since I had just signed up on a special deal – only to see the price immediately increase. I asked to speak to a supervisor and was transferred.
Once again I complained to the supervisor, and after quite a long call they agreed to give me a $5 credit for the remainder of my contract – almost 2 years. They said this credit would show up on my next bill.
When my next bill came the total was $5 less, so I assumed all was taken care of.
Conveniently Disappearing Customer Service Credits
This month I once again saw my price on my bill increase. I went to our Dish Network online account to do some investigation. I downloaded the current month's bill and saw nothing to explain the $5 increase. So I downloaded the previous month's bill and saw that there was a miscellaneous credit on my bill under "Monthly Savings" that said "Cr: Agent 12 of 12". That was no longer on the current bill.
Apparently 12 of 12 meant that this $5 credit had expired. Then I realized what had happened. The agent how had given me that $5 credit originally hadn't applied it for 2 years, but only for one. I still have almost a year on my contract and their promised 2 year credit had disappeared after 1 year!
Chatting With Customer Service On Their Site And Twitter
I immediately went onto the Dish website and started a chat with their customer service representative to get this all straightened out. I explained what I believe had happened and that the $5 credit need to be reinstated for the rest of my contract. The rep told me that she couldn't do that as there was "no note" from the previous customer service rep on my account explaining the 2 year credit. No note from the rep, no reinstated credit.
I complained about this asking why I would have to suffer an increase because my customer service rep hadn't done their job? They're the one who didn't make the note, but I suffer? After much back and forth I asked for a supervisor.
I was transferred to the chat supervisor and explained the situation again. After much back and forth the best they would do is a 3 month $5 credit. Not what I was hoping for but a little better.
Finally I complained about the situation on Twitter. The customer service rep for @dish_answers said they would look at my situation too to see if there was anything they could do. After a bit of back and forth they seemed confused about the situation saying that my promo price had expired. When i explained it wasn't a promo price but a credit to make up for the immediate price increase, they went back to the line about there being "no note on the account". There was nothing they could do.
So in the end, they risk a bit of bad publicity on my blog for a mere $40 or so in account credits. Maybe I shouldn't be upset for such a small amount added to my bill- but it's just the principle of the thing. They promised the credit then went back on their word, and denied it had ever happened.
Dish Network Has A Class Action Lawsuit Against Them.. For The Same Rate Hike
One funny thing in this whole situation was how shortly after they increased my bill, Dish started trumpeting how I wouldn't see ANOTHER price increase for 2 years or something. The statement has this wording:
Here's the DISH…As we committed, we are keeping prices frozen until Feb. 2013 for our America's Top and DISH America Programming Packages. By comparison, our competitors' core programming pricing is increasing by an average of $4 or 5% in the beginning of 2012.
So they've committed to not raising prices (again) on 7 of their popular packages. When you dig a bit deeper, however, you'll see that their crafty wording has conveniently left out about 10 other packages and a myriad of services that they WON'T be freezing prices on. Go figure.
While I was researching this price increase and disappearing credit I found something even more interesting on one of my bills. It was a class action lawsuit settlement that Dish was making with customers because of the February 2011 price increase. Apparently they were now agreeing to give customers account credits, free months of Blockbuster streaming or free pay per view credits to settle the lawsuit. Why were they settling? The alleged illegal price increase in February 2011 – when I saw my rates go up:
In March 2011, Girard Gibbs LLP and co-counsel Cohen Milstein Sellers & Toll PLLC and The Wentz Law Firm filed a national class action lawsuit alleging that DISH unlawfully raised its prices for satellite television services in February 2011. The suit alleges that DISH breached its contracts and violated the Colorado Consumer Protection Act when it raised prices on customers who were bound by a two-year contract with discounted pricing for the first 12-months. The Court preliminarily approved a settlement on November 23, 2011.
It appears that my account is eligible to receive the settlement offered in Parker V. Dish Network LLC, so I'll be digging into that shortly so I can send it in before the March due date. So apparently I was right about the price being protected.
So for now we'll look into a settlement, and ride out the contract until it expires. At that time we'll be cancelling satellite and most likely cutting the cord to get our TV watching options in a more affordable way.
UPDATE: After publishing the post this morning Dish Network support on Twitter, @dish_answers , contacted me again to ask for another chance to rectify the situation. They went on to fully credit my account with my $5 credit for the rest of my contract, as was promised. Thanks to their support rep for doing that, but it's sad it took 3 chats and a blog post to get it done!
Are you a Dish customer who saw illegal price increases as well? Check out the linked class action lawsuit page to see if you qualify for account credits or other options as well.