A few months ago our desktop computer started to have some troubling issues. There are frequent slowdowns and lockups requiring restarts. It sometimes crashes for no apparent reason, and at times strange noises can be heard emanating from the case. I'm not 100% sure of the cause, but I have a feeling some of the components are about to give up the ghost.
We've had the computer for 4-5 years now, and while it hasn't yet died, we've decided that the time has come for us to start looking for a new computer. It is starting to get a bit slow for some of the graphics and video processing jobs that I'm throwing at it, and an upgrade would be nice. So while I make sure that all of our important files are backed up, It's time to start looking for a new computer.
Time To Start Shopping Around For A New System
Over the past 10 years I've bought new computers 3 different times. I've bought two different desktop computers, and a laptop computer. Each time I've bought a new computer I tend to do the same thing. I shop around for the best possible deal, and then get frustrated by how much new computers with top of the line performance cost. I can remember doing the same thing back in the mid-90's buying my first computer out of high school ($1500 even then for a middle of the road desktop!) This time was no different.
We want to buy a space saving all-in-one computer, so I looked at the Apple store at the iMac computers, but the computers were running close to $1800-2000 for what I was looking for. Too much. I looked at the Dell Home store, and while the prices were lower, it was still more than I wanted to pay. I looked around at several other online and in-store locations, but all of them had prices that were more than I wanted to pay. Granted, part of the reason was because we want an all-in-one computer, which tend to have higher prices.
Buying Refurbished Can Save You A Lot Of Money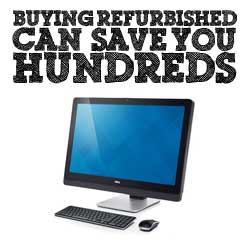 About 10 years ago I was running on a tight budget and for the first time I discovered how great buying refurbished computers (and other electronics) could be. As always I had searched around and couldn't find a computer with the specs I wanted, for less than $800-1000. I was wary of buying a refurbished item, but a friend told me about the Dell Outlet store where you can buy basically new computers at a huge discount of 15-30% or more at times. If you wait for big sales or coupon codes, you can find even larger discounts.
I searched the Dell Outlet store and ended up finding the exact computer I wanted, with all the correct specs, for about $300 less than the brand new model. I paid between $5-600 instead of $800 as they were asking on the regular store.
When I bought our current desktop computer about 5 years ago I did exactly the same thing. I went to the Dell Outlet store and instead of paying $5-600, I paid $330 ( I just found the old receipt when we were moving). It took me longer this time to find exactly what I wanted, but I got a great discount!
This time I'll be doing the same thing. We haven't gone through with the purchase yet, but here's a quick look at how much we'll likely be able to save:
XPS 27″ Touch All-In-One Computer: $1899 on sale with $200 instant discount.
XPS 27″ Touch All-In-One Computer – Refurbished: As low as $1519, but with more memory!
We're probably going to buy one with a slightly lower spec sheet and price, but as you can see, even though the one on the regular Dell store is $1899 with a $200 sale discount, the one on the outlet store is still significantly cheaper.
Why Buying Refurbished Isn't A Scary Thing
One thing I always hear when buying refurbished from people, is that they don't think they would want to buy a refurbished item because it won't be as nice as buying new, or that the refurbished items have already had issues for other people – so why would I want to get them?
The thing is, most refurbished computers you can buy at reputable retailers like Dell or Apple will have gone through a break-in period, and things that are going to go wrong with them already have – and have been fixed. Companies don't want to see these computers again, so they do their best to make sure that they're in good working order before sending them out to you. Not only that, but they usually have the same warranty as buying new (stay away from ones that don't!). PC Magazine describes why you shouldn't worry about buying a refurbished computer.
Vendors will put it through tests to make sure that whatever the returnee didn't like is the only problem, and then they'll do what they must to fix the system. Hard drives are wiped clean and the operating system is freshly installed. If it's a desktop, it'll probably get a new mouse and a keyboard. Then the system gets tested and verified again, just like it did before it went out in the first place. It goes into a fresh box and is put out for sale. Legally, it can't be called brand-new, and that means it typically sells at a lower price, even though, for all intents and purposes, it is new. Some refurbished PCs are actually new because they never came out of the box (maybe the order was cancelled, for example). Such "open box" deals may be the best deals you'll find.

We suggest getting a refurb directly from the manufacturer, if you can. That way, the components replaced during reconditioning should be the same. A third-party refurbisher may use something different. In the end, go with someone you trust. Make sure you triple-check the return policy either way, so you don't get stuck with someone else's lemon just because you had some blind faith.
I've never had issues with buying refurbished items, and the savings are worth it for me.
Places To Buy Refurbished Computers
There are quite a few great places to buy refurbished computers. Most manufacturers will have their own outlet store where they sell refurbished computers, accessories and other items.
My favorite place to buy refurbished computers has always been the Dell Outlet store. I've just had good luck with their computers, and every refurbished PC I've bought there has been in like new condition and lasted me for many years. Here are some places to check for refurb PCs.
Dell Outlet: Items purchased on the outlet store have same as new warranty, and 21 day return policy. You can buy certified refurbs, returned brand new in box items and scratch and dent items (which usually have some sort of cosmetic blemish – and have higher discounts).
Apple Refurbs: Buy refurbished Macs, iPods, iPads and other clearance items. Items have the standard 1 year warranty.
Lenovo Outlet: Buy refurb laptops with a 1 year warranty and 21 day return period.
Amazon Refurbished: Buy refurbished computers from Amazon.
Those are just a few of the places that I've searched for refurbs and had good luck.
Have your own experience with a refurb, or have a place to buy one? Reservations about buying refurbished? BuyinTell us in the comments!