About a month ago I wrote about the Kindle Fire – before it had been released – talking about how I thought it was going to be a great alternative for frugal gadget lovers to the Ipad or other various assorted tablets.
It was reported to have pretty much everything a beginning user would need.
Access to a huge library of books, movies, TV and apps, and all for a low price that won't break the bank. At less than $200 it is almost to the level of becoming an impulse buy – not one you need to setup a separate saving budget category for like an Ipad.
Since I wrote that post I ended up winning a Kindle Fire through a contest on another blog.
I got my Kindle Fire right after the launch and have been able to test out the device for the past month or so. Today I thought I'd take another look at the device, talk about whether I still think it's a good value, and whether or not people should consider buying one.
Kindle Fire: Who Are The Competitors?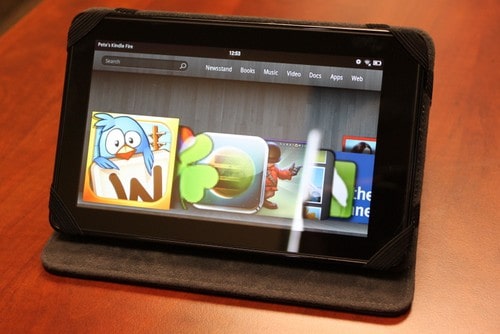 The Kindle Fire has quite a bit of competition out there these days. Among them:

The Kindle Fire has a lower price than all of them.
By pricing the Kindle Fire so low Amazon.com is really making the low price part of the value proposition – and trying to remove at least one of the barriers to buying one.
By some accounts Amazon is probably selling the Fire at a loss – in the hopes that they'll be making a bunch of money from Fire users via the integrated Amazon services. Knowing Amazon, they're probably right.
Amazon Has Already "Sold Millions Of Units"
The low price is going to be hard to beat for other tablet makers, and already in it's first month the Kindle Fire is showing huge sales numbers.
Amazon issued a press release today indicating that customers are snapping up Fire at a rate of more than 1 million a week, for the third straight week.

Says Amazon Vice President Dave Limp in the release: "Kindle Fire is the most successful product we've ever launched – it's the bestselling product across all of Amazon for 11 straight weeks, we've already sold millions of units, and we're building millions more to meet the high demand. In fact, demand is accelerating – Kindle Fire sales increased week over week for each of the past three weeks."
So they've currently sold somewhere in the range of 3-4 million Fires, and the demand is "accelerating". If they're able to reach 5 million sold by the end of the year as many expect, the Fire would be the best-selling Android-based tablet in the world, beating high-profile tablets from Samsung and Motorola. The only other tablet that will have sold more is Apple's Ipad.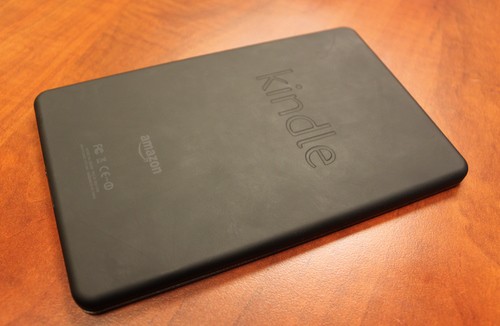 Details Of The Kindle Fire
So let's get down to the nitty gritty of the Kindle Fire. What are the specs?
7″ multi-touch display with IPS technology, 1024×600 resolution at 169ppi, 16 million colors.
14.6 ounces
8 GB internal memory, with unlimited cloud storage. (2 GB OS, 1 GB reserved for apps, 5 GB storage)
Dual core processor
Between 7-8 hours battery time.
Wi-Fi – supports most common Wi-Fi networks.
Amazon Silk web browser – cloud-accelerated browser
The Fire has a great 7″ display which in my experience is just big enough to be a decent size for browsing, but not so big as to feel clumsy or too big when holding it in your hand. The Fire has a nice quality feel to it, solidly made with a nice heft to it, but it's not so large as to make your arm tired. It feels to be about the weight of a nice hard cover book.
I've found the battery time to be consistent with their 7-8 hours stated battery time – maybe slightly less if I'm doing a lot of streaming video and other resource intensive tasks.
Overall the unit is pretty responsive, although in some screens and menus there is some lag, especially in the web browser. The touchscreen can also sometimes be a bit non-responsive – to be honest when I first got it I was a little annoyed by it. Amazon released an update a week or two after the release, and that did fix many of the issues I was having. They've also announced a second update coming soon to address some of the other interface and touchscreen complaints. So far I'm impressed that the changes they're making to the software are actually improving the device.
With 8 GB of space on the device, and of that only about 5 GB reserved for your own files – one of my few complaints of the Fire is that it is too limited on internal storage. I also dislike the fact that it doesn't have an SD card port – or any way to add on storage. Granted, Amazon's cloud storage for apps, movies, music and books is nice to have – and a great way to save space. But what if you're going somewhere where there isn't wi-fi, or the signal is too slow to stream video? I've already started running into storage issues with the device after downloading a ton of apps, and uploading several movies to the device. Hopefully future devices will give other options for more storage.
Pros And Cons Of The Kindle Fire

So far I've been very impressed with what the Kindle Fire has to offer, and I've been even more happy with the device after they updated the software to improve the responsiveness. Still, there are things about the device that I don't like.
Power button on the bottom of the device: When I first got my Fire I found myself bumping the power button on the bottom constantly, turning the Fire off. Very annoying. After playing with it a little more I found that you can rotate the device putting the power button at the top. After I bought a case for my Fire, I found that my issues disappeared, probably because the device no longer rests on the power button when I'm holding it. Now it rests on the case. So buying a case essentially fixed my issue. (Check out my case here)
Lack of storage, no options to add on: I already mentioned this above, but the device only has 8 GB of storage, of which only a portion is available for your own files. I've already started running into this limit by uploading a few movies to the device. Hopefully future versions will have more storage or allow you to add on via SD card or something.
Interface can still lag, and be non-responsive: The touchscreen can be a bit slow to respond or be non-responsive at times – and some apps can be a bit slow to respond. Many of those issues are gone or have been improved with the first device software update, and more fixes are promised with the second update coming soon.
No external volume buttons: I didn't think this was going to be an issue for me, but I've found that not having external volume control buttons has been surprisingly annoying. Not having the buttons in most apps means having to click into the settings menu, clicking on volume and then adjusting it before exiting back into the application. It would be much easier to just click up or down on the volume buttons, like on my Kindle Keyboard.
No text to speech: Not sure why they left this feature off when it is on other Kindles that I've owned, but it would have been nice to have this on the Fire as well.
Lack of parental controls: Many folks are concerned that there aren't really any options for parental controls on the device limiting app purchases, or keeping kids from doing certain things. This certainly is an issue I think, although Amazon may be addressing it in future updates.
While I did find quite a few things about the device that I didn't like, the pros far outweigh the cons.
It's a great all around entertainment device: I've found that the fire is a great little media consumption and entertainment device. It has essentially replaced my Ipod Touch for playing quick little games like Angry Birds, watching streaming video content, and in some respects for streaming audio.
It's the perfect size for me. Light, portable and convenient: While some have complained that the device is only 7″ in size, I've found that I actually like the form factor quite a bit. After pairing it with my case, it feels just about the size of a hard cover book, and weighs about the same. If it were any bigger – like an Ipad, I don't think it would be as attractive for reading books in bed late at night, or for holding in my hands to watch a TV show. As it is it's light and portable.
Interface is easy and pleasing to use: I have found it to be very simple to use with little learning curve – and I think the Amazon skinned version of Android has an eye pleasing design. While it would be nice to be able to customize it a bit more, I'm happy with how it looks.
Integration with Amazon services: While some might put this on the con list, I actually like how well it's integrated with Amazon's services. I use their services quite a bit and am an Amazon Prime user – so I use the Amazon Instant free video and the Kindle Lending Library. I also love how all of my Amazon purchased content shows up easily and quickly on the device – either in the cloud or on the device itself.
Tons of available apps, even on the curated Amazon store: There are a ton of great apps available for Android devices, despite what some Apple devotees might have you believe. While Amazon doesn't have everything available on it's curated store that is on the Android Market, the fact that they have a free premium app every day will keep you busy for a long time. Add to that the fact that you can sideload apps not available on the Amazon store, and you're all set!
Solid construction: The device feels more expensive than $199, and feels like it is built to last. It has a nice Gorilla Glass screen, a rubberized non-slip back and a black bezel. Looks and feels great!
The price is right: While I didn't have to pay a thing for my Kindle Fire, even at $199 I think the device is a steal. At $50 less than even it's closest competitor – the Nook Tablet – it definitely comes in as my pick for the best tablet value this Christmas season.
Kindle Fire Is A Definite Winner
After having the Kindle Fire for the past month, using it extensively and putting it through it's paces, my opinion is that the device is a definite winner.
Yes, it's an imperfect device that could use some improvement in some areas, but for the price it is a great value.
Amazon is already fixing many of the problems I initially had with the device, and if you temper your expectations going in, you won't be disappointed. The Kindle Fire is a great entertainment and media consumption device that I would highly recommend!
Check out the Kindle Fire on Amazon.com
Have your own Kindle Fire? Tell us what you think in the comments!