For a while now I've intrigued by the thought of buying an e-reader device along the lines of the Amazon Kindle, Barnes and Noble Nook or an Apple iPad.
I've taken a look at all three at local electronics stores. The Nook was intriguing as it was similar to the Kindle, but it also has one with a color screen, which sounded nice. When I actually played with one, however, it didn't seem to be as responsive as the Kindle, and I just didn't like the feel.
The iPad was amazing, but with the high price point it's out of reach for now. I'd have to pay more than my current laptop to buy one!
When I tried the Kindle I really liked the way it felt in my hand, and how quick and responsive it was. I also loved how readable the e-ink technology was. Much easier to read than a harsh backlit screen. So for now, I'm leaning towards the Kindle.
When thinking about purchasing an e-reader like the Kindle, one thing holding me back has been the fact that in order to use it on a regular basis I would have to be purchasing all of my books on Amazon, and it could quickly lead to paying a lot more money than I had intended.
Recently, however, I found that there are a ton of free books online that you can download for Kindle.
I downloaded the Kindle app for my iPod Touch and a desktop version of the Kindle reader, and started reading some of the books. I've actually read several of the free books now on my iPod Touch, and while it was enjoyable, I'd prefer to have a larger screen.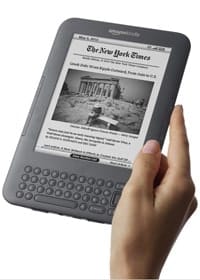 Just a few weeks ago Amazon announced that some of the books for sale on their Kindle Store would now be available to loan to friends.
So basically, if you've bought a book for your Kindle, when you're done with it you can lend it out to one friend for 2 weeks.
Your friend can then read the book, and when the 2 weeks are up, the book becomes available on your Kindle devices again. Not all books are available to lend, however. When you're viewing Kindle eBooks on Amazon.com, you'll notice in the product details that some books say "Lending: Enabled".
Unfortunately the two new release books I bought within the past 2 months are not lending enabled. In any event, the lending of Kindle ebooks makes it that much more attractive to me, and sites are already springing up to help match people up to lend and borrow books with other people. Here are a few of them:
At this point I'm thinking I may ask for a Kindle for my birthday. I love to read, the Kindle seems to have plenty of free options for reading as well, and the fact that it now also has a .pdf reader means I might actually read those 20-30 .pdf e-books that I've been sent to review for this site.
Plus it's affordable, starting at a low price point. So what do you think folks? Do any of you have a Kindle, and what do you think of it? I'd love to hear your feedback!
UPDATE: I ended up buying the Kindle. Check out my review and a thorough listing of places to get free ebooks for kindle and other e-readers here: Kindle and Free Ebooks.