The family and I took a much needed vacation this past week.
We traveled from our home in Minnesota out to Wisconsin lake country. We stayed in a beautiful cabin on Big Blake Lake in Balsam Lake, Wisconsin.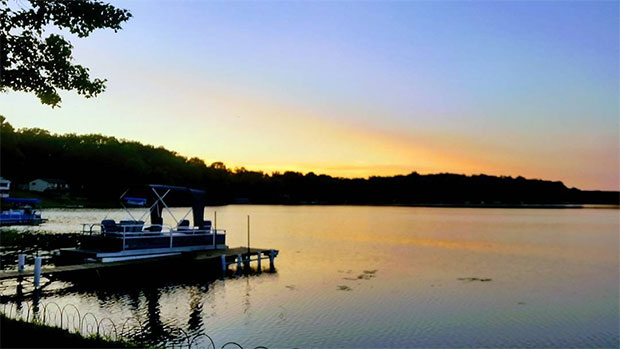 I had a great time hanging out at the cabin, fishing with my son, and cruising around the lake with my family on the pontoon boat that we rented (see above). It was an idyllic setting, and we all had a great time.
When going on vacation, however, it can be easy to spend more money than you had intended. Thankfully, even for lazy savers like myself, there are a ton of ways you can save some significant money on your vacation without putting too much planning into it. Here's a few ways we saved money on our most recent trip.
Book Things Last Minute And Ask For A Discount
The first and biggest way we saved money on this vacation was by being flexible with the time and date we were leaving, and finding a last minute deal on a VRBO cabin rental.
My wife was the one taking point on this one, and she had been keeping an eye on a bunch of cabin rentals in Wisconsin within 1-2 hours drive of our home.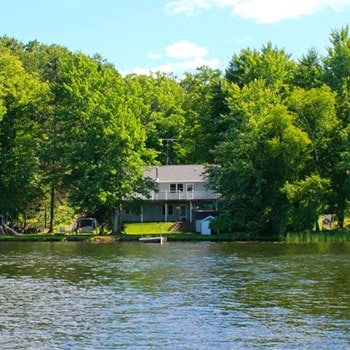 One of the cabins she was really interested in was booked through the summer, but ended up having a cancellation. This meant that their cabin was open to rent! It was on a beautiful lake with good fishing and recreational boating opportunities.
It could have ended there if we had just jumped on this opportunity and booked the cabin. Normally this 3 bedroom 2 bath cabin would rent for more than $280/night. But we wanted to save some money if we could.
My wife inquired as to whether we could get a reduced rate on the cabin since it was such a last minute booking.
The owner of the cabin agreed to slash the rate to $200/night, effectively saving us $240 in one fell swoop – our total bill coming down to $600 instead of $840. All because we asked for a discount. Everyone wins, they get a renter and don't lose out on the income, we get to save money.
The cabin also had a pontoon boat that you could rent. We wanted to have a boat for one of the days while at the lake, so we inquired about getting a reduced rate on that as well. They ended up giving us $25 off the boat rental price and free gas. Total savings on our lodging and boat rentals? $265. Not too bad.
Book Your Attraction Tickets Online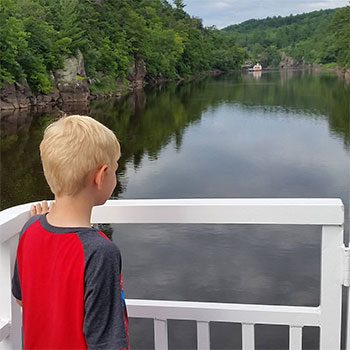 While we were at the cabin we wanted to visit some local attractions. In particular there was a paddleboat ride on the St. Croix river and an adventure park with an alpine slide, waterpark and go-kart track.
What I realized on this trip was that a lot of these local attractions will sell tickets both on location as a walk-in, and online. Sometimes if you buy your ticket online you can save a decent amount of money.
Here are the savings we got simply by buying our tickets online.
Taylors Falls Scenic Paddleboat Tour: When you buy your tickets at the ticket counter on location you'll pay $19.49 per adult. If buying online you save $2 per ticket, for a total cost of $17.49 per adult ticket. When I realized we could save $4 by booking online, I did it that way instead. I pulled my phone out while we were sitting in the parking lot, and booked the ticket in my car, instead of walking to the counter 20 feet away. Total saved? $4.
Wild Mountain Adventure Park: When you buy your tickets at the park you'll pay $42.99 for a daily pass, per person. That gets you unlimited rides on their alpine slide, go-karts and a full day pass at their waterpark. It's not cheap, but by booking your ticket online ahead of time you can save $7 per ticket, paying only $35.99. Since our son was under their height limit, he got in free for the rides we were doing, so instead of paying $85.98 for the day, online tickets cost $71.98. Still expensive, but a $14 savings.
So while we didn't save a ton of money on these two places, we were able to save enough ($18) to pay for most of one of our dinners out. I'll take that.
Find Discounts In Tourist Brochures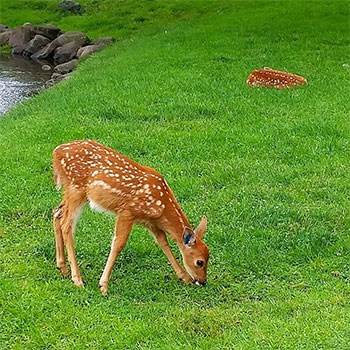 Another way to save money when you're on vacation is to find discounts via local travel brochures and tourist booths. Most hotels, restaurants and some local service stations will have racks of brochures giving details about local attractions. Often if you look at the brochures you can often find a fun activity for the family, and even find a discount while you're at it!
My wife wanted to go to a local animal park in the area called Fawn-Doe-Rosa where you could pet and feed baby deer, goats, ducks, geese, horses, bunnies, pigs, porcupines and more. It's a fun place to spend an afternoon and it was a highlight for both my son and wife.
We found a brochure for the place at a local restaurant that had a coupon for the animal park to save money on your admission. It meant that we could save $2 on our admission and get a free bag of feed.
Eat In At Your Rental
One of the biggest expenses that we usually have while traveling is eating out. This vacation, however, we saved money by eating all of our breakfasts and lunches at our cabin.
Instead of eating out for every meal as we have done in the past, we brought groceries with us in a cooler, and ate on the cheap the first two meals of every day.
At night we ate at local restaurants, spending a bit more on a nice dinner out. If you do eat out, don't forget to check the tourist brochures again for cool places to eat out and maybe even find discounts while you're at it.
Use A Rewards Credit Card To Pay For Everything
The last thing we did to save some money while on vacation was to put everything on our rewards credit card.
By using our rewards card we got anywhere from 1%-5% cash back on all of our spending, depending on the charge. I figure by doing that alone we probably ended up saving about 2-3% on our vacation, or about $30-50.
Saving Money Can Be Easy, Even If You're Lazy Like Me
So when it comes down to the final tally, we did still spend quite a bit of money while we were on vacation.
Thankfully, by negotiating discounts, using coupons, eating in and using rewards we were able to save over $300 on our total bill. That's nothing to sneeze at.
So if you're lazy like me, there's hope. Even if you don't go out of your way to find the cheapest of deals, there are still plenty of ways to save a good amount of money, even if you only search at the last minute while sitting in your car.
What other easy ways have you found to save while on vacation? Tell us in the comments!