Christmas will soon be upon us, and as we all get ready to go out and celebrate, it's important to remember that while we're celebrating, it's important not to go too crazy – and blow the budget. We need to be sure that we're staying on plan, and are frugal with our gift giving.
A while back I asked for ideas from Bible Money Matters readers of how to make sure your shopping trips this Christmas season are frugal. We had quite the rush of submissions here and on Facebook, so today I thought I'd share 40 of the 50+ submissions we've had so far for frugal shopping tips!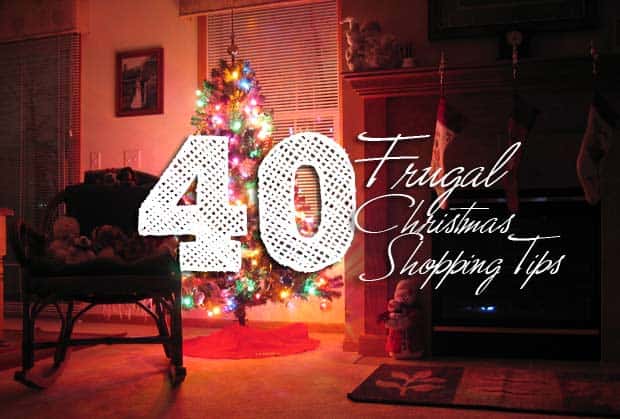 Frugal Christmas Shopping Tips
Give us your own frugal shopping tips in the comments below!

Have a collage done of old or recent pictures made. Attach a small poem and you are the man!
Before buying anything expensive, I ask myself if I really need it. The more expensive, the longer I try push off the purchase. I've pushed off my purchase of a Sony Aibo so long that they no longer make it.
I pack a "brown-bag shopping lunch" by taking along a peanut butter sandwich or chips or protein (like nuts) and travel mug of coffee or cold drink. That little bit of nourishment keeps me calmer in making shopping purchases and also fends off the food court temptation!
I only shop for items that I need and I always do price comparisons on expensive items. It's always worked well for me!
Buy your summer clothes in the fall, and your winter clothes in the spring. That way you're always getting the sweet deals. Of course, you're always a season behind in fashion, but it doesn't hurt if you're a guy and just buy classic styles.
When possible decide not to shop. Not buying is the most frugal tip of all.
My best tip is to think of deals and sales first, then of the person you're buying for. Of course, you want to get them something they like, but a good sale at a store at which you like to shop could be the impetus to think of a creative idea for someone you need to buy a gift for. For example, I was able to supplement some Christmas gifts quite inexpensively using a gift card and a sale at a store where I don't usually shop, but where my mom and sister love to get things.
Before you go to a store or even a restaurant, check whether you can find coupons online. Over time we saved quite a lot of money, for example at Borders. And this despite the fact that I am on their e-mail list. I can still find better coupons online.
A great place to shop for gifts is Tuesday Morning. You can often find high-end items at a substantial discount. You won't break the budget, but you'll still be able to give a nice gift.
Make sure that you give everyone your love! And if you are giving a present, go to the 99 cents stores or the discount stores first, and then shop online!.
You can sometimes do better by giving a gift card provided the store you are gifting will still be in business.
This Christmas season we are really feeling the pinch, just like everyone else, so we have waited until just this week to do our shopping for family, and by waiting, we are finding some really great deals, saving TONS on things we would have bought anyway since retailers are slashing prices in an attempt to bring shoppers in.
Do not go shopping just to "browse". You will always find something you "need"
I look for coupons and sign up for free memberships at stores that my family likes. For example signing up at Bath and Body Works usually gets you a coupon for a free item a couple of times a year. I also make sure to be on Bed Bath and Beyond for their 20% of coupons. Another thing I do is use a credit card that gives great rewards points for gift cards at retailers (no worries- we pay off each month so as not to defeat the purpose of rewards with high interest)
Shop only sales for which you also have coupons. Double your savings!
Plan ahead! If you have time to shop around, you can find the best deals. When I find something that is a good deal and I know someone in my family would like, I buy it and store it away until Christmas!
I make photo calendars and books, but I start making them early and wait–the companies ALWAYS send me promo codes to make them more affordable and I still get them in plenty of time for Christmas!
Search popular blogs for giveaway items that can double as Christmas gifts this year! :)
Everyone likes loves books, they're cheap and you can really personalized the book to the receiver. Also, we have been saving our cans to recycle to purchase the books.
Shop wise. Go to the back of the store for the best deals.
Put together a shopping battle plan – figuring out where the cheapest prices are, after factoring in taxes, discounts, coupons and rebates.
My tip is not impulse buying and shopping around for the best deals.
Give gift cards or cash. This keeps you out of the stores, being tempted while you're shopping for those perfect gifts.
Shop online. You can find some of the best deals.
My frugal tip is to shop in your cupboards first. Remember not everything has to be gourmet. Manwich is good!
The internet is the best place to find the best bargains. The first thing I do each day is go to mybargainbuddy.com and she has all the best deals of the day sometimes 80% off. You can even check all stores and when you click on it coupons or special offers will show up. Another thing is price comparison websites are good for finding the lowest prices. I use bizrate.com for checking prices. I usually find the lowest prices at Ebay of course and others are Overstock.com,Amazon.com and finally one of my favorites Graveyardmall.com. If I want to buy a DVD the best place to go is
dvdpricesearch.com that shows prices from everywhere. I will never pay full price again.
My husband and I have been trying to coordinate online purchases to take advantage of free shipping over certain amounts. I have been going to sites like retailmenot.com to get coupon codes for various sites. Finally, since my husband's entire family will be joining us for Christmas, I have been making up menus and making a shopping list, and will use ALL the coupons I can to save as much as I can!
My most frugal shopping tip– shop the sales and use coupons! I try not to buy something without a sale or coupon.
This Christmas, I have been saving money by shopping locally. Not only do I save on fuel costs, I also save because many stores in my rural area are generous with discounts due to the economy. For example, I bought a doll house with 5 dolls for my niece. Regular price: $35. My discounted "local find" price: $16, with tax.
Implement several frugal shopping strategies at one time to be a super-frugal shopper. All year, look and listen to see the actual needs, wants, and interests of those you are buying gifts for. Make sure you only buy item(s) that fit those criteria. That way your gift will be interesting and useful to the recipient. Next shop as soon as the store opens early in the week if possible. Check ads for specials on certain items, too. Yesterday morning I was in 2 giant super stores immediately after they opened and they had very few shoppers. When you are in an uncrowded shopping environment, you can find what you are looking for much easier, it is much less stressful, and there are no long lines at checkout! Check for store coupons, special offers at purchase, or drastic markdowns. At one of the big stores yesterday, they were offering a $10 shopping credit on an after Christmas shopping trip when you bought $50. or more that day. Scouring the clearance racks, I found needed bargains at up to 90% off! I bought 13 new shirts for various recipients for a total of $51.40. If you take into account the $10 gift certificate for future use, that's 13 shirts for $41.40. If my math is correct and factoring in the $10 coupon, I saved about 85% total on these gift items. A quiet and peaceful shopping experience, with plenty of store staff to help you if needed, no crowds, lots of merchandise on just marked-down clearance racks, no lines at the checkout, and an additional $10 coupon for the even bigger markdowns after Christmas .. those are the shopping tips and strategies I use to earn the designation of super frugal shopper!
I start buying from the after Christmas season sales throughout the year, so we always have abundant gives to give all year long, not just at Christmas–i spend as much yearly doing it this way as most people spend at just Christmas–giving me gifts to give any time
I shop for sales!About all you can do now,at least for us.We have 5 little ones 6 and under so.. I also shop online with sales and get free shipping with codes.That has worked well with me this year.
when buying groceries, learn to read the stores shelf tags they will have the price broken down and you can instantly see if your are saving money, second keep a grocery journal, nothing fancy just a little notebook will do and use your receipts to help fill it out with the item, store name and price after awhile you will be able to see the stores cycle for sale items and know when and where to purchase
I shop at the malls/stores for Christmas gift ideas and then come home and get on Ebay to see if I can find the item cheaper. This also works great with gift registries (wedding/baby showers); I pull the registry at the store and come home and look for the items on Ebay. A little known secret is that if you tell a store that you have already purchased the item on a person's registry, they should remove it from the registry. Even if they don't, the person can always return items purchased from the store. It's win/win. For a co-worker's wedding, I bought 6 place settings of her stainless NEW on Ebay for what one place setting would have cost in the department store. We both won!
I use coupons and try to think ahead for birthdays and celebrations so that I can get deals on presents.
I always buy items on clearance after every major holiday. For example, I can always find nice candles for really cheap that will work for all year round. I have found cheap bakeware, baking supplies, holiday shirts and socks, baby clothes, holiday books..etc.. that I buy at 90% off and then use for the following year..or sometimes something will work for birthdays like toys and books. I also shop garage sales and thrift stores and have found brand new merchandise that I have given as gifts.
I shop year-round and stockpile my Christmas presents early. That way I'm not rushed at the last minute and make sure I get the best prices whenever they are (hello after-Christmas sales!).
At the checkout, I evaluate each item again to see if I still want to buy it – almost every time I eliminate a thing or two.
I unsubscribed to all of the email newsletters with sales and new product info – and I've noticed that I am spending less. So to shop I make myself actually go to the store or website without an email "prompt".
I start early so I'm never tempted to overpay for a last minute gift for someone. I watch sites like slickdeals.net and wait for good deals online with free shipping. I like using free shipping options online and have them shipped directly to the recipient. I don't pay to have them wrapped, instead I send it to someone else in the household and ask that they wrap it. They in turn do the same for my household. It works great and saves so much for shipping with my husband's family who is all over the US.
Frugal tip: Just because it's on sale doesn't mean you need it.
Love finding ways to save money when you're Christmas shopping? Tell us your strategies, tips and tricks in the comments!