Last week I announced my contest to give away two $25 gift cards, one to Marshalls and one to TJ Maxx.
Today I was finally able to get out and use one of my own $25 gift cards over lunch at a TJ Maxx here in Bloomington, Minnesota. My mission was to use the $25 gift card they had given me to buy gifts for family, without going over the $25 limit. I didn't think it should be a problem, although having not been to TJ Maxx in quite a while I wasn't sure what type of products they carried. I wasn't really sure if I would find anything I wanted or needed. I was soon to find out.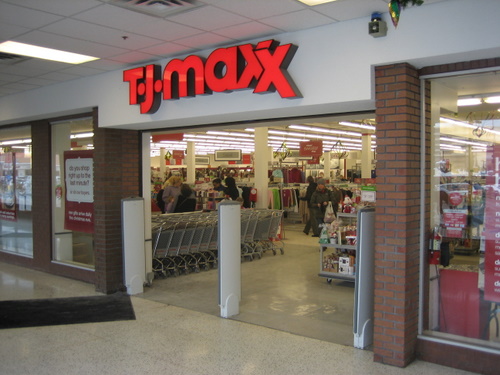 I walked into the TJ Maxx and being the day before Christmas Eve it was quite busy. People were going from table to table grabbing things, trying to find the perfect gift for their loved ones.
The first thing I was struck by at TJ Maxx was that they carry an amazing array of products at their stores. They've got clothing, jewelry, housewares, electronics and accessories, and more! Since its the Christmas season they had tables set up right in front where you could easily buy gifts for the entire family.
There was a table of gifts under $25 for dads. They had shavers, Ipod accessories, footballs and other similar gifts. I've already bought for my dad so I moved on.
I found another table with quickie cheap gifts – including candies and trail mix. I grabbed a package of chocolate dipped macadamia nuts for my mom. $4.
Next I found myself in the housewares department because we need a large pan at the house for doing stir fry and other bigger dishes. I found just what I was looking for – at an extremely reasonable price! $15 for a nice 12″ non-stick frying pan! I'd seen them at other stores shopping around for anywhere from $20-40 (or more for the high end ones).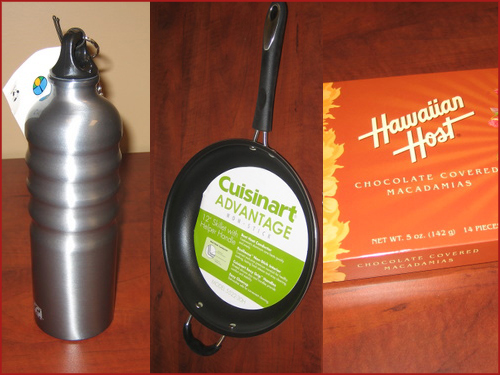 I still had some money left over on the gift card, so I labored on through the crowds. Finally I found something I'd been needing for a while, a new water bottle. My old plastic one cracked, and I hadn't replaced it yet. I've been wanting to get one of those nice aluminum water bottles that don't leach chemicals into your body, but hadn't gotten around to it. I found one at TJ Maxx for $6! Not bad considering I'd seen them elsewhere for $15-25 bucks!
All in all my gifts and purchases came out to $25 plus tax. After tax I ended up paying about $1.50 out of pocket for all these things. I went over the limit, but not by much! Not too shabby!
What would you buy if you had a $25 gift card at TJ Maxx or Marshalls? Let us know in the comments!