When I look back at our Christmas pictures from 8 or 9 years ago, I'm shocked and amazed by the plethora of gifts under the tree. We had our first child 10 years ago, and while we tried to be conservative, we did probably buy him more than he needed. He also got gifts from both sets of grandparents as well as his godparents.
Two years ago, our three children got so many gifts from others (even though we had pared down the number of gifts we gave the kids), that we stopped opening presents on Christmas when they got fatigued.
Yes, they had so many presents, they got fatigued.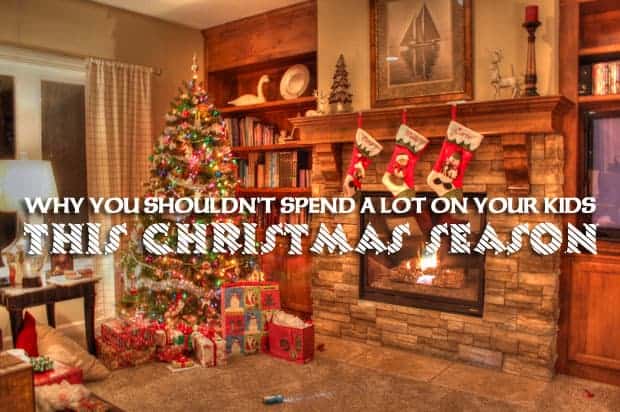 Our then two year old curled up and sucked her thumb, and our four year old lost interest in opening presents. She started playing with the toys she had already received.
For every day from December 26th to New Year's, they still had a present to open.
In my book, that's way too many presents.
How Much Do Americans Spend On Presents For Kids?
In 2011, "moms reported that they planned to spend an average of $271 per child, with one in 10 saying they'd shell out upwards of $500 on gifts for each child" (Today). The next year, in 2012, Mint.com stated, "the average family spent around $750 on holiday gifts."
We Americans spend a lot on our kids for Christmas presents. If Christmas and birthdays were the few times a year that kids got presents, maybe this wouldn't be so bad. However, many parents routinely buy toys, clothes and other items for their kids throughout the year, so Christmas presents are just extra loot on top of what kids are already getting all year round.
Why You Shouldn't Spend A Lot On Your Kids This Christmas Season
Saying you shouldn't spend a lot on your kids for Christmas sounds cruel, but think back on your own Christmases. How many gifts did you receive? My parents did give us a fair number of gifts, but we only received one or two toys or games. The rest were items that we needed that they hadn't yet bought for us like clothing, underwear, socks, etc.
There are actually several good reasons not to spend a lot on your kids this Christmas:
You Set Their Expectations
You teach your child what to expect by the number of gifts that you give. I'm so glad that after those first few years of my son's Christmases, that we scaled back considerably. We've scaled back even further after the Christmas two years ago when the kids got tired opening presents.
If you routinely give your child too much, they expect that. Because their expectations are higher, they feel slighted when they get less than they think they should.
One mom who couldn't afford to spend as much as she did on her kids' Christmas presents shared, "I spent about $1,000 on two kids and wasn't working at the time. On Christmas morning, they opened them as fast as possible. They had at least 20 items apiece and they actually said, 'Is that all?' I was hurt and actually cried and cut back the next year" (Today).
They May Be Less Grateful
As the above experience illustrates, when you spend more on kids, they tend to become LESS grateful rather than MORE grateful. While we may want to give our kids everything, trying to do so is rarely a good idea.
They Exceed The Fulfillment Curve
Amy Dacyczyn, author of The Tightwad Gazette, wrote about The Fulfillment Curve, especially as it applies to Christmas presents. She said there is an amount of gifts that fulfills your children. They're happy with the gifts they've received and excited to play with them.
If you give them more than this set amount, they begin to act more and more ungrateful, asking things like, "Is this all there is?" or complaining about the quality of the gifts they received. As a parent, your level of fulfillment on the amount you spent diminishes once The Fulfillment Curve is reached.
If you routinely spend too much on your children, maybe this is the year to scale back and set new expectations.
Do you think you overspend on Christmas presents for your kids?