Do you hate living from crisis to crisis – from one emergency situation to the next? I sure do.
Nothing beats me up more than having one troublesome circumstance pile upon another.
Crises come in all shapes and sizes – from the annoying to the devastating, from the cheap to expensive, from the day long to the month long or longer. We can't avoid them from coming our way because life just works like that. None of us have gone through life untouched by trying times.
But we can control how we manage through difficult situations when they rear their ugly head. In fact, with some advanced preparation, we can change our perception of what circumstances we call a crisis. Some things we once called a crisis could become just an inconvenience. The benefit is that as we shift the narrative of the circumstance, it lessens the intense emotions we experience with each event.
A shining example from the Bible of someone who lived from crisis to crisis was Joseph. His story is motion picture worthy, filled with one personal crisis after another. But in his personal redemption moment, he gives us perhaps the greatest example of how to approach tough situations.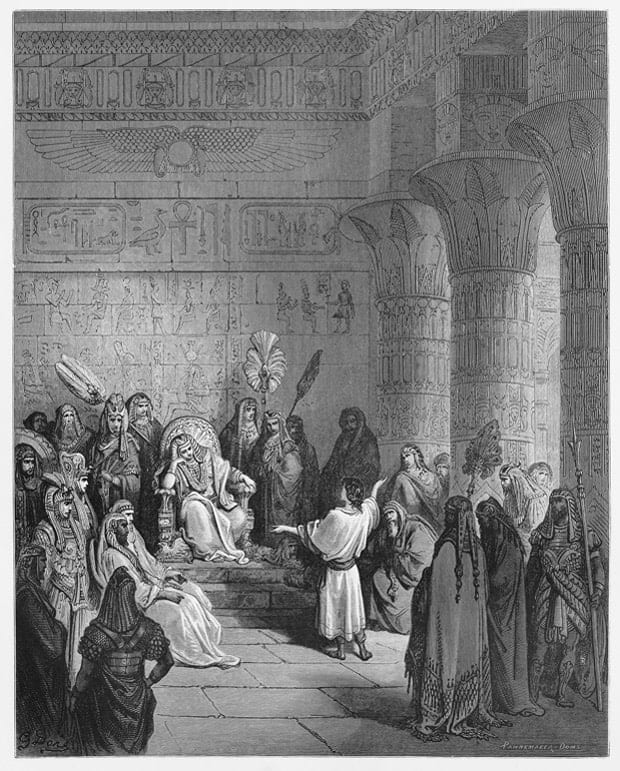 Joseph Saves Egypt From a National Crisis
In Genesis 41, the Bible tells us that Pharaoh, the leader of Egypt, had a really bizarre dream that he knows holds deeper meaning. His magicians and advisers can't interpret his dream. However, there is one in the kingdom who can – a slave named Joseph, who through multiple personal crises of his own had found his way into Egypt's prison system.
God had spoken through Joseph twice before as he had successfully interpreted dreams for two of Pharaoh's employees. This time though his ability to decipher dreams would hold greater significance. As Joseph is called from his jail cell and listens to Pharaoh recount the dream, he begins to understand that God is tipping His hand on the future.
In short, the dream God sent Pharaoh detailed that Egypt would experience seven years of great abundance followed by seven years of great famine. The famine would be so severe that everyone would forget about the prosperity of the seven good years. Action was needed immediately, Joseph tells Pharaoh, in order for the nation to survive.
Joseph had this response when Pharaoh asked him what they should do:
"…let Pharaoh select a discerning and wise man, and set him over the land of Egypt…and let him…collect one-fifth of the produce of the land of Egypt in the seven plentiful years. And let them gather all the food of those good years that are coming, and store up grain under the authority of Pharaoh…Then that food shall be as a reserve for the land for the seven years of famine…that the land may not perish…" (Gen. 41:33-36)
You can see where this is leading. Pharaoh sees no one around who could handle this crisis better than Joseph. So he appoints him as the man to head up the plan.
Joseph's management skills didn't disappoint. Seven years later when the crisis hit and the famine enveloped the region, Egypt was ready. They not only survived as a nation but grew in power as everyone flocked to them for supplies.
Managing From Crisis to Crisis Today
Joseph's real life example provides us with some great clues that can help us manage through the crises we face. He shows us that:
Planning ahead before the crisis hits solves a lot. We don't know when a crisis will come but we do know they will come. It's inevitable. For financial ones specifically, we can prepare ourselves ahead of time by setting aside emergency funds that can cover the cost of the crisis.
Honesty is key. We can't fool ourselves into thinking crisis situations won't hit us. In addition, when the crisis comes we must be honest about the severity of it. Joseph didn't sugarcoat the situation to gain Pharaoh's favor. He was upfront about what needed to be done.
Sacrificing during the good times leads to great gains. Our tendency is to live it up when times are good. In reality, we should be sacrificing during the good times to prepare for the bad ones. Had the Egyptians squandered all their wealth from the seven good years they would have perished when the famine hit.
We should never stop saving for the future. Joseph called on the Egyptian people to save 20% of the grain each year during the time of plenty. He built great storage bins and amassed such a great amount of grain he quit keeping records. When you are in that position and have more than enough to cover the financial cost of a crisis, it eases the tension and emotion of the crisis.
Discipline is what's needed most. It may take you awhile to get to the point where you can manage through a crisis. The time frame from the beginning of Joseph's plan to the end of the famine was 14 years. I'm sure some Egyptians thought Joseph was crazy during the seven years of plenty, saving all that grain when they could have used it to get rich immediately. But he never wavered from his plan and commitment to save the people.
Does it seem like you are living from crisis to crisis? That you just can't get ahead of the next thing coming your way? It will continue to seem that way unless you take some steps to plan ahead. Once you do, you'll at least be able to financially manage your way through it and relieve some emotion surrounding it.
Questions: Does your life feel like you are managing from crisis to crisis? How do you plan ahead for such events?