I've been writing about personal finance for over a decade now, and in that time I've learned a lot about how money works, about creating a business, and about how an entrepreneurial mindset can help you to get ahead.
In reading a post on another blogger's site about how they made their very first money, I realized that our financial and entrepreneurial education really starts out when we're young, when we're just kids in our first job, making our very first paycheck.
We learn about the value of hard work, and about how you need to be willing to break a sweat if you want to get ahead.
We learn about how if you don't save our money, it will disappear very quickly.
We learn how sometimes in order to become successful you have to work for yourself, instead of trading time for money.

MY LATEST VIDEOS
Today I want to write my own post detailing some of my first jobs and side hustles, and explore how they changed my mindset, and set me up for where I am today.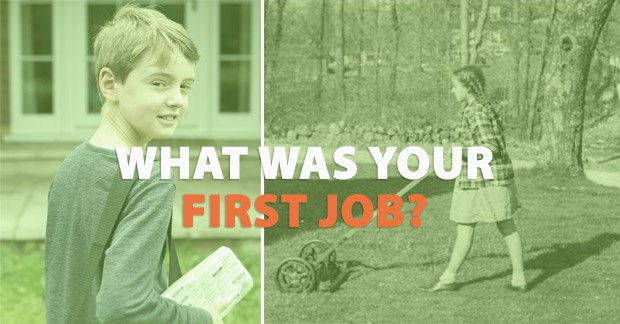 No One Wants To Work Hard Anymore
I've been reading more and more about how these days parents don't stress the value of hard work as much as they used to.
Researchers have found that millennials especially have been shown to be marked by "two opposing economic characteristics" according to Jean Twenge, author of "Generation Me" and a professor of psychology at San Diego State University.  They're highly materialistic and not necessarily willing to work for the money they need to buy the items they value.
One study that showed these characteristics was a national survey of 50,000 12th graders called "Monitoring the Future", that has been conducted every spring since 1978.  They found that:
Millennials were more likely to report that making money was very important and that they expected to own more stuff than their parents had. They highly prioritized specific material goods and would of course own vacation homes and recreational vehicles, such as boats.

But – and here's where the discrepancy arises — they also didn't anticipate work to be a central part of their lives. They're not particularly willing to work overtime and found that one of their obstacles to getting a job was that they didn't want to work hard enough.

They're not bad people, says Twinge. Every generation has its strengths and Millennials value equality and are highly tolerant. But their sense of entitlement is a facet of narcissism, and their expectations are simply out of pace with reality, she says.

"It was a generation that was told they were all special and then enters the workforce to find they're not," she says. "They're not getting jobs and when they are, they're disappointed that the job isn't as fulfilling or high paying as they would like."
So they want to be able to have all the things that they desire, but they don't really want to work as hard for it as previous generations might have.
Maybe getting kids into the habit of working hard earlier on might not be such a bad idea.
Making My First Money As A Kid
Thinking about what my first jobs were I can recall quite a few small freelance jobs that I did as a kid to make some extra money. I wanted so bad to earn my own money, and not just from my parents. I wanted to work hard and earn my own money with my own two hands. Here are a few of the first ways I did that.
Newspaper route with dad
I had a weekend newspaper route for quite a while with my dad, and for a time my brothers .  We would get up at 3-4am, go to the newspaper depot to pick up our papers for our route, and we'd insert all of the ads that go into the paper. An hour later we would head out on our route.
My dad would drive the car and we would go up and down the blocks in our area putting papers on people's porches, inside their screen door or in their mailbox.
It was hard work lugging around that heavy paper sack, and by the time we were done around 7am or so, we would all be ready for a big breakfast at home, and then a long morning nap.
I learned a lot about hard work on that job, and the route didn't pay a ton, but it showed me that if you want spending money – even as a kid – you're going to have to work for it.
Mowing the lawn
I know a lot of people who did this as a kid to make money, and I was no exception. I remember my parents had an old push mower, and it could be a pain cutting the grass if it had gotten too long. Why couldn't we have a power mower like my friends?
My dad figured,  "Who needs a gas powered mower when you can have a kid powered one?".  He used that same logic for not getting a dishwasher. "Who needs a dishwasher when we have 3 of them already?"
I remember getting somewhere around $5 a pop whenever the lawn got mowed.  It was hard work, but at least I was getting paid.
Detasseling corn and picking weeds in the soy beans
My mother's family were farmers in Illinois, and we would go down from Minnesota to visit them usually at least 2-3 times a year.  It was so much fun going down to the farm, riding on the tractor, and hanging out with all my mom's hard working relatives. There were a few times they asked if I'd like to earn a few dollars in the fields.
We would get up early in the morning, head out to the car and drive to the fields. Once there we would walk up and down the rows in the soy bean field removing the weeds.
I'm not sure they do this as much anymore due to improved weed control herbicides, but it sure was hot, hard work.
Helping dad clean up and fix old bikes
I remember going down into my dad's basement workshop to help him fix up old bikes, some of which he would sell.  From cleaning bike parts with an old tooth brush, to helping true a wheel, I remember bikes being a big part of my childhood.
While I wouldn't consider that stuff hard work, it was dirty.
Painting houses
I can remember one of  the first ways I made money on my own was my fledgling house painting business. My uncle needed his house scraped, then painted, so over the summer I took the job on.  I scraped, and scraped and scraped some more.  It feels like it took days to strip that house. I'm not sure how I survived that job up on that ladder. Finally, I repainted the house from top to bottom.
While I was proud of the job I had done, I think I realized at this point that I wasn't going to expand my business, it just wasn't something I enjoyed enough.
My First Real Job
In high school I began to look around for a job with a regular paycheck.
Cart pusher/bag boy at the grocery store
My first paying job was at our local grocery store. I was mostly pushing carts from the parking lot back into the store. Back in those days we didn't have the fancy remote cart pushing machines that they do now, it was all manual labor. I can also remember breaking down boxes for the crusher, sweeping throughout the store and doing any menial jobs they could find.
What did I get for all my hard work? Minimum wage, $4.25/hr.
Branching Out With Side Hustles
After high school and on into college I started branching out a bit more and started developing some side hustles.
Selling things on eBay
When I was in college eBay launched, and quickly became the go-to place to sell (and buy) things online.  I quickly opened an account, and in no time was selling things I no longer wanted or needed.
I told others about what I was doing, and several other people asked me to sell things for them as well.  I agreed to do that, but for a percentage of the profit.  Most people agreed.
It went pretty well and I did quite a bit of selling. I put up a website and at one point even considered opening a storefront where I would sell things for people on commission.  A couple of other people in my area had the same idea, however, and after they opened a few locations I abandoned that idea.  At the very least, however, this experience got me hooked on making money on the side.
Buying wholesale, selling on a website storefront
At one point a friend and I had the idea of creating our own website, buying products wholesale, then selling them via our own online storefront.
The idea was fun to come up with, and we started down that road, but in the end our source for products ended up being a dead end.  Their prices were almost retail leaving us no margin for profit.
I think this idea is completely doable, even more so today – especially if you find someone who can teach you to do it right like my friend Steve Chou at My Wife Quit Her Job.
Creating websites
During this time I was also fascinated with the idea of creating websites.  I created a website for my eBay business, for our storefront, as well as some personal websites.  At this time these websites were all manually coded using my limited HTML skills.
Soon thereafter I discovered blogs and blogging software.  First I used Blogger, and then WordPress. Using those content management systems it was much easier to create a full website. I ended up making websites for several churches and church organizations, as well as for several other bloggers. This side income of creating websites lead into my other side job, graphic design.
Graphic design
I created websites for a bunch of different people, and during that process I taught myself how to use Photoshop and other graphic design software from following online tutorials.  It was something I enjoyed, and got pretty good at over the years. I ended up using those skills at my day job as well.
I ended up creating a side business where I made logos for other bloggers, mostly personal finance bloggers.  I made several thousand dollars in my first year just by doing logos. It made some decent money, but it was work intensive, and these days I've mostly phased that side job out.
Side Hustles Become A Business
I tried a bunch of different things on the side to make money, some of them failed, while others were moderately successful. The most successful one I've created by far is this site.
My website side hustle became a business
In 2007 after reading other personal finance websites, and reading how they were making a good amount of money from their sites, I decided to give it a try.
I launched my site in January of 2008, right in the midst of the 2007-2008 financial crisis. It was perfect timing for a personal finance site as millions of people were scared, searching for information that could help them with their finances.  The site started getting decent traffic right away, and using what I learned from other bloggers I was able to monetize my site.
It was a ton of hard work. For the first 4 years I wrote a new post every weekday, building up a huge archive of content. Sometime this year I will have made over $500,000 from this site in the past 10 years. While that's not as much as many have made, it's a lot more money than I ever thought I would make.  All the hard work has paid off.
Looking back I can see how my attitudes towards hard work, and doing my very best on the things that I tried started very young. The flame was lit on those very first jobs.  It shaped me into who I am today.
As I was writing this post I found a forum thread that talked about other blogger's first jobs or side hustles. Here's a sampling of a few of their first attempts at making money.
First jobs in this group ran the gamut from laying sod, to babysitting all the way to hustling other kids selling candy.
Through all our childhood jobs I'm sure we've all learned valuable lessons about hard work, persistence and the importance of providing value to the world.  I think starting those first jobs early is something that more kids should do these days, and it's something parents should encourage.
What was your first job, side hustle or attempt at making money?  Did it help to shape who you are today? Tell us all about it in the comments!